Get a taste for the diverse world of Japanese sake, spanning both ancient traditions and modern innovations, during this 45-minute, small-group tour and tasting. Check out the historic methods used in sake production at the Horino Memorial Museum, or learn about more modern methods at the Matsui Shuzo sake brewery. Then sample a few brews of your own as your guide explains the flavor notes, ingredients and nuances of your selection. This small-group experience, limited to just 10 participants, also includes a taxi to the brewery and all entrance fees.
Highlights
1-hour sake brewery tour and tasting in Kyoto
Visit the Horino Memorial Museum or Matsui Shuzo (depending on which option you've selected)
Tour a traditional or modern-style brewery building for a look at sake production
Enjoy sake tastings with a professional guide
One-way taxi transfer to Matsui Shuzo included (or walk to the Horino Memorial Museum)
Small-group tour limited to 10 ensures a more personalized experience
What You Can Expect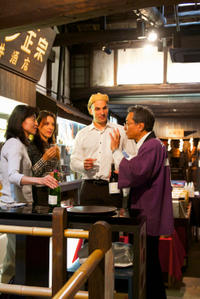 Get a small-group introduction to the fascinating world of Japanese sake, a complex drink spanning hundreds of years of tradition. During this intimate, 45-minute experience, choose between a visit to a sake museum or a modern sake brewery before joining a sake tasting session to sample a few varieties with your guide.
Start your sake experience in either the morning or afternoon at the machiya (traditional wooden house) in central Kyoto, the location of which will be detailed with your purchase. Depending on the tour option you've selected, you'll proceed with your guide to either the Matsui Shuzo sake brewery or to the Horino Memorial Museum (see descriptions of each option in the Itinerary below). The museum is a just a short walk away, while you'll arrive at the brewery by taxi if you select this option.
Depending on the tour you select, you'll proceed to the traditional townhouse that is home to the museum, or on to modern brewery facilities. Each option will allow you to investigate the various tools used in sake production and hear a few details about the history of this fascinating beverage, which is known as Japan's national beverage. Its popularity is still evident to this day – you'll be sure to see Japanese locals drinking it at variety of festivals, rituals and ceremonies during your visit to the country.
After completing your brewery or museum visit, continue with a sake tasting session with your guide. Sample several different sake brews, each with a different alcohol content, listening as your guide explains how the drink's ratio of rice, yeast, water and malt lends each variety a unique flavor. While some sake is more sweet, others have a drier profile, adding to the complexity of the experience.
Finish your sake experience at either the brewery or museum, where you can feel free to arrange a taxi to your next destination.
Click on View Additional Info for the machiya location.
November 2015
Arrived at WAKJAPAN offices for start of our Sake Brewery Tour. Was pleasantly greeted by a charming Japanese lady sorry, I don't remember her name, who was key to this positive review. She escorted us by taxi to Matsui Sake Factory. Note: My husband and I were the only members of the group so it was essentially a private tour. Our tour guide at the factory, Shigeki Matsui, was terrific. He spoke perfect English and was very informative. He showed us the processes in the brewing of sake. We actually got to see inside of a fermentation vat! Really cool! Previous to tour, we knew nothing about sake after, we had a basic understanding of the differences between rice wine and grape wine production. After the tour, we got to taste around 6 different types of sake, with very generous pours. We even got seconds of a couple that we liked! We walked away with a bottle of our favorite. We were limited by USA customs laws about bringing back alcohol. After the tour, our WAKJapan tour guide walked us to the train station and even took the train with us and told us where to get off! Along the way, she talked to us about what we were passing and answered any questions we had. Great service! Overall, great experience!
September 2015
Really enjoyed, our guide was really good taking photos etc. The amount of Sake tasted was generous and the brewery master was very knowledgeable.

howtaobrowncow United States of ...
August 2015
I really enjoyed this small brewery tour of the Matsui Shuzo Brewery. They've been around for a couple of hundred years, and supply many of the local shrines, and for good reason. The brewery staff and master brewer were super nice, and the sake was really excellent I bought a couple of bottles of my favorites to keep me company during the remainder of my trip. The tour guide, Ms. Kinoshita, was terrific she was very knowledgeable about sake and about the local area, her English was very good, and she was excellent company during the tour. I had a terrific time.

June 2015
We are very glad to choose this tour. Our guide Yoshie is a certified Sake Sommelier, who is very passionate about the Sake culture as well as very helpful in answering our questions.
The Sake Brewery Matsui Brewing is highly recommended. It is small however the owner is the 15th generation who is very kind, friendly and well knowledgable. We also visited other bigger brewery, we are very glad that we have visited Matsui.
May 2015
Highly Recommended personal tour with experienced teacher.
January 2015
We had a private experience as my wife and I were the only ones on the tour. With most sake production, it is a small, modern operation. The owner was very generous with his time, gave us the history and background of sake production, and answered all our questions. The sake tasting was excellent. Of course it is set up to tempt you to buy, but we had no problem with that!
rainerice Singapore
September 2014
It was just my girl and I and had a blast. Great sake and very informative.
June 2014
Great exprience. I love going to Wine country in California so this was the sake version of that. The tour was given by the wife of the owner. Small sake distillery so we were able to get a behind the scene look at the making and production of Sake. Great way to spend a few hours and taste some great sake.
May 2014
The brewery has been around since 1726 and you get to see the whole process from start to finish. The brewmaster has really good english and explains a lot of the details. However, have a plan to get back to your station/hotel before arriving at the pickup point, the tour ends at the brewery which isn't on or that near a rail line. Bus/taxi is pretty much the only option. The bus can be a long trip back.
Advertisement
Advertisement