Immerse yourself in the rich cultural tapestry of Japan on a 2-hour tour in Kyoto. With an accomplished guide, admire the architectural tableau of Kyoto while gaining insight into its ancient traditions. At an restored shophouse, enjoy a tea ceremony and try on a beautiful silk kimono. Then stroll through a traditional neighborhood and visit a sake brewery to sample one of Japan's most iconic beverages, or opt for an introduction to the art of origami. Enjoy an intimate atmosphere on this small-group tour, limited to 10 participants.
Highlights
2-hour introduction to Japanese culture in Kyoto
Take in the beauty of a classic wooden shophouse, called a machiya, where your tour begins

Wear a kimono and learn the history of this quintessential Japanese garment
Participate in a tea ceremony and understand the meaning behind the ritualized art of preparing and serving tea
Stroll through a traditional neighborhood and visit a sake brewery for a tasting (if option selected)
Be introduced to origami, the Japanese art of paper folding (if option selected)
Small-group tour limited to 10 ensures personalized attention from your guide
Recent Photos of This Tour
What You Can Expect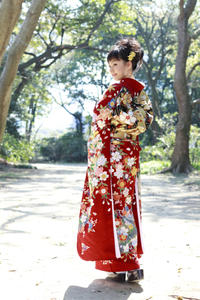 Greet your guide and small group at a traditional wooden teahouse known as a machiya to commence your 2-hour cultural experience. Admire the stylistic features of the machiya as you follow your guide on an informative tour of the classic shophouse; learn about the structures' function and their impending extinction before settling into a tranquil room to try on a silken kimono.
Don your exquisite item of clothing and pose for fantastic photographs while listening to your guide explain the cultural significance of the kimono. Disrobe and delve into the ceremonial art of the tea ceremony as a tea master performs the meditative ritual; watch as matcha, a type of powdered green tea, is prepared meticulously and served steaming hot.
Conclude your tour with with one of the following two options, selected at booking:
Option 1: Walking Tour and Sake Tasting
Take a leisurely stroll through Kyoto's old neighborhood. You'll stop at a sake brewery to sample the national beverage and toast the success of your insightful tour with your guide and group. Bid farewell to your companions here and continue exploring independently if you so wish.
Option 2: Origami Introduction
Try your hand at origami, the delicate art of Japanese paper folding. Following an introduction, get some practice shaping your own origami into small sculptures. You'll receive helpful tips from your guide.
Click on "View Additional Info" for the machiya house location.

December 2015
wonderful experience, loved the tea ceremony and getting to try the Sake
June 2015
So much fun! The ladies were absolutely delightful and made sure that our traditional tea ceremony in our beautiful kimonos was something my daughters and I will remember for the rest of our lives.
May 2015
This was a great experience. It was small group with only 5 tourists. We had a lot of interaction with the three local women conducting the tea ceremony. We were dressed in kimonos for the occasion. After the tea ceremony we had the choice of origami or sake tasting. The only difficulty was finding the actual building for the tea ceremony. I included a photo of the front of the shop Wak Japan.

December 2014
Great experience that everyone should try! Was given a crash course in Japanese culture - absolutely fascinating and totally worth it.
November 2014
Best tour of the three I took. The ladies were lovely and dressed the three of us with care and patience. We enjoyed the tea ceremony and the sake factory tour as well. Only problem was finding the initial house to start the tour. We went around in circles looking for it.
August 2014
July 2014
Tourist friendly introduction into wearing the Kimono, Tea ceremony, and Sake. We were interviewed at the tour by Japanese TV! The house was authentic old Japanese style and the guides were knowledgeable and very friendly. Good for adults and kids alike.
June 2014
This was a delightful experience. Many thanks! It was just the two of us and a most helpful and kind guide who expertly dressed us in kimonos, took us through a tea ceremony, and then after we returned to our regular clothes visited the sake brewery around the corner. Our guide answered all of our questions about the tour itself and also more general questions about Kyoto/Japan. Each aspect was fascinating and it was just the right amount of time spent, so we were able to participate in this tour in the morning on our first day in Kyoto and then had the rest of the day to explore/do whatever we desired. Great introduction and we highly recommend to all!
October 2014
Being dressed in a kimono for the tea ceremony by the leaders was an interesting and involving experience. There was one other couple participating with us in the ceremony and in the house tour which added to the experience. This was our first time in Kyoto and we were a bit apprehensive about finding the location of the event. However, the directions were good even though we could not read street names which were in Japanese..
October 2014
I did not make it because even though I got an email saying confirmed, when I check the email for the details the night before, I discovered that I needed to confirm separately with the local tour operator 24 hours in advance! I would suggest you change your procedure and do not send an email saying confirmed when it is clearly not! Money wasted!
Advertisement
Advertisement