Discover the historic environs of Nara, ancient capital of Japan, as you explore Buddhist temples, shrines and the famous Nara deer park on this 5.5-hour excursion from Kyoto. Visit Todaji Temple, one of the oldest Buddhist temples in Japan and home to the country's largest Buddha statue, before seeing Kasuga Shrine, which features over 3,000 stone and bronze lanterns. Then stop by Nara Park, a 1,250-acre reserve that's home to more than 1,000 free-roaming deer. Your Nara excursion also includes pickup from select Kyoto hotels, a guide and all entrance fees.
Highlights
Travel by return motorcoach from Kyoto to Nara
Enjoy the afternoon touring the sights of Nara
Visit Todaiji Temple, one of Japan's most famous and historically significant temples
See over 1,000 tame deer roam freely in the verdant 1,250 acres peaceful park
Explore Kasuga Shrine, featuring some 3,000 antique stone and bronze lanterns
Recent Photos of This Tour
Nara Afternoon Tour of Todaiji Temple, Deer Park and Kasuga Shrine from Kyoto
What You Can Expect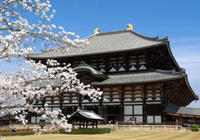 Immerse yourself in Japanese history and culture, during this 5.5-hour exploration of the temples, shrines and attractions found in the country's former capital city of Nara. Spend a few hours discovering this historically significant capital, first established in the 8th century, as you admire its wealth of important religious sites and a one-of-a-kind deer park nearby.
Start your Nara trip in the afternoon with a pickup from Kyoto's New Miyako Hotel. After your pickup, proceed by coach on your Nara excursion. The city of Nara was founded in 710, when it was designated as the country's first permanent capital. Nara, or Heijo as it was then known, was home to many of the most important Buddhist monasteries in the then-nascent Japanese empire, which made it a key center of political and religious power. As Nara's power and influence grew, the city became a threat to the government, leading the country's rulers to move the capital to Nagaoka in 784. Despite this shift in fortunes, Nara retains a wealth of important historical sites, including some of Japan's most important Buddhist temples.
Stop by Nara's Todaji Temple to start your trip. This magnificent edifice, constructed in the 8th century, is among the country's most important religious buildings. Explore the temple's Daibutsuden (Great Buddha Hall), one of the largest wooden buildings in the world, along with its immense bronze Buddha statue, which are just some of the treasures to be found in this incredible attraction.
Continue your Nara trip with a visit to its famous deer park, a unique 1,250-acre preserve where more than 1,000 tame deer freely roam. Admire these gentle creatures as they graze and wander the park, and stop to purchase special deer food, which the animals will gladly eat from your hand, if you wish.
Finish your discovery of Nara at the Shinto shrine of Kasuga, a serene site that features a collection of more than 3,000 stone and bronze lanterns. After leaving Kasuga, return by coach to Kyoto for a drop-off at your hotel.
June 2016
June 2016
A really good trip for half a day
Very informative knowledgeable guide
Good informative stories on the drive there
Very enjoyable
June 2016
This tour was amazing! I was in awe when we visited the Todaiji temple. Walking around at the deer park was a nice experience. Kasiuga shrine was beautiful.
May 2016
Excellent tour - this is a great way to see Nara if you are short on time.
April 2016
This was a great afternoon tour, if you only have a short period of time in Kyoto. Our tour guide was very friendly and knowledgeable. The Todaiji Temple with the largest Buddha and other guardians were incredible. The massive amounts of deer in the area was equally enjoyable. We must have feed them 5-6 packs of biscuits which you can buy on the premises, as they provided a lot of great photo ops and were friendly to pet. Kasuga shrine was a great experience and were amazed by the sheer volume of the lanterns in the area, as well as more deer roaming freely around. Great Tour.
April 2016
All very memorable and well worth seeing. Take care that the deer are very persistent and you can easily be surrounded and mobbed as long as you have goodies to feed them.
April 2016
Excellent tour, guide and highly recommended!
November 2015
Good deal for the price. Worth the day trip to Nara. Casey was my guide he was funny and had great energy.
November 2015
Lovely tour! Mickey was wonderful and friendly and he kept the tour atmosphere light and interesting.
September 2015
The tour was well organized and there was no feeling of being rushed. The drive to the temple was relaxing. Although, the temple itself was rather busy with plenty of tourists. Being close to the deer and feeding them was pretty cool. They are really laid back. The temple and surrounding areas were beautiful as most temples are in Japan. Would I recommend this tour. Yes!
Advertisement
Advertisement