This 3-hour private walking tour of Kyoto's beautiful Japanese gardens takes you to several Zen Buddhist temples with a local scholar. Admire Mirror Pond at Kinkaku-ji (the Golden Pavilion), Karesansui Garden at Ryoan-ji and the intricate rock and water landscapes of Ninna-ji. Your knowledgeable private guide will enlighten you about the Japanese aesthetics and principles of design that have shaped the stylized gardens of emperors, nobles and monks for centuries. Enjoy personalized attention on this private tour, with a choice of morning or afternoon departure times.
Highlights
3-hour private Kyoto walking tour of Japanese gardens
Discover the Zen Buddhist gardens of the Muromachi period with a local scholar
Stroll around Kinkaku-ji Temple (the Golden Pavilion) with its Mirror Pond and villa design
Admire the exquisite Karesansui Garden at Ryoan-ji Temple, designed with gravel and rocks
See Zen gardens and water features at Ninna-ji Temple
Hear fascinating commentary with personalized attention from your private guide
What You Can Expect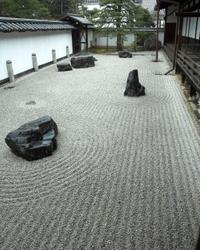 Make your way to the northwest corner of Kyoto and meet your private guide — a local scholar — at Kinkaku-ji Temple, known as the Golden Pavilion. With a wide array of well-preserved temples, Kyoto is an ideal environment for exploring the Zen gardens and Japanese landscapes that have become world-renowned since Japan's emperors ruled during the Muromachi period. Throughout your 3-hour private walking tour your expert guide will focus on Japanese garden design from this era when Japanese culture and Zen Buddhism began to flourish.
Starting at the Zen Buddhist temple, which was a former private villa during the 13th and 14th centuries, learn how Shogun Ashikaga Yoshimitsu purchased and transformed the land. Visit the lush gardens as your guide delves into villa garden design from approximately 1337 to 1573. Mirror Pond, which reflects the pavilion and contains numerous man-made islands, is a prime example of the use of water and stone in the environment. While here, discuss the various natural elements used to create the gardens, and contemplate how these spaces were used for both entertainment and contemplation as the space transformed from private villa to Buddhist temple.
After a short trip on the local bus, arrive at two excellent examples of Zen rock gardens: Karesansui Garden at Ryoan-ji and the gardens of Ninna-ji. The dry Zen gardens at Ryoan-ji showcase a stylized landscape created from gravel and rocks. Karesansui Garden from the Muromachi period exemplifies the typical design found at Zen Buddhist temples. You'll learn to read the landscape as your expert guide points out how form and function are bound tightly together with the philosophy behind Zen Buddhism.
Ninna-ji, your final stop, dates from the Heian period, providing a means to compare Japan's earlier landscape design. The covered walkways of the Goten, the former residence of the head priest, were modeled on an Imperial style and feature painted sliding doors that mirror the surrounding landscape. Ninna-ji contains both dry gardens and gardens with water features, tying together the Japanese principles of precision and idealization you've come to appreciate during your private walking tour.
April 2015
Excellent. Guide knowledgable, evocative sensitive and extremely diversified in his knowledge of area history zen. Japan and its history and current attitudes. Well recommended
June 2014
The tour guide are very well organized and knowledgeable all the way until the end of tour. It's so much fun and very memorable.
April 2014
It was very good. The guide showed a lot of knowledge on his topic and I learnt a lot
Advertisement
Advertisement