Discover the Japanese traditions of landscape and garden design on this 3-hour private walking tour of Kyoto with a local scholar. Learn about the principles behind the highly-stylized garden designs of Japan from your guide, a practice which has shaped the intricate outdoor spaces of emperors, nobles and monks for hundreds of years. Then visit some of the best examples of the practice in Kyoto, including the mirror pond at Kinkaku-ji, the Karesansui Garden at Ryoan-ji and the elaborate rock and water creations of Ninna-ji.
Highlights
3-hour private Kyoto walking tour of Japanese gardens
Discover the Zen Buddhist gardens of the Muromachi period with a local scholar
Stroll around Kinkaku-ji Temple (the Golden Pavilion) with its Mirror Pond and villa design
Admire the exquisite Karesansui Garden at Ryoan-ji Temple, designed with gravel and rocks
See Zen gardens and water features at Ninna-ji Temple
Hear fascinating commentary with personalized attention from your private guide
What You Can Expect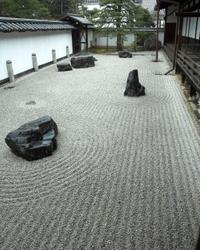 Explore the delicate interplay of water, rock and plant life that constitutes the Japanese traditions of landscape and garden design as you explore Kyoto on a private walking tour with a local scholar. This tour offers an ideal opportunity to view some of Kyoto's most exquisite outdoor spaces up close while learning about the traditions behind their creation.
Start your private walking tour just outside Kyoto's Golden Pavilion, on the corner of the streets Kurama-guchi Dori and Kagamiishi Dori. Your meeting time will depend on if you've selected a morning or afternoon tour. The ancient city of Kyoto, seat of the emperor for many centuries, makes for a perfect backdrop to explore the influences of Zen Buddhism and Japanese culture on this beautiful art form.
Make your first stop at Kinkaku-ji, also known as the Golden Pavilion. This Zen Buddhist temple, originally a private villa for Shogun Ashikaga Yoshimitsu, offers a perfect example of the principles of garden design during the 13th and 14th centuries. During your visit to the site, listen to your guide explain they key innovations in villa garden design that occurred between 1337 and 1573. The site's Mirror Pond, for example, illustrates a perfect balance of water and stone in the environment. You'll also hear about the various ways Japanese gardens were used for both entertainment and spiritual purposes.
Take a short bus ride to visit two unique Zen rock gardens, the Karesansui Garden at Ryoan-ji and gardens of Ninna-ji. First admire the dry rock garden at Ryoan-ji, forming a stylized pattern using stones and gravel. You'll also learn why Ryoan-ji's Karesansui Gardens offer a great example the landscape design typical of Zen Buddhist sites. At Zen Buddhist gardens, the form often follows the garden function, mimicking the central tenets of the Zen philosophy.
Make your final stop at Ninna-ji, a temple that contains both dry and water features. Walk along the covered walkways leading to the former home of the temple's head priest, known as the Goten, offering excellent views of the building's sliding doors painted with scenes mirroring the surrounding landscape. Your walking tour finishes here.
April 2015
Excellent. Guide knowledgable, evocative sensitive and extremely diversified in his knowledge of area history zen. Japan and its history and current attitudes. Well recommended
June 2014
The tour guide are very well organized and knowledgeable all the way until the end of tour. It's so much fun and very memorable.
April 2014
It was very good. The guide showed a lot of knowledge on his topic and I learnt a lot
April 2016
The ONLY reason I signed up for this tour was the fact that I am very, very interested in Japanese gardens and landscapes. I was looking forward to an in-depth explanation from our scholar.
As it turned out I was highly disappointed with the quality of this tour. I paid 2.5 times the advertised rate, by far the most expensive of our Japanese tours, and therefore my expectations were correspondingly high. Not only was the tour expensive but I also had to pay all the entrance and transport costs on top. It was a rip-off.
The first question I was asked was what on the tour especially interested me. Well, the clue is in the title Japanese Gardens and Landscape. I saw a forlorn look and heard from our scholar: well I dont know much about gardens. It turned out that I knew more than the so-called scholar did! Was I interested in Buddhism? The only real advantage of having the guide was in getting from one garden to the next. Shelling out 440 for two for this walk was totally unreasonable and excessive. We could have done it by ourselves for a fraction of the cost
Advertisement
Advertisement