Master the cooking techniques for sushi-making and tempura during this 3-hour private class taught by a local family in their Kyoto home. Get an insider's look at daily life as you learn to prepare a home-style meal of two of the country's most popular dishes. Once you finish cooking, you'll get to eat your meal accompanied by miso soup and a salad made with seasonal ingredients. This memorable private cooking class also includes an English-speaking instructor, round-trip transport from your hotel and a copy of the recipes when you leave.
Highlights
Private 2-hour cooking lesson at a local home in Kyoto
Discover the art of rolling sushi and deep frying tempura from your instructor and guide
Learn about Japanese daily life as you enjoy a meal with a host family
Choose a morning or afternoon class
Receive a recipe to take home with you!
Hotel pickup and drop-off by taxi included
Why Our Insiders Chose This Tour
You get an opportunity to prepare sushi in a local's home kitchen. It's a rare glimpse into everyday life that a regular cooking class doesn't offer.
What You Can Expect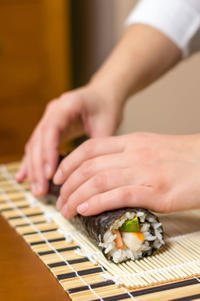 Feel like you're part of the family during this 3-hour private home cooking lesson preparing sushi and tempura at a Kyoto home. Get some tips on how to prepare these two beloved Japanese favorites from your hosts before enjoying a meal of your handiwork accompanied by miso soup and salad.
Begin your private cooking lesson with pickup by taxi from your Kyoto hotel by your guide. The time of your pickup will depend on the tour option you've selected. Proceed in your taxi to a local Kyoto home where your cooking lesson will take place. Join your family hosts and your cooking instructor as you begin your introduction to Japanese home-cooking and its techniques and skills.
Learn first to make sushi, observing the instructor's demonstration of how to roll rice and add fillings such as sashimi (thin-sliced fish), cucumber, pickled vegetables, Kamaboko (boiled fish paste), egg or other home-made fillings inside a sheet of nori (dried seaweed). Try your hand at rolling and filling some sushi of your own, which as you'll soon discover is not as hard as it looks.
Continue your lesson with an introduction to tempura, the deep-fried cooking style that is often used to prepare seafood and vegetables. Watch as a variety of fresh produce like mushrooms, along with shrimp, is battered in a seasoned mixture of flour and rice, before getting dipped in oil. Listen to the sizzle as the batter reaches a crispy, golden-brown texture, creating a crunchy, ever-so-slightly-salty finished product. Tempura can be tricky to get just right, so you'll leave your lesson with a recipe in English you can use to continue perfecting the technique at home.
Finish your cooking lesson with a meal where you can enjoy your day's work with your hosts along with some tasty side dishes. Dig into your cooking creations, plus miso soup (made from soy bean paste) and a seasonal salad.
Your memorable evening of cooking and fun with your hosts ends with a taxi drop-off back at your hotel.
April 2016
A great way to get to know a typical household and connect with the chef/teacher. This experience was more about getting to know the chef/teacher and eating an amazing home cooked meal. A recipe book and a few small gifts were given at the end to make sure I knew how to cook everything again!
September 2015
The best part of the trip was the experience of Private Sushi and Tempura making in a local home. The hosts who welcomed us in their home were amazing, so sweet and gave us the best part of Japan...the people...It was a spectacular and amazing event and memory for a lifetime. It truly was worth every penny to spend time in a local home with a local of Kyoto...it is the only true way to get to know a place is in a person's home. I cannot say enough of what a blessed experience this was. Thank you Viator for making it possible. I have been on several tours of yours in several countries and you do not disappoint.
April 2015
This cooking class was very well organised and highly enjoyable. Both the tour guide and the host were lovely and it was great to experience cooking in a typical Kyoto kitchen/home. We were encouraged throughout the session to participate in the preparation of every dish made. The host made us feel very welcome in her home and was more than happy for us to take pictures throughout the class and answer our questions.
September 2014
Wow! This was a very personalized experience. Our interpreter/guide met us at the hotel with a car. On the drive to the home, our guide was engaging and interesting. She spoke perfect English as she had lived in Australia for eight years. Of course the best part was the lesson! Our hostess was gracious and informative. She and her nephew did a great job with all the parts of the dishes we prepared. Our 18 year old son loved everything. The food was spectacular and we enjoyed the conversation and learning customs as well as cooking. I would strongly recommend this experience!
September 2015
Great afternoon, thanks very much!
Advertisement
Advertisement