Investigate the fascinating Japanese religious traditions and monuments of Shintoism and Buddhism on this 3-hour, small-group walking tour of Kyoto led by a local scholar. Admire Kyoto's most important ceremonial sites, including Yasaka Shrine, Kennin-ji Temple and the UNESCO World Heritage-listed Kiyomizu-dera Temple. Along the way you'll gain a newfound appreciation for Japanese religious rituals and practices, including Shintoism, a belief system indigenous to Japan, and Buddhism, which was imported from China and Central Asia. Best of all, this intimate tour, limited to just 6 guests, ensures a personalized experience.
Highlights
3-hour Kyoto walking tour with a religious scholar
Stroll through the Gion district with your local guide to Shinto shrines and Buddhist temples
Learn the meaning of the gates and halls at the Shinto Yasaka Shrine
Visit the UNESCO World Heritage-listed Buddhist temple of Kiyomizu-dera
See the Dharma Hall and Abott's Quarters at Kennin-ji
Discover daily rituals of Buddhist monks and spiritual seekers
Small-group tour with a maximum of 6 people ensures a personalized experience
What You Can Expect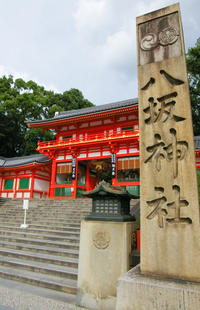 Take a deep dive into the history, culture and practices behind Japan's two primary religions, Shinto and Buddhism, on this small-group tour of Kyoto led by a local scholar. Gain new insight into how these two twin pillars of Japanese spirituality first started in Japan as you explore the most important religious monuments of Kyoto and hear how these two practices have evolved over time.
Start your religious-themed exploration of Kyoto by meeting your guide in the afternoon at the Lawson General Store in front of the city's Yasaka Shrine. Head inside this impressive Shinto complex, encompassing a multitude of intricate gates and halls. You'll also have the chance to witness temizu, the ceremonial washing of the hands practiced by visitors before entering such sites.
Listen as your guide explains the primary structure of Shinto, the indigenous Japanese spiritual practice, including an outline of its kami, or spiritual deities. You'll also hear about how the 19th-century Meiji regime used this religion's beliefs and Japanese folklore to promote its nationalist aims.
Head back into the throughways of Gion as you proceed on to Kiyomizu-dera, one of Kyoto's most celebrated temples. First built in 788 AD, this UNESCO World Heritage-listed temple is situated high above the city on the slopes of Otowa Mountain, providing fantastic views of the surrounding urban area. Begin a discussion about the origins of Buddhism with your scholar guide, covering the history of the religion and an explanation of the organizational principles for Buddhist temple complexes. You'll also discover the importance of amulets and charms, which practitioners use to help ward off bad luck and provide protection.
Make your last stop of the day at Kennin-ji, a Zen Buddhist complex first constructed in 1202 AD. Spend some time here observing the typical rituals and practices of the site's resident Buddhist monks, who use a combination of meditation and work to help reach spiritual enlightenment. Visit the site's Abbott's Quarters, Dharma Hall (Hatto), its 16th-century teahouse and the Imperial Messenger Gate.
Finish your tour back at Kyoto's Yasaka Shrine, leaving with newfound appreciation and insight for the typical religious practices of this diverse island nation.

May 2016
We weren and #39;t sure what to expect from this tour but we had an unparalleled experience! Alex was an absolutely fantastic tour guide, it honestly felt like we were hanging out with a really smart, cool friend who was showing us these amazing tempels and shrines. I wish I could go on and on!
April 2016
January 2016
Fantastic tour for anyone who is interested in learning more about how Shintoism and Buddhism have helped to shape Japanese history and culture. Our guide was extremely knowledgeable about the subject matter and thoughtfully answered all of our questions. This tour definitely improved our awareness and understanding of some of the subtleties of Japanese culture. As a result, it also improved our understanding of everything we experienced in the days that followed. Highly recommended!
November 2015
Absolutely fantastic afternoon! Our guide was a buddhist priest who really brought into perspective the temples we had been visiting. Amazing!
March 2015
Absolutely amazing experience. Our guide Brian is one of the best guides we have ever had. He is very passionate about what he does and it benefited our tour and vacation tremendously.
April 2014
We enjoyed our walking tour very much. Our guide was personable and answered all of our questions well. He was knowledgeable but knew when to move on to another topic. He was in tune to our jet lag and our needs to sit for a bit. He was informative about life in Kyoto and Japan in general. I highly recommend this walking tour and this particular guide. We plan to use Viator guides and programs in future travels! We are saving this web site on our "favorites."
Dr. P United States of ...
May 2016
Well informed guide. Well structured tour. Wish one more Daikaku-Ji temple was also included.
November 2015
Friendly and extremely knowledgeable tour guide. He provided insights I would have missed had it not been for him. Do this tour at the start of your stay as it will make subsequent visits to shrines and temples more rewarding.
May 2016
Not worth the $100+ I paid for it, even though the guide was nice and knowledgeable.
Advertisement
Advertisement