Uncover the secrets of Japan's elegant geishas during an evening dining experience in a private Kyoto restaurant. Stroll through the Gion district to delve into the fascinating history of geishas, beautiful performers trained in entertaining exclusive clientele. Then, pleasure your palate with a Japanese kaiseki meal and a selection of specialty drinks; sip sake as your expert guide translates the questions you have for your 'maiko,' or apprentice geisha. Gain insight into her profession and enjoy an intimate atmosphere on this small group tour, where numbers are limited to eight.
Highlights
Dinner with an apprentice geisha and walking tour of Kyoto's geisha district
Stroll through the Gion neighborhood with your private guide and learn about the history of these gifted Japanese artists
Savor exquisite kaiseki (haute cuisine) at a private restaurant, accompanied by a maiko
Converse with the maiko and learn more about her world as your guide translates
Enjoy the traditional dance and musical entertainment performed after your meal
Small-group experience is limited to eight people for personalized attention
Recent Photos of This Tour
What You Can Expect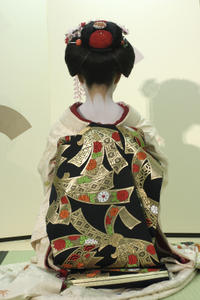 Greet your guide upon pickup at your hotel and begin your enriching stroll through the vibrant Gion district of Kyoto. Wander past a plethora of theaters, restaurants and teahouses, all of which have been exclusive locations for geisha entertainment for centuries. Hear about the origin of the geisha profession from your knowledgeable guide and gain fascinating insight into the traditions and customs involved in the occupation.
View Minami-za, Japan's oldest kabuki theater, and make a quick detour through Hanamikoji Street. From Yasaka Shrine, explore northern Gion, crossing Tatsumibashi Bridge and strolling alongside the tranquil Shirakawa Canal. If you're lucky, you might catch sight of a geisha—called geiko in Kyoto—as she heads to her first appointment of the evening.
On arrival at an exclusive private restaurant, meet an exquisitely dressed apprentice geisha, or maiko, and take a seat at an elegantly laid table. Begin your bounteous banquet with an aperitif and some delightfully presented appetizers, the ingredients of which are fresh, seasonal and locally sourced.
Continue with a variety of mouthwatering main dishes and conclude your kaiseki meal with a light yet satisfying desert. Enjoy the intimate atmosphere of the small-group experience as the maiko pours drinks, invites you to partake in Japanese drinking games, and answers any questions you may have about the profession via your guide's translation.
Watch the performer sing traditional songs and demonstrate Japanese dances while you sip sake, and feel free to capture photographs to immortalize your interesting cultural experience.
After dinner, bid your group farewell and be accompanied back to your Kyoto accommodation by your guide.
Please note: A minimum of two people per booking is required.
June 2016
Thoroughly enjoyed the experience. Our party had 5 adults in their early 20s and two adults over 50.
November 2015
The absolute highlight of my entire trip to Japan. My translator was wonderful and helped guide us through the process. The locale was superb and the owner/staff were so incredibly welcoming. I felt like a celebrity! Once the Maiko arrived, I felt like I was in a room with a unicorn. She was such a special person and I felt honored to be in her presence. She was there for a few hours and the translated conversation was wonderful. She played music, danced, and helped serve the drinks. It's pricey but worth it as you get to spend time with an artist from an era long past.
Anonymous
June 2014
Experience of a life time! I brought home with a new perspective of Geisha/Maiko and the art behind it. Highly recommended!

June 2016
Quite pricey but such a good experience
Our guide spoke excellent English and had a lot of experience, that was quite interesting :
That tour was actually a gift for my parents who were simply delighted! We were quite luck to be able to see many Maiko and Geisha in a nearby local festival just before the dinner.
Dinner itself was impressive, sooooo many delicious dishes were brought, that was really amazing!
April 2014
Our translator/guide Reiko picked us up promptly at our hotel and had a cab waiting to take us to Gion, where we spent a few minutes marveling at the illuminated cherry blossoms and the lovely people strolling in the area. Then we were whisked away to the restaurant for our evening with the geisha. It was a beautiful evening. The service by the restaurant staff was excellent. Reiko proved to be an excellent translator for our communication with our maiko, answering all our questions with a smile. It was a magical evening to experience the world of geisha up close, to see her hair and make-up, her beautiful kimono and her gentle demeanor. Our maiko entertained us with music, dance, conversation and a fun game at the end of the evening. We felt very special receiving all the attention. The men in our group were especially appreciative of her presence but the ladies enjoyed themselves a lot too. We were a bit disappointed with the quality of the dinner. Having eaten in other expensive restaurants. we felt that it could have been a bit more inventive, but in the end the evening was more about the culture of the geisha rather than gastronomy. I cannot speak highly enough of our wonderful translator and guide Reiko, whose politesse and proficiency in English made our evening so enjoyable!
Advertisement
Advertisement