Experience the natural beauty of Costa Rica on this half-day horseback riding adventure from Arenal. Take in views of the tropical landscape and look for native wildlife during a leisurely ride to La Fortuna Waterfall. Dismount for a short nature hike and a refreshing dip in the emerald pool at the base of this spectacular cascade.
Highlights
Horseback riding tour to La Fortuna waterfall

Ride through the beautiful countryside and rainforests of Costa Rica with your bilingual tour guide

Take a swim in the waterfall's natural pool
Complimentary hotel pickup and drop-off

What You Can Expect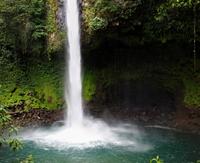 Explore the rolling hills and tropical forests of Costa Rica on horseback! You'll be picked up at your Arenal hotel for a short drive to the stables, where you'll meet your horse and learn proper riding techniques. After you saddle up, a bilingual guide will lead you through the open expanses of countryside and into the lush rain forest. Observe this amazingly diverse ecosystem and keep an eye out for the many indigenous species that call it home, including sloths, monkeys, tropical birds and impressive insects.
You'll dismount at the magnificent La Fortuna Waterfall. Here you can admire the 229-foot (70-meter) cascade as it empties into a beautiful natural pool. Take a swim in the refreshing waters beneath the fall if you like, and then join your guide on a short nature walk for an up-close look at the native flora and fauna.
Hop back on your horse after an hour of exploration for the relaxing ride back to the stables. You'll then be driven back to your Arenal hotel.
Note: Click on 'View additional info' to confirm your hotel's correct pickup and drop-off zone.
January 2015
Torn Review...
There are pros and cons to everything and I understand visiting another country (2nd trip) animals are treated differently. As a paying customer and animal lover, I expect animals to be treated with the best treatment, especially hauling horses.
The ride was great. Our guide, was good until we headed back to the ranch. I noticed that some of the horses were missing their shoes on the way to the waterfall and I mentioned it.
His response: 'It's not my job!'. Are you kidding me?!
My response: 'how would you like walking on rocks, cobblestone, and rough terrain all day?'
His response: 'ehhh- it wouldn't bother me'.
Yeah right. I did not appreciate his response and more importantly how the animals are treated. Horses are an attraction of Costa Rica and help provide jobs for locals. Mis-treating animals infuriates, saddens, and makes me feel guilty for paying a company that does not take care of their animals.
On a positive, the waterfall was awesome-- an amazing creation. I would not recommend for anyone not in shape or with bad knees due to the .70 mile stair hike (I tracked the distance).
Overall, this was a great experience, but I would recommend another outlet with healthier horses.
October 2013
it was o, but could have been better if the guide would stop a few time for 30 seconds to let the guess take some pictures
Advertisement
Advertisement