Set sail along the Caribbean to picture-perfect Saona Island on this day trip from La Romana. Enjoy a relaxing catamaran cruise and thrilling speedboat ride to Saona Island, a tropical paradise of white-sand beaches, drooping palm trees and turquoise waters. Have a barbecue lunch on the beach, and spend three hours exploring the island, swimming, playing beach volleyball or learning the traditional 'merengue' dance. Sip unlimited drinks on your cruise back to La Romana.
Highlights
Full-day cruise to Saona Island from La Romana
Sail by catamaran along the smooth Caribbean waters
Take an exciting speedboat ride to Saona Island
Enjoy a BBQ lunch on a picturesque white-sand beach
Spend three hours as you please on the breathtaking tropical island
Return to La Romana by catamaran with unlimited drinks on board
What You Can Expect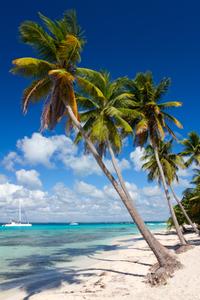 Start with a pickup from your La Romana or Bayahibe hotel in the morning for your day trip to Saona Island. Head to the La Romana dock to board a catamaran and set sail along the crystal-clear Caribbean Sea. Your hosts will be with you throughout the day to ensure you have a safe and enjoyable journey.
Cruise to the 'Natural Pool' lagoon, and stop to explore natural rock pools full of marine life. Enjoy the views with a complimentary cocktail in hand. For the next leg of your trip, transfer to a speedboat for an exhilarating ride to Saona Island.
Famous for its stunning palm-fringed beaches, this tropical island is often used by filmmakers and advertisers for its quintessential 'desert island' setting, which you'll capture in full as you approach it from the water.
After docking on the beach, enjoy a buffet-style barbecue lunch under the shade of palm trees. Then, make the most of three hours of free time to lounge on the sand, swim in the turquoise waters, explore the island by foot, play beach volleyball or learn how to dance merengue: a typical Dominican style of dance.
Board a catamaran for your return trip to La Romana, enjoying unlimited drinks on board. Arrive back at the La Romana dock in the early evening, and finish the day with a hotel drop-off.
September 2014
It was wonderful. We had a good time. The so called "natural pool" was amazing, we took pictures with starfish, my daughter and niece loved it.
January 2015
Very disorganized. Called the tour company to confirm, was told to be in the lobby at 9:20am, nobody showed up. If it wasn't for another rep who called them again and advised we are suppose to be picked up from the beach, we would've missed it. Save ur money Sanoa Is nothing special, bad lunch servd
July 2014
Ok this tour was a bit if a mixed bag.
I very much doubt that the beach they took us to was Saona Island! I think it was just a beach along the coast of DR! It wasn't even a nice beach as it was quite rocky underfoot.
Catamaran cruise was fun, blue lagoon swim lovely and speedboat trip back great
August 2015
Had to email / phone to arrange pick up, which was not acceptable. The local company ignored all my emails. Phoned them day before trip and I was hung up on twice. Repeatedly emailed Viator and they eventually confirmed pick up time that night. Disgusted that I now came home to a 15 bill on my phone for having to arrange my own pick up - and those calls still didn't sort it out but total waste of money and time while I was supposed to be relaxing on holiday. Actual day trip was good but this experience made the whole thing very stressful and expensive.
January 2015
I received very little information when I booked this trip which made it seem very unorganized. The catamaran cruise was my favorite part of the trip, the staff was awesome and made it fun and enjoyable. The time on Saona Island seemed too long. I didn't eat the lunch, by the time I went to get food everything was covered in flies. There were a lot of bugs leading to a lot of bug bites. The speed boat trip and swim in the blue lagoon were fun. If I were to do a trip like this again I would want to see an estimated time schedule of everything on the trip before booking. This trip was fun, just not sure if it was the right trip for me.
February 2015
This tour was the worst from the poor transportation pick up to the drop off on the beach. The on deck music and entertainment was poor,loud and constant. The lunch got me sick flies and broken tables no where to sit except on dirty old and stained plastic beach chairs. The water was rough and merely.
September 2014
The excursion was by far unorganized. It seemed as if they overbooked people to come on the Saona Island excursion. Several people had to wait in a middle island for a long time until the excursion began. The staff barely spoke in English to the non-spanish speakers, and only did so when asked.
Advertisement
Advertisement