Never been up in a helicopter before? Well, this is the perfect introduction! Your 10 minute flight takes you up and over the beautiful Emerald Bay, high over Vikingsholm Castle and by Fallen Leaf Lake before descending back to earth. A truly memorable experience!
Recent Photos of This Tour
Emerald Bay Helicopter Tour
What You Can Expect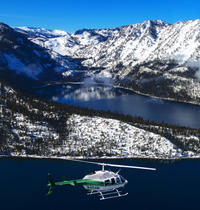 Did you know that Emerald Bay is the second most photographed location in North America?
On this tour, enjoy the wonder of Emerald Bay, Fallen Leaf Lake and the Vikingsholm from the best vantage point available!
Your helicopter will be a Robinson R44 Raven II or a Bell 206 LongRanger. These are some of the safest and quietest helicopters in the industry. Each copter comes equipped with leather seats and Active Noise Reduction headsets, so you can enjoy your flight in comfort without any unnecessary noise.
Depending on the helicopter being flown, passenger count will be 3, 4 or 5 passengers and the pilot. Be assured that EVERY seat is a window seat!
All passenger weights MUST be advised at time of booking
September 2015
Me and my daughter had a great time. Very nice and friendly pilot.
July 2015
Had a wonderful time. Everyone was great!!
June 2015
This tour was amazing! Clint was a fantastic pilot and put us at ease when the air choppy. The views were spectacular and my boyfriend proposed during our tour. I could not ask for a better tour. Absolutely perfect!
June 2015
Awesome!! Great pilot. Smooth trip. A must do in Tahoe!!
May 2015
BEAUTIFUL!
The pilot, Clint was awesome! Very friendly and great at keeping everyone comfortable even my mom who was scared to death!. : Despite the owner of the company being a complete jerk, I HIGHLY recommend doing this tour...request Clint. I guarantee he will make you laugh! :
May 2015
We had a great time on this short trip. Out pilot Clint was personable.
April 2015
What a great experience! Claudio and his staff made our first time in a helicopter so much fun. The pilot was very knowledgeable and friendly. Definitely a must do while in Tahoe.
March 2015
Anonymous
February 2015
I really enjoyed our trip around Emerald Lake with Claudio. From the moment we arrived Claudio greeted us with a funny, cheerful attitude that carried throughout the experience. I've been to Tahoe a number of times, but the view from the helicopter gave me a newfound appreciation for the Lake's wonderful beauty and vastness. The helicopter ride itself was very smooth and quite different than anything i'd experienced before. I would highly recommend this trip or any by the Reno Tahoe Helicopter Tours to anyone wishing to get a new perspective on the surrounding area or just to try something new. 10/10!
Anonymous
February 2015
Being from the El Dorado County area, I would have to say that the Emerald Bay tour was definitely one of the most adventurous activities I have done in the area! I have been to South Lake Tahoe so many times, and Reno Tahoe Helicopter Tours was the most memorable, and one of the first activities I recommend to people that are wanting something relaxing but exhilarating at the same time! Our pilot Claudio was hilarious! He made the ride extremely comfortable and made sure we had a great time. My absolute favorite part was just seeing Lake Tahoe from a different point of view. It's beautiful from the ground; imagine it at an amazing aerial view…Next time I go back I plan on taking the Sunset Tour! I totally suggest taking a this tour because you won't be disappointed!
Advertisement
Advertisement