Tahoe photographic tours offer a unique way to enjoy Lake Tahoe's scenery and create your own souvenirs, and on this small-group tour limited to just six people, you'll be led by an experienced photo guide who provides tips and shares information about the area. Whether you're looking to snap a poster-worthy shot of snow-covered mountains, towering trees, wild flowers or the glassy lake itself, you'll learn how to shoot in the great outdoors and see some of Lake Tahoe's most beautiful natural sights, including Emerald Bay. Select either a half-day or full-day tour.
Highlights
4-hour guided photography tour of Tahoe
Choose from 'The Ultimate Scenic' or 'The Grand Tahoe Around the Lake' itineraries

Views of Lake Tahoe and the Sierra Nevada mountain range
Transportation to and from any South Shore location

Bottled water included

Professional photography tips
Don't forget your camera!

Recent Photos of This Tour
What You Can Expect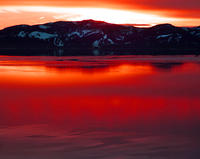 Your photography tour begins with pickup in the South Lake Tahoe area by your knowledgeable guide, who provides an intimate experience that accommodates a variety of photo interests. This small-group tour by luxurious vehicle is limited to six people but often operates with even less participants, so you can count on personalized attention.

When booking, select from two options to suit your schedule and budget—the half-day Ultimate Scenic Tour, which features locations like iconic Emerald Bay and a beach with views of Mt Tallac, or the full-day Grand Tahoe Around the Lake Tour, which circles Lake Tahoe to provide as many photo ops as possible in one day.
Itinerary
The Ultimate Scenic Half-Day Tour
After morning pick-up, your four- to five-hour tour begins at a beautiful Tahoe beach shadowed by the peak of Mt. Tallac. This area is also a wildlife sanctuary and you will be able to photograph many species of local birds, other mammals and possibly even bears.

In late Spring and Summer, wild flowers fill the beautiful meadow that lines the shores of Taylor Creek. In the foreground, Mt. Tallac watches over its many wildlife inhabitants. As the mountains and lakes beckon, continue back country lakes and beyond to spectacular waterfalls. Climb to an elevation of 8,800 feet to a high country ridge line with amazing views of Fallen Leaf, Lake Tahoe, and the Glaciers. Stop at local quaint stores that serve snacks and beverages.

Move on to one of the most photographed locations in North America, Emerald Bay. You will be taken to special spots where the allure, beauty and photographic opportunities are timeless. These areas are priceless and offer a great vantage point to cultivate your imagery. More beautiful waterfalls await, as you explore the natural beauty of this glacier carved masterpiece from many different spectrums.

The Grand Tahoe Full-Day Around The Lake Tour
This comprehensive seven- to eight-hour tour of Lake Tahoe centers on the 'Seventy-Two Mile Drive', known as "America's Most Beautiful Drive"! You'll be driven to the south shore of Lake Tahoe for your first glimpse of this stunning natural wonder nestled amongst the rugged peaks of the Sierra Nevada mountains. The mountainous scenery unfolds to a beautiful Tahoe Beach at the base of Mt. Tallac and what lies ahead are back country lakes and waterfalls.

Your guide will show you Tahoe's very best areas to discover wonderful wildlife, colorful wildflowers, spectacular cascading waterfalls, breathtaking landscapes, high country lakes and magnificent mountain views. Marvel at stunning 360-degree views of Emerald Bay, one of the most photographed spots in the world and the site of Lake Tahoe's only island.

Continuing northward down the West Shore of Lake Tahoe, see beaches with aquamarine colors and crystals clear waters and the filming location of Godfather 2, then enjoy a delicious lunch.

Drive onward to prestigious Incline Village, where you will climb a 9,800 foot pass to a lookout point that offers you unparalleled views of all of Lake Tahoe. As we continue through Incline Village, you'll see where "Bonanza", the famous Western television show was filmed. Just past the Ponderosa Lodge, you'll stop at Sand Harbor, a must-see location surrounded by big boulders and pine trees, and then conclude your journey home. A memorable full-day in Lake Tahoe awaits!
June 2016
I can not rate this high enough, it was great. My husband and I had the pleasure of meeting Keith for a wonderful day of seeing beautiful scenery we would never have been able to see on our own and throughly enjoyed his enthusiasm and passion for the area and photography. Just go!
June 2016
This tour is excellent!! Even though we were staying on the North side of the lake we felt it would be worthwhile to drive down to the South Shore to take this tour and we were so right . We've visited Lake Tahoe at least a half dozen times over the past 20 years and this was the best sightseeing experience we ever had at the lake. The photographic opportunities were awesome. We went to beautiful, scenic areas we never would have found on our own - we didn't even know they existed! The owner, Keith, who is a photographer was our tour guide. Keith was very knowledgable, gracious, and determined that we have a great time, which we definitely did. He provided excellent tips on taking photos. The tour exceeded our expectations and we highly recommend it. Great value for the price!
Eduard K USA
April 2016
January 2016
What a fantastic tour!!! We took this tour mid January 2016. The tour was actually my husband's birthday present, he knew nothing about it until our guide Doug arrived in an SUV to pick us up from our hotel in Stateline. The tour has exceeded all our expectations. It was just fantastic! If you appreciate the beauty of nature and the art of photography, this is a must while you are in Lake Tahoe.
December 2015
This tour was excellent. Victor was our guide. He picked us up on time in a very comfortable SUV. He was friendly and talkative and made the tour really fun. We went to several great locations for photos. Highly recommend.
November 2015
This tour was awesome! I've been to Lake Tahoe several times but with this tour was able to see different areas and viewpoints. Plus our guide, Victor, was fantastic. He was knowledgeable about the area and history as well as gave us helpful tips on how to take better pictures. Definitely one of the best tours I've been on!
October 2015
I'm not surprised to see all the accolades given to Victor, best tour guide we have ever had anywhere. He knows the spots you would never find alone and he is an encyclopedia of local information and history. Thank you Victor for a day my wife and I will never forget.
October 2015
Our guide, Victor was awesome! He arrived promptly, provided valuable and interesting information, took us to unexpected and beautiful locations, and was sensitive to our preferences of photography subjects! We loved the tour and were very impressed with Victor! We highly recommend this photography tour...well worth the time and money!
August 2015
It was beautiful, and fun. The guide was interesting and knowledgeable about many topics. The only criticism is that the afternoon driving time was rather long. I suggest finding another stop during the afternoon to break up the driving time.
August 2015
The sights on the tour were fantastic. Our guide, Victor was fun, friendly and knowledgeable about the area.
Advertisement
Advertisement