Combine a Jet Ski rental with a parasailing ride for two adrenaline-pumping experiences in one day. During this Lake Tahoe Super Saver, you can zoom across the waters of Lake Tahoe during a 1-hour Jet Ski rental, which allows you to admire the gorgeous lakeside scenery at your own pace. Then head up into the air by parasail to enjoy the same scenery from 200 feet (61 meters) high while you're pulled behind a power boat. You may also do the two activities in reverse order, if you wish.
Highlights
Jet Ski and parasailing Super Saver tour from South Lake Tahoe
Explore the lake on your own with a Jet Ski rental
Look for hidden coves, or challenge your family to a race!

Soar through the air at a height of 200 feet during a parasailing ride
Enjoy aerial views of the sparkling water and snowcapped mountains
Schedule each activity within the same day, but complete them in either order
What You Can Expect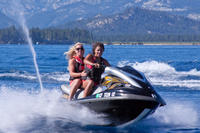 Your combo tour starts at the rental shop in South Lake Tahoe, where you'll receive a safety briefing about operating watercraft on Lake Tahoe. Both activities must be done on the same day, but you can do them on either order.

1-hour Jet Ski rental:
After a lesson on how to operate your personal watercraft, hop on and set off across the lake. During your hour of rental time, you can cruise around southern Lake Tahoe at your own pace to see idyllic beaches, admire the mountain scenery or find a secluded cove. Go as fast or a slow as you wish to enjoy a heart-thumping thrill or a relaxing ride. Then return the Jet Ski to the marina when your time is up.

Note: If two people book together, you may combine your vouchers to use one Jet Ski for two hours, or you may each have your own Jet Ski for one hour.

Parasailing (8-minute ride; 40-60 minutes total time on the boat):
At the marina, board the speedboat with your experienced crew. Parasailing rides are done in groups, so you may be matched with one or two other people, depending on the weight of all participants on the boat.

When you're strapped securely into your harness, attached to a long rope, the captain will start the boat and increase the speed, sending you high into the air. From a height of 200 feet, look down at the clear blue water below and admire the mountains and forest that surround Lake Tahoe.

Rhona S United Kingdom
August 2014
Sadly unable to complete this due to bad weather conditions on the day
Advertisement
Advertisement