For over 30 years, this Tahoe family has delighted visitors from around the world with history, fun and nostalgia with sleigh rides through the fields and meadows of Lake Tahoe.
Highlights
Lake Tahoe sleigh ride

Dash through the snow on a horse-drawn sleigh

Learn about the history of the area, such as the old Pony Express

Enjoy a 3-course dinner at a local restaurant

Recent Photos of This Tour
Sunset Sleigh Ride and Dinner
What You Can Expect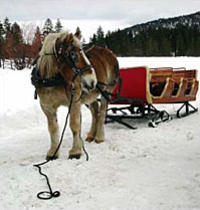 Your carriage is pulled by either beautiful 2,000 pound Blond Belgium horses or a rare American-Russian Baskhir Curlies, all of which have been featured in Pasadena's Tournament of Rose Parade over the past few years.
Your Sunset Sleigh Ride will take you over the meadow, through the woods to grandmother's house. Sing along to the beat of Jingle Bells as the horse dashes through the snow; then travel on the Pony Express trail to pick up your free souvenir at historic Friday's Station.
Travel down Lake Parkway, passing Edgewood Golf Course, to one of the most spectacular views of the Lake Tahoe area.
Depending on the availability of the restaurant, the Sunset Sleigh Ride will stop at either LewMarNels or Edgewater for dinner. Both restaurants offer a wide selection of deliciously prepared dishes. You'll enjoy a 3-course gourmet meal that will make your trip to Lake Tahoe unforgettable.
Each sleigh is equipped with warm blankets for snuggling and the ride lasts for approximately 30 minutes.
December 2009
My boyfriend and I went up to Tahoe for the night to celebrate our anniversary and we couldn't have asked for a better time. Everyone was incredibly nice and helpful. It was a little cold but they gave us great big warm blankets. I would definitely recommend this to anyone looking for a romantic sunset sleigh ride.
July 2011
Had a nice time....the trip what well worth it!! Michelle was a great guide. Was just a tad funny about the dinner thing since they do not take you to where you need to be for dinner but we had an AWESOME dinner at Edgewood!!!
December 2009
A nice experience with friendly people. If the weather conditions permit you will have a nice time!
March 2013
Our experience was delightful.....our driver was the best.....told us a Robert Frost poem along the way...all the staff members were very helpful.....fun and very nice. The sleigh ride would have been better if we could have seen more of the Lake and not just driving around on a piece of land....The dinner was good, pleasant place and quiet. We would recommend you to our family and firends.
February 2012
It was disappointing to not have enough snow to do a sleigh ride. It was substituted with a carriage ride. Our guide was very nice and knowledgable about the area. We ended up at a different restaurant then I had booked with the sleigh ride. Again that was disappointing. Although dinner was good, it was ot what I was expecting.
June 2010
The ride is not romantic. The sleigh driver gives a historical account of South Lake Tahoe the whole time you are on the sleigh. The free souvenir is a cheap paper post card. I felt that the brochure was misleading. Lake Tahoe is extremely beautiful though.
February 2011
Nicest people ever . . . great sleigh, beautiful horses . . . however the sleigh ride is around an open meadow as you look up at the casinos . . . on a bumpy, sometimes snow lacking path . . . not what I had in mind when reading THEIR description. Dinner was great! Probably wouldn't recommend the total package. It WAS a once in a lifetime experience for us . . . in other words, we never HAVE to do THAT again!
February 2010
The sleigh ride was cut short. We couldn't hear the guide talking to us while she was trying to explain the historic signifigance of the pony express. There was supposed to be a shuttle that would take you to dinner and back that was never offered or provided. The dinner wasn't worth $35.00 a person. So I guess what I am trying to say is that the sleigh ride wasn't something that I would recommend.
Advertisement
Advertisement