Get in on some island vibes during this island hopping tour from Langkawi. Explore the area by boat with an expert guide who will point out wildlife, land masses and other features as you make your way to Pulau Dayang Bunting (Pregnant Maiden Lake) and Pulau Beras Basah, where you'll enjoy time relaxing on white sandy beaches.
Highlights
Tour of Pulau Langkawi's islands
Cruise along the ocean and marvel at the lovely sights of its abundant wildlife
Relax on the white sandy beaches of Pulau Beras Basah
Visit Pulau Dayang Bunting and see how its mountain formation takes the model of a pregnant lady
Friendly and professional guide and hotel pickup and drop-off included
Recent Photos of This Tour
What You Can Expect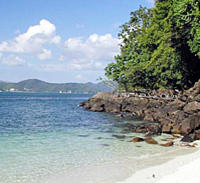 Meet your guide and driver at your Langkawi hotel and head out to Pantai Cenang by boat. Revel in the beauty of rocky coastlines, lush greenery, stunning wildlife and clear blue waters as you listen to the expert commentary of your guide.
Your first stop is the island of Pulau Dayang Bunting (Pregnant Maiden Lake). Your guide will explain how the water found here is rumored to have medicinal qualities to cure infertile women. Keep an eye out for wildlife as you cruise the waters, where you may spot diving eagles or crab-eating monkeys.
Next, stop at Pulau Beras Basah, where you'll have time to relax on sandy beaches and enjoy sun and blue waters before returning to shore and making your way back to the hotel.
July 2014
Zafrul I Bangladesh
February 2014
Exciting experience specially with the spped boat trip and the time at sea beach though short.
November 2010
this was the highlight of our trip in Langkawi! got off to a slow start, had to wait about 1hr to get on boat as there was around 200 ppl waiting to do various tours. they squeezed around 20 of us on this boat so was very cramped. but once we got going it was all forgotten. lots of scenary along the way, stopped at preg maiden lake & had swim there- lots of monkeys around & quite abit of a walk. we then stopped at an area which had heaps of eagles flying around. after that off to the most perfect beach for around an hour of swimming & relaxing. watch out for monkeys on the beach as they unzip ur bags. great value for money, def worth doing. i thought the trip incl a stop at a wildlife sanctuary but we didn't stop there

February 2010
Boat went very fast to first island, but it was magnificent swimming in the Lake of the Pregnant Maiden. Would have been better to have more time here and less time at rice island where there wasn't much to do. Eagle feeding was brilliant.

May 2016
July 2011
Enjoyable trip. Would have liked more time watching the eagles. We only stopped for about 10 mins. The last stop was at a beach for an hour but it was rather dirty because the monkeys pull all the rubbish out of the bins. Our beach at our hotel was 100% nicer so I didn't enjoy the beach stop.

November 2010
It was a great trip! Made many new friends and the sites were great. The walk to the water area for a swim, well that's another story. It's worth your while, I just don't want to take the excitement out of your day. The boat was fast and unbelievable.
November 2010
We both enjoyed this trip very much, the final beach at the end was beautiful, however the rubbish left over by the tourists was discusting! it was literally in all the undergrowth. other than that, well worth the money.
Chun Kwong K Hong Kong
January 2010
The tour is good, but it would be much better if there was a chance to step on Lion Island and spend more time on it!
FRITZIE D Australia
September 2008
Definitely worth taking. In my opinion though if we had had a better tour guide, speaking English to advise what we were seeing while on the boat and at the 2 stops, this tour would have been far better. But it was still worth the ride!
Advertisement
Advertisement