Malaysia is a nation with diverse ecosystems, rugged beauty and incredible natural landscapes. Experience them all on this Langkawi Mangrove Forest and Eagle Watch Tour in Tanjung Rha. Float through mangrove forests by boat as you learn about the ecosystem that surrounds you. Navigate waterways and limestone crags as you take in the flora and fauna that make this destination unique. Sample local cuisine with lunch at a fish farm restaurant and hike into a bat cave where you'll see these tiny flying mammals and watch various species of eagles being fed.
Highlights
Mangrove forest tour with eagle watching in Langkawi
Travel by boat and discover the abundant forms of wildlife hidden in Langkawi's mangrove forest in Tanjung Rhu
Dine on a delicious lunch of freshly caught seafood from a local fish farm restaurant
Enjoy the unique experience of watching white-headed eagles being fed!
Hotel pickup and drop-off included
What You Can Expect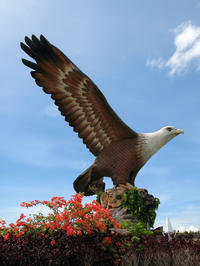 Your friendly and professional driver will collect you from your Kuala Lumpur hotel and transport you to Tanjung Rhu fishing village to kick off your Lankawi Mangrove Forest and Eagle Watching Tour. You'll journey into the hidden landscapes and natural beauty of this vast nation and navigate limestone caves, waterways and canyons, where wildlife gather in trees and along the riverbanks.
Enjoy a traditional meal in this colorful fishing village and sample seafood fresh from the farm. With full bellies, head out to watch as various species of eagles are fed. The final stop of this memorable journey is a darkened bat cave, where you'll find these flying mammals perched and taking flight.
Make your way back to your hotel after a short boat cruise back to Tanjung Rhu and enjoy the comfort and ease of round-trip transportation.
May 2015

January 2015
Definately see this, you never know what you will see. On this occasion besides monkeys stealing food from people on our boat we got to see a Female Green Viper hanging around a tree branch. This was great from beginning to the end.
July 2014
April 2014
We had a great time. Very informative tour. Our guide Kairo was excellent.
Couldn't fault the tour. Many highlights.
September 2012
The trip was amazing!! Loved everything about it and our guide was highly informative and learned so many things about the forest and the animals that live there!
We loved seeing the monkeys swim and the Eagles soaring high above us!
The bat cave was very interesting as well and the mangrove tour which was so exciting, as well as the fish farm that had a variety of interesting fish and we got to feed a stingray!
Afterwards we went for a boat ride out in the ocean which was quite a pleasant surprise!
and we stopped at a sandy beach for a swim, so bring your swimwear because we didn't and we highly missed out on that part!
We ended the tour was an delicious lunch on a floating restaurant!
Highly recommend this tour, this is a MUST if you go to Langkawi! Don't miss it!!
Melissa R Australia
September 2011
The knowledge base of our tour guide really made the tour as good as it was. We learnt more about the native flora and fauna than expected and were amazed at some of the scenery and wildlife around, especially the swimming monkeys which were a treat.
January 2011
This is truely the most wonderful day trip, so much to see - snakes, bats, monkeys, fish and lots more. Our guide for the day was excellent, we learnt so much from him and he made it fun! 1 tip - dont sit at the front of the boat unless you like getting soaked!!
Connie M Australia
February 2010
Very interesting tour with great guide.
November 2009
It was such a wonderful day, would recommend it to everyone. You will thoroughly enjoy it.
AHMAD N Syria
November 2009
It is very great tour.
Advertisement
Advertisement