39 Reviews
Location:

Las Vegas, Nevada

Duration:

3 days

(approx.)
See the desert landscapes of the Western United States! On this three-day tour, depart from Las Vegas to see Arizona's Grand Canyon and Lake Powell, and Utah's Bryce Canyon National Park and Zion National Park. Discover the natural beauty of these canyon rock formations and the surrounding bodies of water as you tour the scenic areas with your expert guide. Sit back and relax as this comprehensive tour covers all of the must-see areas of the deserts of the Western US!
Highlights
3-day tour from Las Vegas to the Grand Canyon, Zion National Park and Bryce Canyon National Park

See Arizona's majestic Grand Canyon with your expert guide

Take a boat cruise on Lake Powell and take in the magnificent scenery
Discover amazing rock formations at the beautiful Bryce Canyon National Park in Utah
Visit Utah's breathtaking Zion National Park

Two nights of accommodation included

Transport by air-conditioned minibus or minivan
Why Our Insiders Chose This Tour
Adventure outside the glitz and glitter of Las Vegas and discover the surrounding desert beauty.
Recent Photos of This Tour
3-Day National Parks Tour from Las Vegas: Grand Canyon, Zion and Bryce Canyon
What You Can Expect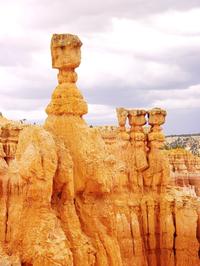 Join this tour and travel by minibus or minivan from Las Vegas through the desert landscapes of the Western United States. See the Grand Canyon in Arizona and be inspired by its magnificent size and stunning beauty, and shop for authentic Native American keepsakes or gifts.

Take a cruise around Lake Powell and enjoy views of the unique coves and rock formations surrounding the body of water. Cross the border to Utah to discover Bryce Canyon National Park and Zion National Park and admire the beauty of each of the preserved lands.

See the Itinerary section below for a more complete and detailed schedule.
Itinerary
Day 1: Las Vegas– Grand Canyon– Lake Powell
Leave Las Vegas behind as you start the day traveling southeast through the scenic desert. Travel through a Navajo Indian reservation toward the south bank of the majestic Grand Canyon in Arizona. As you tour the south bank, learn from your guide how the Colorado River has been carving its way through the earth for hundreds of thousands of years. You'll be in awe of the size and grandeur of the Grand Canyon.

After lunch, continue along the canyon, stopping at authentic Native American markets to browse the handmade arts and crafts. You'll also have time to leisurely shop and enjoy the unique marketplace atmosphere.

Once you have finished shopping, head toward Lake Powell, one of the most beautiful lakes in America. Arrive at the lake in the late afternoon and check in at the Best Value Inn Page near the lake, where you'll stay overnight.

Overnight – Best Value Inn Page, Lake Powell

Day 2: Lake Powell– Bryce Canyon (B)
After breakfast at the hotel, enjoy a scenic ride to Lake Powell and take a boat cruise on the water. On board, see hundreds of private coves and the famous salt pillars. You'll also get a chance to walk around the lake and view the famous red sand arches characteristic of this area.

After the cruise, head west across the border and arrive at Bryce Canyon National Park in Utah. The canyon is home to some of the most amazing natural sculptures in the world. The delicately carved spires, pillars, arches and amphitheaters make the national park strikingly beautiful. Learn about the geological makeup of each of these one-of-a-kind natural sculptures.
Your guided tour will take you to see amazing rock and sand sculptures honed to perfection over thousands of years of rain, wind and sunshine. Head to one of the vista points in the park to experience a stunning sunset, whose dramatically changing colors will leave you mesmerized. Spend a comfortable night at the Shilo Inn Kanab.

Overnight: Shilo Inn Kanab, Utah

Day Three: Zion Park– Las Vegas (B)
Enjoy a continental breakfast at the hotel and then visit Zion National Park. Learn from your guide how the Virgin River was primarily responsible for slowly paring through layers of rock to sculpt Zion Canyon. Admire the awe-inspiring beauty of the high plateaus, striking towers, temples, mesas and one of the earth's tallest-known sheer sandstone walls.

You'll also encounter breathtaking, picturesque sites like the Court of the Patriarchs, Angel's Landing, the Great White Throne, the Temple of Sinawava and Weeping Rock while taking small hikes. Take time on your own to hike around and discover the natural beauty of Zion National Park. The park is truly a photographer's paradise, where the vistas are stunning from every point on the compass. Enjoy a relaxing walk along the river before meeting your group at the minibus and heading back to Las Vegas.
July 2015
This tour is an amazing opportunity to see 3 national parks in 3 days! Here are the pros/cons:
Pros: The tour guide Manuel who gives the tour in Italian and English is fantastic! He is funny, patient, informative and attentive to each tourist. He was very accommodating when we had to make a special request, and when you're on a bus for 6-7 hours a day, it's great to have a good-natured and charming person like Manuel to make the journey interesting.
The bus driver, Greg, was great as well. He's a safe driver and sells water for 1 a bottle, so take advantage of that!
Day 1:The Grand Canyon is breathtaking. We were able to spend time at the South Rim and we also had about an hour to visit the Desert View. Overnight at the Clarion Motel in Page, AZ was fine--typical continental breakfast provided.
Day 2: Morning boat ride on Lake Powell was more fun than we expected. Everyone rushes to the top deck of the boat, but if it's sunny--you will burn--outside of the lower deck was actually the best spot--full range of views for photos and some shade!
Bryce Canyon is beyond words. It's like being on another planet. We hiked the entire Navajo Loop trail and it was worth it! Most people just walk halfway down the hoodoos and then return the same way....you will miss out if you do this!
Day 3: Zion --- a beautiful landscape---hike the Emerald Pool Trails...wade in the river...it's a nice laid back day.
Cons: 1.The Days Inn Motel that we stayed in on Day 2 in Kanab, Utah was awful! Mold, bugs, horrible smell, unhelpful staff....Viator really needs to find an alternative---this place was filthy.
2. There should be more flexibility for choosing restaurants. Lunch on Day 2 is very mediocre we all had to eat at the same place in Kanab and lunch on day 3 is at a chain restaurant that had a 30 min. wait. I recommend you don't wait in line since you can find much better places to eat across the street!
July 2015
Well arranged tour. Great choices of the three canyons and the two hotels and great recommendations of the restaurants for lunches and dinners.
July 2015
I love this small multi culture group tour. We talk, sing and share our cultures. Bryce Canyon is amazing beautiful even in a rainy day. Zion canyon trail walk take me close to the nature scene
June 2015
Just as it said on the tin. Great Guide who covered everything with good humour and knowledge. Hotels were OK and meals were well advised. No complaints at all, our expectations were met following all the pre trip promotion.
June 2015
It was a wonderful way to see all these fantastic places, we could not have driven it and seen it all. Well done . Sue from Australia
June 2015
June 2015
This tour turned out to be perfect for my group. My kids are 10 and 12 and we also brought my uncle who is 77. The trip was not too physically demanding and there were frequent stops for break. The time spent at each site was too short for my wife and I buthe fine for our group.
June 2015
The tour was perfect! It more than exceeded my expectations. Our tour group was fantastic. We had folks from the UK, France, Israel and Italy! My S/O and I are from the US, so it was neat having international folks on our tour. Everyone was well behaved and on time for our time limits at each stop. Manuelle was a fantastic tour guide, full of information and jokes! I wish there had been more time to explore each stop, but in order to see all the things in the three days you have to move quickly. Over 1,000 miles are covered in three days. The fact that the tour starts and ends in Vegas gave us an excuse to see Vegas too, which was a blast. All in All, I would say this tour is worth every penny paid. The only downsides are the lack of extra time and the limited food options, you can expect to pay upwards of 40 for 2 people, every meal that's not included in your trip. We managed to find a REALLY good restaurant when we stayed in Kanab, its down the main drag a bit, past the light on your right. Unfortunately, I can't recall the name, but they have a little bit of everything. But there food prices are much more reasonable and better tasting than the place the tour takes you for lunch and dinner on this day. In Page, the BBQ place fills up really fast, so we decided to pass on that and walked about 1/3 of a mile to the second Mexican restaurant. The prices are fairly reasonable, but the portions are HUGE. They bring a large round platter with your food, and its really good! I ordered their house margarita and when he brought it to me, I thought he brought me the jumbo size and wasn't looking forward to having to pay 13 for it, but it was actually their standard size and was only 7.75. It was easily a 16-20oz Margarita. And it was fantastic. Around 7pm each night the guests are allowed to have free time to do whatever until 7am the next morning, my S/O and I took that time to explore each of the towns of Page and Kanab and we recommend doing the same.
May 2015
This tour was worth every penny, the main reason being our guide, Dorit! She was warm, laid-back, and very funny.
You cover A LOT of ground, google map the 3 destinations and you'll see how far, but Dorit perfectly balances commentary and breaks so you can soak it all in. Very Highly Recommended!
October 2014
We traveled the last week of Sept - first week of October 2014. This was an excellent experience for the family. It was a fun packed three days. We saw so much in such a few days. The tour guides were great and keep everything running as smooth as possible with 21 people on board. I would recommend this trip to anyone. It was a great end to a Las Vegas trip and we will definitely go back.
Advertisement
Advertisement