48 Reviews
Location:

Las Vegas, Nevada

Duration:

3 days

(approx.)
See the desert landscapes of the Western United States! On this three-day tour, depart from Las Vegas to see Arizona's Grand Canyon and Lake Powell, and Utah's Bryce Canyon National Park and Zion National Park. Discover the natural beauty of these canyon rock formations and the surrounding bodies of water as you tour the scenic areas with your expert guide. Sit back and relax as this comprehensive tour covers all of the must-see areas of the deserts of the Western US!
Highlights
3-day tour from Las Vegas to the Grand Canyon, Zion National Park and Bryce Canyon National Park

See Arizona's majestic Grand Canyon with your expert guide

Take a boat cruise on Lake Powell and take in the magnificent scenery
Discover amazing rock formations at the beautiful Bryce Canyon National Park in Utah
Visit Utah's breathtaking Zion National Park

Two nights of accommodation included

Transport by air-conditioned minibus or minivan
Why Our Insiders Chose This Tour
Adventure outside the glitz and glitter of Las Vegas and discover the surrounding desert beauty.
Recent Photos of This Tour
3-Day National Parks Tour from Las Vegas: Grand Canyon, Zion and Bryce Canyon
What You Can Expect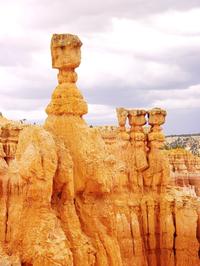 Join this tour and travel by minibus or minivan from Las Vegas through the desert landscapes of the Western United States. See the Grand Canyon in Arizona and be inspired by its magnificent size and stunning beauty, and shop for authentic Native American keepsakes or gifts.

Take a cruise around Lake Powell and enjoy views of the unique coves and rock formations surrounding the body of water. Cross the border to Utah to discover Bryce Canyon National Park and Zion National Park and admire the beauty of each of the preserved lands.

See the Itinerary section below for a more complete and detailed schedule.
Itinerary
Day 1: Las Vegas– Grand Canyon– Lake Powell
Leave Las Vegas behind as you start the day traveling southeast through the scenic desert. Travel through a Navajo Indian reservation toward the south bank of the majestic Grand Canyon in Arizona. As you tour the south bank, learn from your guide how the Colorado River has been carving its way through the earth for hundreds of thousands of years. You'll be in awe of the size and grandeur of the Grand Canyon.

After lunch, continue along the canyon, stopping at authentic Native American markets to browse the handmade arts and crafts. You'll also have time to leisurely shop and enjoy the unique marketplace atmosphere.

Once you have finished shopping, head toward Lake Powell, one of the most beautiful lakes in America. Arrive at the lake in the late afternoon and check in at the Best Value Inn Page near the lake, where you'll stay overnight.

Overnight – Best Value Inn Page, Lake Powell

Day 2: Lake Powell– Bryce Canyon (B)
After breakfast at the hotel, enjoy a scenic ride to Lake Powell and take a boat cruise on the water. On board, see hundreds of private coves and the famous salt pillars. You'll also get a chance to walk around the lake and view the famous red sand arches characteristic of this area.

After the cruise, head west across the border and arrive at Bryce Canyon National Park in Utah. The canyon is home to some of the most amazing natural sculptures in the world. The delicately carved spires, pillars, arches and amphitheaters make the national park strikingly beautiful. Learn about the geological makeup of each of these one-of-a-kind natural sculptures.
Your guided tour will take you to see amazing rock and sand sculptures honed to perfection over thousands of years of rain, wind and sunshine. Head to one of the vista points in the park to experience a stunning sunset, whose dramatically changing colors will leave you mesmerized. Spend a comfortable night at the Shilo Inn Kanab.

Overnight: Shilo Inn Kanab, Utah

Day Three: Zion Park– Las Vegas (B)
Enjoy a continental breakfast at the hotel and then visit Zion National Park. Learn from your guide how the Virgin River was primarily responsible for slowly paring through layers of rock to sculpt Zion Canyon. Admire the awe-inspiring beauty of the high plateaus, striking towers, temples, mesas and one of the earth's tallest-known sheer sandstone walls.

You'll also encounter breathtaking, picturesque sites like the Court of the Patriarchs, Angel's Landing, the Great White Throne, the Temple of Sinawava and Weeping Rock while taking small hikes. Take time on your own to hike around and discover the natural beauty of Zion National Park. The park is truly a photographer's paradise, where the vistas are stunning from every point on the compass. Enjoy a relaxing walk along the river before meeting your group at the minibus and heading back to Las Vegas.
November 2015
The tour was amazing! A great way to see the canyon and national parks. Alex was a great tour guide...would recommend his tour.
November 2015
Great views, great trip, great fun.
Manuel from Italy was great, had tons of Italians to look after but still made time for the two English speakers.
Lots of travel but great, go eat and drink at the Damn Bar the first night.
October 2015
We had a wonderful time on our 3-day tour. We had a lovely time with Manuel our tour guide and our driver Mr. Chen. We couldn't find fault with anything. The tour was very interesting and entertaining. We had fellow passenger from all over the world which made the tour and time together even more interesting. I would highly recommend this to family and friends going to Las Vegas.
October 2015
Great. Safe driver. Knowledgeable tour guide Manuel, funny, caring, responsible.
Places visited were breathtakingly beautiful. Only negative: bad, weak coffee in hotel breakfasts. Having Italians on board, we needed good strong coffee.
Three full days of concentrated tours got us big bangs for our bucks!
September 2015
This was a wonderful tour. Manuel was a great guide. The best value of any tour we have gone on.
September 2015
This was an excellent family trip. We saw so much in the time we had, tour guides were wonderful. I recommend this to anyone who is looking for a great national park tour!
August 2015
I must admit , this was one of the best tours in my experience. It was so smartly planned, we always had just enough time to enjoy it at every point, still never in a rush, technical stops happening at the right time at the right places, the choice of the hotels and restaurants was very satisfying . Emanuel is a great guide and a great guy, very helpful and informative, giving all the possible useful tips and managing the group with perfect humor and social skills. Jonathan the driver is one of the nicest persons ever. And as for the parks .. Well, they are breathtaking, beautiful and indescribable - you just must see . It was more than worth every penny . I strongly recommend it.
August 2015
I enjoyed every minute of this tour. It was so well organised, the guides were great especially our leader Siah, the scenery is breathtaking and the accommodation was much better than I had expected. We were very lucky with the weather, which was not too warm, so we could happily hike at Bryce Canyon and Zion. I have no hesitation in recommending this tour.
August 2015
Well worth the money, guides were fab, driver friendly and helpful, sites were amazing, over night hotels were better than expected, food was great, very reasonably priced, highly recommended.
July 2015
This tour is an amazing opportunity to see 3 national parks in 3 days! Here are the pros/cons:
Pros: The tour guide Manuel who gives the tour in Italian and English is fantastic! He is funny, patient, informative and attentive to each tourist. He was very accommodating when we had to make a special request, and when you're on a bus for 6-7 hours a day, it's great to have a good-natured and charming person like Manuel to make the journey interesting.
The bus driver, Greg, was great as well. He's a safe driver and sells water for 1 a bottle, so take advantage of that!
Day 1:The Grand Canyon is breathtaking. We were able to spend time at the South Rim and we also had about an hour to visit the Desert View. Overnight at the Clarion Motel in Page, AZ was fine--typical continental breakfast provided.
Day 2: Morning boat ride on Lake Powell was more fun than we expected. Everyone rushes to the top deck of the boat, but if it's sunny--you will burn--outside of the lower deck was actually the best spot--full range of views for photos and some shade!
Bryce Canyon is beyond words. It's like being on another planet. We hiked the entire Navajo Loop trail and it was worth it! Most people just walk halfway down the hoodoos and then return the same way....you will miss out if you do this!
Day 3: Zion --- a beautiful landscape---hike the Emerald Pool Trails...wade in the river...it's a nice laid back day.
Cons: 1.The Days Inn Motel that we stayed in on Day 2 in Kanab, Utah was awful! Mold, bugs, horrible smell, unhelpful staff....Viator really needs to find an alternative---this place was filthy.
2. There should be more flexibility for choosing restaurants. Lunch on Day 2 is very mediocre we all had to eat at the same place in Kanab and lunch on day 3 is at a chain restaurant that had a 30 min. wait. I recommend you don't wait in line since you can find much better places to eat across the street!
Advertisement
Advertisement