Visit some of the most popular national parks in the United States with an expert guide on a 7-day tour from Las Vegas. Admire the natural beauty of Zion, Bryce Canyon, Arches, Canyonlands and the Grand Canyon national parks, plus a trip through Monument Valley. Select optional activities such as a Grand Canyon helicopter flight to customize your tour. Includes transport by climate-controlled minivan, some meals, six nights of accommodation and all national park entrances fees. Enjoy a personalized experience with a small group limited to 14 participants.

Highlights
7-day adventure in Arizona and Utah from Las Vegas

Go hiking in Zion, Bryce Canyon, Arches, Canyonlands and the Grand Canyon National Park

Take a Navajo-guided Jeep tour of Monument Valley

Stare in awe at the incredible natural wonder that is the Grand Canyon and take an optional helicopter ride

Enjoy transportation by air-conditioned minibus, meals per itinerary and accommodation – all included

Receive knowledgeable commentary about the parks and advice on hiking trails from your tour guide
Small-group tour with maximum of 14 people provides a more personal experience

Recent Photos of This Tour
7-Day National Parks Tour: Zion, Bryce Canyon, Monument Valley and Grand Canyon South Rim
What You Can Expect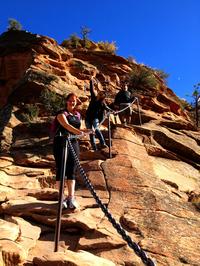 Your 7-day tour starts from Las Vegas, where you meet your guide and set out to explore the American Southwest. The itinerary includes plenty of hiking opportunities in all of the national parks, with a choice of trails that range from easy to strenuous. In the first few days, visit Zion, Bryce Canyon, Arches and Canyonlands National Parks. Then stop at stunning Monument Valley where you join a Jeep tour with a local Navajo guide. Finally, marvel at the Grand Canyon, explore the South Rim and perhaps purchase a helicopter sightseeing flight to get a new perspective. All entrance fees to the national parks are included as are meals per itinerary.

Your tour includes transportation, guide, six nights of accommodation and some meals. Choose either shared tent camping or shared hotel accommodation (3-star or higher). Details about included meals can be found under the Important Info tab.

Please see the Itinerary section below for details on each day of the tour.
Itinerary
Days 1: Las Vegas – Zion National Park
After departing Las Vegas with your guide, cross the border into Utah and arrive at Zion National Park, where massive canyon walls and red sandstone cliffs ascend toward a brilliant blue sky. Experience the beauty of Zion however you'd like during your time here – walks and hikes are available for every fitness level. Challenge yourself to what some consider the best half-day hike in the Southwest – the narrow ridgeline to Angels Landing, which at 1,208 feet (368 meters) tall offers the best views of Zion Canyon. Or do the Narrows, a popular hike that'll have you walking through the river, surrounded by dramatic canyon walls (weather permitting).

More relaxed options include strolling along the Emerald Pools trail, which takes you past waterfalls and other beautiful scenery. Or discover the Temple of Sinawava, see the Great White Throne or the Weeping Rock, or visit the interpretive Human History Museum.

Overnight: Zion Campground in Springdale, UT or lodging option if selected
Meals: Camping (L,D), Lodging (L)

Day 2: Bryce National Park
After breakfast, enjoy a short drive from Zion to Bryce Canyon National Park, also in Utah. Stroll along the canyon rim and marvel at the park's unique sandstone spires – known as hoodoos – that rise dramatically from the natural amphitheater. Stay up on top to enjoy the panoramic views, or hike down into the hoodoos for an up close experience of this fascinating and unique landscape.

Overnight: Ruby's Campground in Bryce Canyon City, UT or lodging option if selected
Meals: Camping (B,L,D), Lodging (L)

Day 3 and 4: Arches and Canyonlands National Park
After breakfast travel to Arches National Park, home to over 2,000 natural stone arches. You'll take a hike up to Delicate Arch, the most recognized freestanding natural arch at 65-foot (20 meter) tall. Next head to Canyonlands National Park located near Moab, Arizona. Here you'll enjoy colorful landscapes which were formed by the Colorado and Green Rivers. Listen to stories of Butch Cassidy and the Sundance Kid who used the canyons to hide from law in the late 1800s and visit Moab, the adventure capital of Utah.

Take an optional sunset Hummer tour and see the desert landscape come to life, or an optional canyoneering adventure and explore the sandstone cliffs.

Overnight: Moab Canyonlands Campground in Moab, UT or lodging option if selected
Meals: Camping (B, L,D), Lodging (L)

Day 5: Monument Valley
Enjoy breakfast, and then hop in the minibus for the drive past Lake Powell to one of the country's most iconic locations – Monument Valley. Home to red rock formations that rise dramatically from the stark land, Monument Valley has been the background for many western movies over the years and is home to the Navajo Native Americans. Explore the valley on an offroad Jeep tour led by a local Navajo guide.

When the sun goes down, gaze up at the sky and be awed by the number of stars you can see without any city lights.

Overnight: Gouldings Campground in Gouldings, UT or lodging option if selected
Meals: Camping (B, L,D), Lodging (L)

Days 6: Grand Canyon
After breakfast and a short visit to a Navajo trading post in the morning, you'll be on your way to the Grand Canyon! Follow the mighty Colorado River through the Painted Desert to the South Rim of the Grand Canyon. Have options for seeing the park: stroll along the rim at sunset, take a hike deep into the canyon, or soak in the views from one of the rim-side cafes. For an additional expense, you can take a thrilling helicopter ride over the canyon, which allows you to take in bird's-eye views of Kaibab National Forest, the Colorado River and many of the canyon's famous ridges and formations, such as the Dragon's Corridor.

Overnight: Mather Campground in Grand Canyon Village, AZ or lodging option if selected
Meals: Camping (B, L,D), Lodging (L)

Day 7: Grand Canyon – Las Vegas
Say goodbye to the Grand Canyon and drive a bit on Route 66 as you make your way back to Las Vegas, arriving with time to hit the pool before heading out for a night on the town.

Meals: Camping (B, L)
susanjxu USA
September 2015
June 2015
Spectacular scenery and fantastic hikes to beautiful locations. It's a great way to get a taste of some of our most unique and scenic parks. Our guide, Vern, was knowledgeable and fun-loving and it made this great trip even better!
June 2015
I believe this may be the best trip I've had! My favorite parts were Zion, Bryce and Arches National Park. I loved everyone in my group and Vern was an awesome tour leader! Great trip at a great price. I highly recommend it!
May 2015
As a way to see several National Parks in the south Utah - Arizona region, this was an excellent tour. Our tour leader, Vern, made every effort to make sure we did things that fitted the weather, our level of hiking experience and tastes. The result was that we saw so many things in a relatively short time, had lots of fun as a group, did many satisfying hikes and had enjoyable camping experiences. I couldn't recommend this tour group highly enough.

October 2014
We spent a wonderful time during in this tour!
So, we would like to come back to National Parks.
Thanks Viator.
October 2014
We found the tour was excellent. Our tour guide J.D. Boyle was very dedicated to making sure everyone was having a good time , and the tour went very smooth. Thanks J.D.
October 2013
I decided to see some of the national parks after realising that just seeing cities wouldn't be the best use of my time during a 30 day holiday. Came across this tour on Viator and after reading the reviews realised that it would be ideal for me as a solo female traveller. I wasn't disappointed at all, the communication from Becky was excellent and she made sure that I was accommodated for as I'm a vegan. Cari, the tour leader, was very approachable and helpful, she went out of her way to ensure that there was food that I could eat and checked labels carefully to make sure there wasn't anything in there that wasn't suitable. Our first day in Zion started at the Canyon Overlook trail, a reasonably easy short trail walking along exposed ledges to a beautiful viewpoint. After that we had a delicious dinner, prepared by Cari. The next day was our free day and I decided to do Hidden Canyon which is a gorgeous (albeit slightly perilous) hike up the side of the cliff and down into a small hidden canyon (hence the name). You use chains to pull yourself up some of the ledges where there are drop offs into a ravine. After that I went hiking down the narrows which is where you walk in the river. The views were stunning! At the end of the day we had another delicious meal around the campfire. After that we went to Bryce Canyon which was equally stunning and stayed at a beautiful campground with a hot tub and pool and beautiful showers. We did the Queen's Garden hike down into Bryce Canyon which was a lot of fun. On to Antelope Canyon which is absolutely spectacular. After that we had navajo tacos at Monument Valley and went on a white knuckle jeep ride of the navajo nation. The high winds (over 40mph) didn't deter us from camping and the next day it was on to the Grand Canyon. I did the South Kaibab trail and saw and photographed a California Condor! The last day on Route 66 was fun, stopping at Seligman. This tour had the perfect pacing and had a great atmosphere.
July 2013
Overall this was a good tour. Im not sure about showers that you have to put quaters into though. This seems a bit backward and maybe it should be covered by the company. I have never seen this before and have travelled extensively including to places in Africa but never encountered anywhere you have to do this.
I loved the way we were given options for the daily activities rather than having to follow a set itinerary.
I would have preferred it if the guide could have come along with us on all the hikes.
The food was good and there was plenty of it made available.
The guide was very informative regarding the areas we were travelling through and about the hiking options available.
The vehicle was very comfortable however there were only 4 of us. The tents were adequate.
Some of the National parks shuttle drivers, entrance fee takers and Navajo toll takers exhibited poor or unco-operative attitudes which I find very dissapointing given that they are representing their country to international visitors in the public eye.
If people cant be helpeful and plesant they should move on to different employement opportunities.
Our guide helped to make up for this.
Advertisement
Advertisement