155 Reviews
Location:

Las Vegas, Nevada

Duration:

6 hours

(approx.)
Zoom off to the desert during this thrilling 2.5-hour all-terrain vehicle (ATV) excursion near the Valley of Fire State Park close to Las Vegas. Get professional tips to ride your ATV safely, then gun your throttle across rolling sand dunes and dusty gullies during an adrenaline-fueled ride set amidst the beautiful arid landscape. Your ATV ride also includes safety equipment like helmet, gloves and goggles, plus bottled water, picnic lunch and round-trip hotel transport.
Highlights
ATV desert ride near the Valley of Fire State Park from Las Vegas
Scenic bus ride through the Valley of Fire State Park
2.5-hour ATV ride led by an expert guide
Full safety instruction and equipment provided
Picnic-style lunch provided
Pick-up and drop-off from most centrally located Las Vegas hotels
Recent Photos of This Tour
ATV Off-Road Desert Adventure
What You Can Expect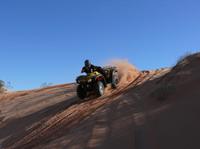 Enjoy a rip-roaring good time motoring through the desert landscapes near Las Vegas during this 2.5-hour all-terrain vehicle trip. If you need a break from the neon overload of Sin City, this thrilling ATV ride, along a private trail system near Valley of Fire State Park, offers the perfect chance to get outdoors.
Begin your excursion with a morning pickup from your hotel in Las Vegas by bus, heading toward the starting point your ride. Visit the trail staging area to get suited up with goggles, a helmet and gloves, and listen to a short safety briefing to ensure proper handling of your motorized ATV. Your vehicle is easy to maneuver and features an automatic transmission, making it perfect for novices and expert riders alike.
Continue onto the private network of trails (normally off limits to most visitors) for an action-packed desert adventure. Motor up and down rolling dunes and to the top of a nearby mesa, offering dramatic views of Lake Mead, the entrance to the Grand Canyon and the north edge of the Valley of Fire.
Finish your ATV ride, your heart still pumping from the fun, and continue by bus on a scenic sightseeing trip through the Valley of Fire State Park. You'll stop for a break to hydrate with some bottled water, and enjoy a picnic-style lunch. After lunch, take time to explore the surrounding area, which features some unique petroglyphs, and take photos of the desert surroundings.
At the conclusion of your break, hop back onto your air-conditioned bus for the ride back to Las Vegas and drop-off at your hotel.
February 2016
January 2016
I very much enjoyed this trip. Justin read our groups abilities well and adapted the trip accordingly. I feared that it would be boring and sedate but it was anything but. It was challenging and fun. I would have no hesitation in recommending this trip.

December 2015
We had great time. Our guide was Justin and he made sure everyone was safe and had a good time.
November 2015
The tour itself was very exciting. We did this tour back in August and i can honestly say it was a great experience. Here is some of the most important information you should know about the tour from speaking to others and from my experience.
- On weekends the groups are larger 10-12 which means your ATV experience may vary depending on how the other people in the tour can drive the ATV. We went on a Thursday and it was only 4 of us which resulted in an amazing experience! We had a lot of ride time and our tour guide catered more to us since it was a small group
- The area where you ATV is an area 45 mins away from the Las Vegas strip, and there is barley any cellphone signal, so please be aware of that. Its a very large area, I would say 35 acres of land which has been prepared with several hills and tracks. They have beginner tracks and then the most adrenaline pumping tracks with very nice hills!
- The tour also takes you to Valley of Fire State Park which was an AMAZING addition to the tour. Ask to get off and take pictures in the Valley of Fire State Park. Some stunning photos can be taken there!
- Even though we decided to do this tour in the blazing August heat, it wasn't bad at all. Since the tours run only in the morning in those months. We were probably picked up around 6:45 am and we were back in the hotel by 2 and able to enjoy the rest of the day!
If you want a great tour experience, take the tour with Brian or Brandon unfortunately i don't remember the gentleman's name, but he was truly amazing and catered to our every need. I lost my phone during one of our more intensive tracks i was stubborn and took my phone to take pictures on those big hills and our tour guide gracefully retraced our steps and found my phone! He was very determined to go back and find it which shows the type of individual this company employ's and i wish i would remember his exact name to give him the credit he deserves.
November 2015
Me and my wife the greatest time ever. W also had a really great instructor. I can't wait for my next trip to Vegas to do this tour again. I am a motorcycle rider but this was my first experience on a ATV and it was everything I could have ever wished for.
October 2015
Before reading this, I would like to say that i'm a 22 year old lad and have never wrote a review in my life, however this indefinitely deserves one.
Myself and 10 other lads, booked this activity expecting a day out in Las Vegas on quad bikes which is pretty cool however what we received was a whole lot more. We were picked up by our tour guide 'Chad' who drove us from our hotel to the quad driving destination, upon the journey Chad was giving us some insightful information regarding all aspects of the evolution of Las Vegas. As we arrived to our destination, we were given a choice of both quad bikes and desert buggies which was an added bonus. The time we spent on the quads and buggies was nothing short of incredible, i have drove quad bikes before in the UK but to do it in such conditions in the desert was truly amazing, The tracks we drove through, the scenes we saw and the thrills experienced were phenomenal. Once we had finished our drives, we were given subway meal deals sometimes the little things add up too. We thought after this, the day would be over, but no.. Chad then drove us to 2 of the most stunning places i have ever seen before. The Valley of Fire and Arch Rock, where we climbed and hiked through small parts of the Valleys looking at ancient Indian wall paintings. Chad also took some tremendous photos of all of us which will be remembered for the rest of our lives.
I would like to thank Chad and all of the other members of the crew for an incredible experience.
Even so, I still don't think this review is giving this activity enough credit, therefore i would like to say nothing else but, try it out for yourself and i ensure you, you will not regret it.
AMAZING.
'THE ALMOST CREW'.
September 2015
This was an awesome way to spend a morning in the desert...tons of fun and exciting. My so and husband loved it and was definitely a highlight of our vacation! Highly recommend it and although I. Don't know the guides name they said he had traveled all over the world and was knowledgable!! He kept it exciting for all levels and would definitely do again!! A great value and worth every penny!!!
September 2015
it was more than i expected it to be. it is MOST
August 2015
We had a great time. The tour guide was fantastic and whent out of his way to make sure everyone was ok and enjoying the day. We returned to our hotel head to toe covered in desert sand - but with a wide grin on our faces. Most fun event of our whole holiday!!
August 2015
This was the best time I had in Vegas. It was awesome and I will definitely do it again when I come back to Vegas. Thanks for everything.
Advertisement
Advertisement