Special Offer
Book and save 11% compared to the local operator's price!
Listen to the soulful harmonies of top-selling R&B group Boyz II Men with their live 1.5-hour performance at The Mirage Hotel and Casino in Las Vegas. In the intimate setting of the Terry Fator Theatre, savor the a cappella style and passionate delivery of the band, founded in 1990. See the award-winning group perform hits such as 'I'll Make Love to You,' 'End of the Road' and 'One Sweet Day' during this upbeat stage show.
Highlights
Boyz II Men performing live at The Mirage Hotel and Casino

See the best-selling R&B group of all time perform in an intimate setting on the Las Vegas Strip

Melodic trio has won four Grammy Awards and nine American Music Awards

Sing along to hits such as 'End of the Road,' 'I'll Make Love to You,' and 'On Bended Knee'

Price displayed is inclusive of all taxes and fees!

What You Can Expect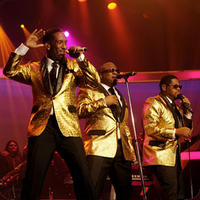 Kick off a romantic night in Vegas with this 90-minute concert featuring the smooth sounds of Boyz II Men. Make your way to The Mirage Hotel and Casino on the Las Vegas Strip and settle in for a riveting performance at the Terry Fator Theatre. Listen to Motown hits and original harmonies as the band delivers their signature a cappella style.
Receiving four Grammy Awards, nine American Music Awards and a star on the Hollywood Walk of Fame, this melodic trio is the biggest-selling R&B group of all time, with 60 million albums sold since its start in 1990. The group continues to influence other artists, produce new material and entertain audiences all over the world.
Hear classic chart-toppers and newer hits that highlight the band's passion, including
'On Bended Knee,'
'One Sweet Day,'
'End of the Road,'
'Water Runs Dry,'
'I'll Make Love to You' and 'More Than You'll Ever Know.'
April 2016
The concert was great and I would go see them again.

November 2015
Awesome you guys gave me great seats couldn't ask for anything more it was simple to get tickets with the app on my phone too thank you so much sends keep up the good work
zetaspeaks United States of ...
October 2015
We had an ABSOLUTELY FANTASTIC time!!!! They sung classic songs, tributes to Motown legends, rock songs, and their biggest hits!!! It was a GREAT show!!!! The night was one that I'll always remember!!!
September 2015
absolutely fantastic show - one of the highlights of my trip!! they have such amazing voices and we had fantastic seat booking via Viator.
July 2015
This was one of the best concerts I have ever experienced! The Boys put on a spectacular show!! I'm ready to go back and see them again! Great seats, and a beautiful theatre! Loved it!!
July 2015
My husband and I was celebrated our anniversary. We could not have wished for a better experience! Awesome!
May 2015

April 2015
The best live show ever! Front row seats! Up close and personal with the Boyz! When I come back this is definitely on my list of things to do again!!
March 2015
Such beautiful voices and loved the Motown!! Definitely a great concert

March 2015
LOVE Boyz II Men and thought I'd miss the chance to see them since I never got out to a show when I was younger. I wasn't sure how they had aged, but they are just as good as ever! I can't believe how their voices are still as good as 20 years ago. I loved the MoTown section and the whole show was obviously well rehearsed, but felt so natural. I felt like they were just singing for me.
Special Offer
$97.54 Save $11.55
Advertisement
Advertisement