Ladies, book your ticket to one of Vegas' hottest shows and see the all-new Chippendales at the Rio All-Suite Hotel and Casino. Showcasing the sexy physiques of 12 well-muscled male dancers who delight the screaming audience with a series of erotic yet tasteful routines, Chippendales is the perfect excuse for a girls' night out. Choose an early or late night show with your choice of seating in the balcony or main floor, or upgrade for VIP table seating. This Las Vegas Chippendales show will not disappoint!
Highlights
Admission ticket to Chippendales Las Vegas

Choice of two seating options

Show features 12 physically perfect male dancers who delight the audience with a series of disarmingly sexy yet tasteful routines
Las Vegas Chippendales is great for a bachelorette party or girls night out
Price displayed is inclusive of all taxes and fees!

What You Can Expect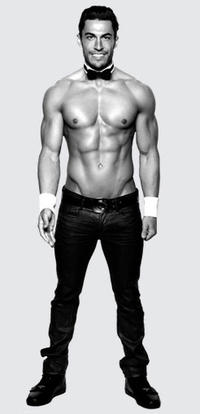 Don't miss the Las Vegas Chippendales show for 75 minutes of unrivaled ladies' entertainment. Head to the neon towers of the Rio All-Suite Hotel and Casino, located one block from the Las Vegas Strip, and take a seat in the balcony, main floor or at a VIP table in the Chippendales Theatre.

Come prepared to laugh and scream with your friends as 12 well-oiled and buffed male dancers show off their sexy physiques and perform a series of disarmingly erotic yet tasteful moves on stage. Watch as these faux firemen and bare-chested men in tuxedo ties strip down to their skivvies and delight audiences with their synchronized steps.

Designed by women for women, Chippendales is the gold standard in pre-party entertainment — perfect for a bachelorette party or a night out with your gal pals.

As an added bonus, all tickets feature VIP admission to the Voodoo Rooftop Lounge atop the Rio, located on the 51st story of the resort's Masquerade Tower. Enjoy Brazilian-inspired cocktails (own expense) and sweeping views!
October 2015
I enjoyed the show. It was very entertaining. Pam M.

Trina Tron USA
October 2015
The show was a blast! These guys are quite the entertainers. They had the ladies out of their seats and dancing along - a few lucky girls were even picked to go with them on stage! And while I didn't get called up during any routines, I made sure to get my photo with all the guys at the end of the show. Makes for a great souvenir from my Vegas trip!

World Traveler USA
August 2015
What a fun night! We were lucky to see Tyson Beckford perform and let me just say this: he's not hard on the eyes. Table seating in the front is definitely worth it and it's fun to see all the groups of bachelorette parties go wild. The thirst was real.

JennyC United States of ...
August 2015
Male review shows usually are not my cup of tea, but this was one fun show. The guys are super buff (Tyson Beckford was also in the show that night) and the girls were going crazy in the audience. A great option for a fun night out!
June 2015
Absolutely loved life viewing these fine specimens. Would 100% have taken all their d's!
June 2012
I enjoyed the show - it was my first male revenue. I totally fell in love with one of the performers with long hair - so dreamy!! I loved how the guys interacted with the audience.
August 2011
FABULOUS show!!! Great fun and the guys included everyone and made every woman in the place feel loved!!.... and you even get to spend unlimited time with them in the "Flirt" Lounge after the show. So easy to book with VIATOR and everything went smoothly (almost as smooth as the guys)!!!!!
Yaltiza M USA
July 2011
WOW! My best friend and I had amazing 2nd row seats. I got kisses from three different beautifully amazing men and we event had a chance to take pictures with the entire Chippendale dancers. Afterwards, we were able to interact with them personal in the "Flirt Lounge" available to all ladies who went to the show. My fave "Jayce" signed a free poster and we event spoke for a bit. I can't wait to do it all again, the next time I go to Vegas!!
May 2011
Absolute awesome show !!!
We had the time of our life for my sisters 50th Birthday !!!
Jacqueline O USA
January 2010
Excellent, worth every penny.
Advertisement
Advertisement