Discover slots, outlet mall shopping and remarkable scenery in Laughlin, Nevada on a full-day trip from Las Vegas by air-conditioned coach. Take in views of the Eldorado Valley and historic Searchlight then try your luck in Laughlin's vibrant casinos; pull up a chair to the slot machines and card tables that line the city's Riverwalk, and enjoy the desert sun in the beautiful Mohave Valley.
Highlights
Laughlin full-day bus tour from Las Vegas

Travel through the Eldorado Valley and the historic mining town of Searchlight
Spend 6-hours in Laughlin on your own to explore casinos, the Colorado River and specialty shops

What You Can Expect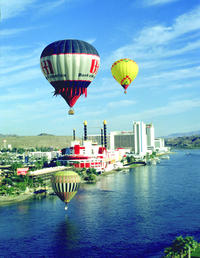 Why is this so inexpensive? What's the catch? The casinos of Laughlin want you! Take this golden opportunity to visit Laughlin and let someone else do the driving!

Go through the Eldorado Valley and the historic mining town of Searchlight. Climb over 5,000 feet (1524 meters) in elevation before your motor coach descends 4,500 feet (1371 meters) into the Mohave Valley. Your drivers will provide vivid narration along the way.

Explore Laughlin which is nestled on the banks of the Colorado River. This resort destination boasts abundant golf courses and spas, year round near-perfect weather and even a wedding chapel or two. Don't forget the casinos! Try your luck - you may come out of this inexpensive trip ahead of the game!
February 2016
I loved it.Want to go again..I would love to stay there the next time..Walked it and saw alot. Missed alot also.Not enough time to see it all in one day..The weather was breathtaking. Trip from Vegas was very interesting.
October 2015
Be prepared to devote the entire day and patience. I was not prepared for the central drop off and sorting procedure. Six hours was more than enough time in Laughlin. By the time I got back to my hotel, I was at the end of the drop off route, it was very late. NO complaints
September 2015
Out trip was awesome! Our driver Ryan kept us entertained and was very informative. Would definitely recommend this trip
January 2016
The bus was comfortable, on time and met my expectations.
The only problem was the bus driver was on the phone with personal calls almost all the way down and back. I understand that it was his birthday, but I don't appreciate someone talking on the phone when they should be watching the road. Potentially dangerous.
December 2015
Nice trip down to Laughlin, lovely place to visit for the money. Even the trip down is interesting. Shame the water taxis were closed for December the only blip on a great trip
December 2015
Very enjoyable trip. The weather was great and the Golden Nugget was great. Good food and good gaming.
November 2015
Had a great time but just a little too long. Well worth the price.
Advertisement
Advertisement