Want to drive a dream car around a professional racetrack with no speed limit? This is the place. Choose from a Ferrari or a Lamborghini (or both) and pick the number of laps desired. Then, after some professional race coaching, a safety briefing and a couple practice runs, take the wheel and conquer lap after lap, traveling around the Las Vegas Motor Speedway up to 130 miles per hour, depending on the car and the driver. All necessary safety equipment will be provided. Wear comfortable clothes and closed-toe shoes.
Highlights
Drive around an exclusive racetrack in a supercar
Five different times to choose from
Includes racing instruction and one-on-one coaching

Want a shorter experience? Choose the Power Package

Recent Photos of This Tour
Exotic Car Driving Experience Elite Package
What You Can Expect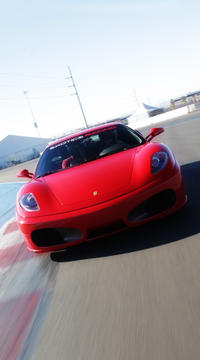 First and foremost, choose a favorite car and the corresponding number of laps desired.
Select one of the following options: a Ferrari 458 Italia or a Lamborghini Huracan (five laps); a Ferrari 430 Scuderia (seven laps); or a Ferrari F430F1 and a Lamborghini Gallardo LP550-2 (eight laps, split between the two cars).
This ultimate driving experience will take place at the Las Vegas Motor Speedway, 18 miles north of the Las Vegas strip. Upon arrival, check in and register with the welcome staff. Then meet and greet the professional racing instructor.
A 30-minute safety orientation will cover proper driving position, steering techniques, car specifications (power, gearbox, braking, and most importantly, accelerating) and proper racing lines. Take a Porsche Cayenne GTS for a 2-lap test drive (as a passenger) to get used to the track and the conditions. Then hop in the driver's seat of the chosen supercar and get ready to ride for real.
There are no speed limits on this track, so hit the gas and feel the rush. Accelerate up to 130 miles per hour. The instructor will be in the passenger's seat to offer support and encouragement. The primary objective is to get the car racing around the track as quickly as possible — to push each vehicle to its limits — while remembering that safety is the number one priority at all times.
Enjoy this incredible opportunity, typically reserved for the world's elite drivers. It's a once-in-a-lifetime chance to get behind the wheel of a dream car on a professional race track.
Afterward, receive a certificate of completion to commemorate the experience.
January 2016
Great experience. Wish the track would be longer or could take a couple of extra laps for the same money. It was over too soon. Crew and staff very professional and extremely courteous. Coming back as soon as possible.
November 2015
Excellent experience, provided by an amazing staff. Will definitely be revisiting the next time I'm in Vegas.
January 2014
I purchased this for my son's 22nd birthday and my friend and they had an amazing time! They drove fast and looked awesome!! I HIGHLY recommend everyone should try! The staff were all very professional, friendly, and helpful! Thank you all!
Jason F USA
August 2012
The entire experience was amazing. The staff was great and really focused on providing a great experience.
August 2011
Awesome experience, I would definitely recommend this to everyone who visits vegas!
October 2010
Of my entire holiday this was the best money spent. The staff are so helpful & friendly & the experience is just mind blowing, I'm still trying to get the grin off my face!!!
January 2014
Was a great experience, the cars were great and the driving was awesome. The instructors were great. The only thing that was a bit of a negative was that it got really busy, as the were multiple sessions, which all overlapped and the track got quite busy.
January 2012
It was good. My husband wants to book it again...just have to save up as it's the fee and then almost another hundred if you want the DVD...who doesn't want the DVD!!! He didn't really click with the first professional driver, but made up for it on the second round with the other driver. We all thought something was wrong with the car he was driving so slow! Second car and driver made up for it though and he wants to do it again!!!
May 2011
A good Christmas present from my wife which unfortunately went by far too quickly. Definitely something I'd look to do again when I'm in town. Would have liked a slightly longer track though to have been able to have picked up some speed on the straights. Very friendly and encouraging instructors who made the experience more enjoyable.
May 2011
This is an enjoyable and a memorable event in Vegas. Will come back for more laps in different cars.
Advertisement
Advertisement