Ride in a specially-equipped buggy through the dark Nevada desert during this adrenaline-fueled activity. With a group of 7 people or less, follow your professional guide through the dark desert night across washed-out creek beds, valleys and over dunes. All safety gear and round-trip transportation from Las Vegas hotels are included.
Highlights
Dune buggy night tour from Las Vegas

Race a dune buggy across rugged, high-desert terrain for a full 30 minutes

Go as fast as you want as you chase your guide over dunes, gravel and washed-out creek beds

Safety briefing and equipment provided

Hotel pickup and drop-off included

Small-group tour limited to seven people for more personalized attention from your guide

Recent Photos of This Tour
Extreme Dune Buggy Night Tour from Las Vegas
What You Can Expect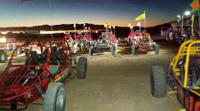 Following pickup at your Las Vegas hotel, travel to a 15,000-acre (6,070-hectare) off-road recreation area not far from the Las Vegas Strip.
Upon arrival at the site, meet your local guide and receive a safety briefing and orientation. The buggies are custom-built to handle the rugged Nevada terrain and are equipped with seat belts and roll cages. Single buggies are not offered; if you wish to have your own buggy, you must purchase two seats.
Don your helmet and safety goggles, then set off over the rugged desert in the pitch dark. Pilot your buggy over challenging terrain, wearing a full-face mask and 4-point restraint harness at all times. On the 30-minute ride, cover between 10 and 15 miles (16 and 24 km) of aggressive terrain.
After exploring the rugged terrain of the Nevada desert for 30 minutes by night, enjoy the ride back to your Las Vegas hotel for drop-off.
March 2015
The tour was great...I do suggest a background in extreme sport or familiarity with dune buggys, ATVs etc. My husband loved the ride...I would like to try the dune buggy again but maybe during the day! The guides were awesome and super friendly.
December 2014
go night time even better
Gpo USA
September 2014
Dune Buggies are an adrenaline junkie pleasure it will definitely gut check you, at the same time gives you tons of fun and enjoyment. The thrill of one moment going horizontal and the next vertical was very intense. One of the best tours in Las Vegas.

May 2014
This tour was magical! Watching the sun set over Las Vegas while tearing it up inside the safety of a dune buggy was an inimitable experience. These guys really know how to show people a good time. This tour is the best value for your money if you're looking for some outdoor fun off-strip. Rev your adrenaline engine! "grrrakka kkakkakkakkakka"

Kimiki USA
May 2014
This was intense and I loved every minute! The ride felt a lot longer than advised and I'm glad it did. The night time air was great and it was pitch black (with exception to the LEDs on the buggies) which added to the experience! Please, please, please! Anyone reading this DO THIS TOUR!!!"

Carolynn H USA
May 2014
This was my first time driving a dune buggy and the tour operator assured our safety. It was awesome! My adrenaline was pumping the entire time. Night time driving made this tour the best experience ever. Book it now!!

Nicks USA
May 2014
The best night tour by far in Las Vegas! This tour was just fantastic and definitely exceeded my expectations.

May 2014
This was a great experience driving in the dark. All you can see is the light of the person in front of you and your headlight. Lots of fun!
May 2014
The trip couldn't be organized any better!!! My hotel was a bit off the strip but the driver Mark was on time and was very friendly. He gave some great tips on how to save money by avoiding touristy places. In the shop every one was very professional and gave clear instructions. I never drove a buggy before but it was very easy and at 40 miles per hour an unforgettable experience. The guide Alex was great and again he gave clear instructions. We hit the desert and 30 min flew by as 1 second: it was soo much fun. Do yourself a favor and book this: you will have long lasting good memories. Thanks a lot guys from Sun Buggy for making this such a great trip!!!!!

May 2014
I was a little nervous at first but then had a blast! This tour is definitely extreme but great for a first-timer.
Advertisement
Advertisement