Enjoy a ghostly exploration of Goodsprings, Nevada, an abandoned mining town with a starring role on the Travel Channel program 'Ghost Adventures,' during this guided 4-hour trip from Las Vegas. Fuel up with pizza at local saloon before joining your guide on an exploration of the city's spooky abandoned downtown and cemetery, hearing hair-raising stories about sightings about the town's resident ghosts. You'll also visit Pioneer Saloon and Gallery, which some say is haunted by the spirits of a miner and gun shot victim. This Goodsprings ghost hunt also includes ghost-hunting equipment and transport to the town.
Highlights
Ghost-hunting tour in Goodsprings, Nevada, with transportation to and from Las Vegas

Walk around the remains of an old Nevada mining town with your guide, who will share anecdotes about local ghost sightings

Use the provided ghost-hunting equipment to try to locate spirits at the Pioneer Saloon and Gallery

Enjoy pizza with your group at the Pioneer Saloon

Recent Photos of This Tour
What You Can Expect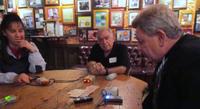 Experience the TV show Ghost Adventures in real life as you hunt for ghosts in the real-life abandoned mining town of Goodsprings, Nevada near Las Vegas. It's a spine-chilling evening filled with thrills and ghost stories that's sure to deliver a spooky good time.
Start your trip in the evening from the Royal Resort in Las Vegas. Drive approximately 25 miles (40 kilometers) outside of town to Goodsprings a former mining city that today lies abandoned. When you reach town, first fuel up for your ghost-hunting with a pizza dinner at the Pioneer Saloon (who wants to hunt for spirits on an empty stomach?).
Then grab some ghost-hunting equipment as you follow your guide on a hunt by foot for evidence of the paranormal phenomenon reported to be found in town. You'll enter the town cemetery and wander into dark, desolate abandoned buildings in search of some of the ghosts that call Goodsprings home. As you walk, you'll hear tales from your guide about the various ghosts that haunt town, and theories about why they persist to this day.
Head inside the town's famous Pioneer Saloon and Gallery, more than 100 years old, which is said to be haunted by a gun shot victim and a miner. Hear about the various sightings of these two specters by visitors and employees alike, and then do some investigation of your own using your included ghost-hunting equipment.
At the conclusion of your excursion, you'll return to the Royal Resort in Las Vegas.
Please note: This tour will involve walking through uneven terrains (deserted and destroyed buildings and a cemetery). Please wear close toe shoes as sandals and open toe shoes are not permitted for your safety. Please also be sure to wear warm clothing in winter months as it will be cold most nights.
December 2015
This was a blast. The history lesson alone was worth it. Make sure you take plenty of pictures you never know what you will get.
December 2015
Very informative and entertaining!
November 2015
I loved this, I had so much fun. If you love ghosts this is definitely a worthy trip
May 2015
Lee our tour guide and Ruben our driver were excellent. Extremely friendly and knowledgeable. From Lee's constant stories and information to Ruben's personal proof of ghosts more proof than we have ever seen and he is more than happy to share it with you. Van was comfortable and roomy. Most importantly they made my Wife feel very important and special as well since she is an amateur ghost hunter herself. Thanks guys, you both were great and made our vacation just that much more enjoyable! Good times!
Darren and Jennifer
Castaic, CA
March 2015
Excellent tour guide and driver... we had such a fun time. Was awesome to see such a real part of history...!!
Lots of excellent information was shared... very knowledgeable guides.. fabulous.. would definitely recommend to anyone and go again if I ever have the opportunity.
March 2015
This is a very entertaining tour for anyone who is into the paranormal and is visiting Vegas. The tour guides are very knowledgeable about the locations they take you to perform the ghost hunt and you will more than likely run into some paranormal activity.
March 2015
It was a hoot and made me a believer. Even the pizza was great.
Anonymous
December 2014
What a fabulous way to spend an evening!! If you are looking for something other than being stuck on the strip and enjoy learning about the darker side of Las Vegas and maybe having a paranormal experience, then this tour is a fun way to go. A very fun evening to explore a small town filled with tons of ghost stories.
December 2014
The Ghost Hunt in Goodsprings I would recommend to anyone. Our tour guides Angie and Reuban are GREAT! Very imformative of the history and activity in the area. Seemed like we had known them forever. Anyone interested in the paranormal, The Pioneer Saloon will not disappoint! A lot of energy.-Becky and Scott
October 2014
Advertisement
Advertisement