Special Offer
Book and save 6% compared to the local supplier's prices!
Experience the natural wonder of the Grand Canyon by air and by water on this luxurious 3.5-hour combo tour from Las Vegas. Soar above the canyon's West Rim in a helicopter, cruise down the Colorado River on a pontoon boat tour and enjoy a Champagne picnic lunch on the riverbanks surrounded by the majestic canyon walls. Admire breathtaking aerial views of the Las Vegas strip, Hoover Dam and Lake Mead during the round-trip flight, and travel to the launch pad in style with complementary hotel pickup and drop-off in a limousine.
Highlights
Half-day tour to the Grand Canyon West Rim by helicopter
Aerial views of Hoover Dam, Lake Mead, Grand Canyon and Las Vegas Strip
Champagne and picnic by the Colorado River
Pontoon boat ride on the mighty Colorado River
State-of-the-art six-passenger A-Star jet helicopter
Recent Photos of This Tour
Grand Canyon Helicopter Tour and Colorado River Boat Ride
What You Can Expect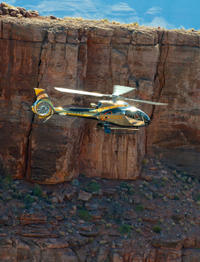 Take a break from the casinos to experience one of Earth's most impressive natural attractions — and still have time to enjoy an afternoon by the pool! After morning pickup at your Las Vegas hotel in a limousine, ride in style to the launch pad and climb aboard a state-of-the-art A-Star jet helicopter with room for six passengers.
Get a fantastic aerial perspective on the Las Vegas strip as you rise into the air. During the 45-minute flight across the desert and into Arizona, take in views of Lake Mead and the Hoover Dam while learning about the area's geologic history from your pilot.
As the 277-mile (446-km) Grand Canyon comes into view, its awe-inspiring scale can truly be appreciated from the air. Fly above the cavernous expanse, which reaches widths of up to 18 miles (29 km), and then descend more than 4,000 feet (1,200 meters) down the lip of the canyon's West Rim. After this thrilling entry, touch down on the banks of the Colorado River, which carved the magnificent canyon over millions of years.
Enjoy a picnic-style lunch with Champagne on the riverbank, and then board a pontoon boat for a cruise down the Colorado River. As you glide along the gentle currents, gaze up at the canyon's towering walls for an amazing new perspective.
After a 15-minute cruise, return to your helicopter and rise up out of the canyon for the return flight to Las Vegas. Your 3.5-hour tour concludes in the late morning with limousine drop-off back at your hotel.
Please note: The listed price does not include a US $10 per person fuel surcharge, payable at the time of tour check-in. The boat portion of the tour may be cancelled due to high water levels in the Colorado River. In the case of a cancellation, extra time at the base of the canyon will be offered or a partial refund will be issued.
June 2015
Well worth the early start. Great limo driver, great pilot and great guide on the boat too. Beautiful views and a wonderful experience!!!
December 2013
It was everything we imagined at would be. Breathtaking scenery, wonderful helicopter flight, and fun river cruise. We would definitely recommend this tour.
October 2013
Excellent, well organised from hotel pick-up, activity and return to the hotel.
We did have a hip-cup at the Colorado river, to me had no consequences, allowed me more time to view the wonderful scenery and talk to other people from around the world.
Brilliant, would do again if we return to Las Vegas
June 2013
Just sit back relax and enjoy!!
June 2013
Unfortunately, our boat ride was canceled due to mechanical issues which really stunk. However, the experience of the helicopter ride alone is not to be missed. Our pilot was amazing: friendly, knowledgable, and a lot of fun. He noticed my husband's Star Wars shirt, so he played a song from Star Wars as we landed. Amazing staff -- from the limo driver, to the people who check you in -- you feel welcome, and appreciated (which is always nice when you part with some money to do something). Over all, highly recommend and we plan on going back during our next trip to Vegas. Nothing beats leaving your hotel at 7 and being back at 10:30 after seeing the Grand Canyon. Most bus tours are 15+ hours and you need a whole day. For this, we barely needed a morning. AAA+++

January 2013
Picked up in stretch limo which was a bit of overkill. Asked by operator on arrival if w could change to afternoon tour because of mechanical problems with one of the helicopters but flatly refused. However, helicopter pilot was brilliant and provided very informative tour out and back from canyon.
October 2012
Fantastic - I booked this trip for my partner's birthday and we both loved it - well worth it!
May 2011
One of the best tours we have ever been on. A great day was had by all. The experience will be with us for a long time to come.
January 2011
Most amazing day of my life, great host/tour and the most amazing views from above and on the ground. Even got proposed to which topped the tour off!
Carlene M New Zealand
March 2010
Our pilot was professional, friendly and well informed. I would highly recommend Viator's services to everyone.
Special Offer
$615.99 Save $36.00
Advertisement
Advertisement