Special Offer
Book with us and save 10% compared to another travel site!
Escape to the Grand Canyon on this exciting 3.5-hour sightseeing adventure. Enjoy a scenic 45-minute flight from Las Vegas to the West Rim of the Grand Canyon, flying over Hoover Dam, Lake Mead, the Black Mountains, Grapevine Mesa Joshua Trees forest and Grand Wash Cliffs Wilderness along the way. Then descend 4,000 feet below the rim of the Grand Canyon to a landing spot at the base. Enjoy a champagne picnic lunch and soak up the breathtaking view before the return trip to Las Vegas. Hotel pickup/drop-off included.
What You Can Expect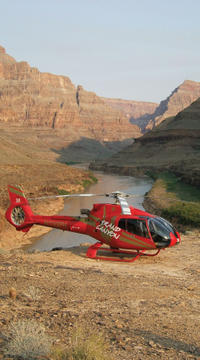 This Grand Canyon sightseeing tour begins with a hotel limousine pickup in Las Vegas, followed by a 45-minute flight to the Grand Canyon.
After boarding the helicopter, the flight passes over sites like the famous Hoover Dam, a modern marvel of engineering, and the aqua waters and sandstone shorelines of beautiful Lake Mead. Also, soar over the Black Mountains, the Grapevine Mesa Joshua Trees forest, the Grand Wash Cliffs Wilderness and into the incredible landscape of the Grand Canyon, one of the seven natural wonders of the world.
Upon reaching the Grand Canyon, hover high above this worldwide wonder, then descend down between the canyon's walls, over the mighty Colorado River and past geological rock formations that span millions of years. Be sure to bring a camera for the one-of-a-kind photo opportunities. After landing at a spot some 4,000 feet beneath the rim of the canyon, enjoy a complimentary champagne picnic lunch.
When leaving the Grand Canyon, the return flight will feature a different route with a fantastic view of the Las Vegas strip. The trip concludes with a Las Vegas hotel drop-off.
Notice: The listed price does not include a $40 (USD) per person processing fee, payable at the time of tour check-in.
May 2016
March 2016
IT WAS AN AWESOME EXPERIENCE OUR PILOT HAD ALOT OF INFO TO TELL US AND MY HUSBAND AND I HAD NEVER BEEN IN A HELICOPTER BEFORE. HE IS READY TO BRING ALL OF OUR ADULT CHILDREN OUT AND GET THEM UP IN THE AIR TO EXPERIENCE IT. DEFINITELY THE BEST THING THAT WE DID IN VEGAS THIS LAST TRIP. WE WILL DO IT AGAIN WHEN WE COME OUT
November 2015
Brady was an amazing pilot and was engaged with everyone. He made it an awesome experience.
October 2015
An amazing trip over stunning scenery. All of the staff were incredibly friendly and our pilot was great at pointing out the sites. The lunch in the Canyon was the iceing on the cake. A brilliant trip making it just about worth the high price tag!
April 2016
Loved the ride and thought our pilot was great, but we waited an hour before ride in lobby and they split our group up onto two helicopters which lessened the experience.
Special Offer
$478.95 Save $51.96
Advertisement
Advertisement