Explore the Grand Canyon with this guided, full-day sightseeing adventure around the South Rim. Beginning in Las Vegas, travel through the Mojave Desert and Black Mountains en route to the Grand Canyon's South Rim for an entertaining and educational 3-hour tour. See a number of different panoramic views from various lookout locations while learning about the history and geology of the canyon from the expert tour guide. A light breakfast, lunch, bottled water and Las Vegas hotel pickup and drop-off are included.
Highlights
Full-day trip to the Grand Canyon South Rim in a luxury custom Tour Trekker

Three-hour professionally guided tour in the national park
Stunning panoramic views of the widest and deepest parts of the Canyon
Dine at the Bright Angel Lodge with an incredible view of the Canyon
Recent Photos of This Tour
Grand Canyon South Rim by Tour Trekker
What You Can Expect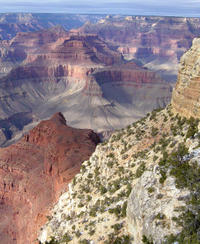 This sightseeing tour of the Grand Canyon begins with a hotel pickup in Las Vegas. Enjoy a light breakfast while making the 2-hour trek east, passing through the Mojave Desert and the Black Mountains and Grand Wash Cliffs of Arizona on the way.
Enjoy approximately three hours of exploring at the South Rim, traveling along Rim Trail, a 13-mile road between the South Kaibab Trailhead west to Hermit's Rest, with scenic stops at Bright Angel Trail, Yavapai Point and Mather Point. A lunch will be provided at Bright Angel Lodge. Please make a sandwich selection of turkey, deluxe turkey (with cranberry and stuffing), Italian, ham or veggie in the Special Requirements field at the time of booking.
Also, visit some Native American gift shops and stop by the Grand Canyon Visitor Center for a commemorative passport stamp before a return trip to Las Vegas.
March 2016
This tour accompanied with tour guide John H. was one of the best tour I've made in my life!! Grand Canyon is a must! I look forward to make this tour again!
March 2015
Well worth every penny. Instead of being dumped off a bus and told where and when to return, you are directed to the best views and most interesting sites by a very knowledgable guide. My guide new a great deal about the geology, flora and fauna as well as history of the Grand Canyon.
Anonymous
January 2015
The grand canyon tour was awesome. Our tour guide provided great jokes, stories, video, and music on both the drive to and from the canyon with a variety of topics. He is extremely knowledgeable about the grand canyon and about Las Vegas as well. The grand canyon was vast, immense, and beyond beautiful. Everyone should see it once. It definitely something you can't just take one picture of. Terrific time- once in a lifetime experience.

eeyore_cutie_pie USA
January 2015
Our driver from the local tour operator was punctual and kind. He narrated the entire trip to the canyon and he gave us all the tips on how to stay safe. He gave us trivia, not only about the canyon, but also about the endless things to do in the Las Vegas area. He kept us entertained with fun facts, music, and videos. We stopped several times on the way to stretch our legs, use the restroom, get souvenirs, take photos, etc. We were fed a basic, but delicious deli lunch. The ride was extremely comfortable. Upon arriving at the canyon we were taken to stunning view points. Our driver was very knowledgeable and made the best use of our time. We never felt rushed, and really were able to soak in the awe-inspiring views.
October 2013
Excellent trip. The guide was friendly and knowledgeable. The views of the Grand Canyon were awe inspiring. The provided lunch was delicious. All in all a wonderful day.
Donald James C Australia
July 2013
A very long day, but enjoyable, tour guide had a very good knowledge of the area

October 2012
My family and I (there were four of us) thoroughly enjoyed the tour. The Tour Trekker was really comfortable - it was good to be able to sit back and enjoy the trip and let someone else do the driving. It was great being part of a group of only 10 people. The tour was much more personalised and the guide made the trip really enjoyable. We were able to see places that you just don't get to see when you are on a large bus. We have done both types of tour to the Southern rim - large bus and Pink Jeep, and the Pink Jeep tour was the best by far!! Will definitely go exploring with them again on our next trip to the USA.
Jenny C Australia
March 2012
If you have to do this trip in a day, would highly recommend Pink Jeep Tours. A light breakfast was waiting for us when we got on the bus and an endless supply of water was available. It is a very long day but we felt we got real value out of it. Our guide Jurgen was vey aware of having us spend as much time as possible exploring the Canyon so lunch was organised very quickly and efficiently with desert given to us to enjoy on the way home. He was very knowledgeable and entertaining. Thanks Jurgen for a great day.
May 2011
Absolutely wonderful. Great guide, well informed and personable. On time and a comfortable and very special vehicle (the jeep is more an SUV). A special lunch with a view and delicious menu with dessert. Long day, but worth it.
Advertisement
Advertisement