Special Offer
Book and save 8% compared to the local supplier's price for weekend travel!
Add a thrilling outdoor adventure to any Las Vegas vacation with this guided, full-day whitewater rafting trip down the Colorado River. Enjoy a 2.5-hour road trip south to Peach Springs, Arizona, home of the Hualapai Indians at the gateway to the Grand Canyon. Then, challenge the mighty Colorado River's varied rapids on a 40-mile journey through the canyon, taking a side hike to a travertine waterfall along the way. A boxed lunch and a hotel pickup and drop-off are included.
Highlights
Travel in air-conditioned comfort to the Grand Canyon in new 12-passenger vans

Las Vegas river rafting takes you through 40 miles of the mighty Colorado River

Enjoy a helicopter flight back to the rim of the Grand Canyon

See the incredible natural waterfalls hidden throughout the canyon

Maximum of 8 passengers per raft

Las Vegas white water rafting is a once-in-a-lifetime experience

Recent Photos of This Tour
Grand Canyon White Water Rafting Trip from Las Vegas
What You Can Expect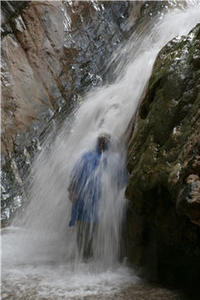 Begin this exciting outdoor day trip with a hotel pickup in Las Vegas, followed by a 2.5-hour journey southeast from Sin City to Peach Springs, Arizona. Travel over the breathtaking Hoover Dam Bypass to Kingman, Arizona, then continue east on famous Route 66 to the Hualapai Indian community of Peach Springs.
Upon arrival, van transportation will be provided to the Colorado River.
At the banks of the Colorado River, meet the Native American guide, who will provide a brief safety orientation and equipment overview (life vests and rain gear provided) before boarding a pontoon raft. From there, the voyage continues along 40 miles of the Colorado River with a total of six sets of rated rapids before the water evens out. Stops are made throughout the trip to discover hidden canyons and waterfalls, including a side hike to a travertine waterfall.
Enjoy a complimentary boxed lunch in the solitude of the canyon and be sure to bring a waterproof camera for incredible photo opportunities. From here, it's smooth floating past fluted rock formations and historic Separation Canyon. At the conclusion of the rafting tour, board a helicopter for a quick 4,000-foot ascent to the West Rim of the Grand Canyon. Then travel back to Peach Springs for the return trip to Las Vegas and a hotel drop-off.
June 2016
My family had a wonderful time with this company.
In particular, the van driver Ron is an excellent and thoughtful driver. My children slept well during the driving back home due to Ron's gentle yet fast driving.
The service of Miranda ? the waitress at the Denny's breakfast equal to that of 5 star hotel restaurant. She warmed the milk for coffee and tea, poached eggs for our request.
The Raft crew, Andrew was also very much experienced to handle the first timer tourists.
Highly recommended! We will try again sometime.
June 2016
It was wonderful - everything was well done and planned and the guides were terrific

April 2016
I have to say this trip was a lot of fun, but that comes with some caveats. We had someone severely injured on our trip. They went over the front of the boat, and were hit by the propeller of the boat. The person has care flighted out of the bottom of the canyon and put us an 1.5 hours behind schedule. That all being said.....the trip was not only eventful but was beautiful and fun. The local guides really teach you about the canyon, and the rapids are a lot of fun. Basically, you are cramming a typical 3 day trip into 1 full day because the boats you are on are powered by propellors and not oars. I plan on doing it again.
An another note, make sure that the people you bring with you on your trip that actually want to be there. Another boat in our group had some really small kids that were scared to death of the rapids so the guides had to take it easy. This can really buzzkill the fun of the others in your boat. Make sure if you bring kids, they are adventurous and not afraid of getting very wet and cold. And it is a rough ride, so this trip is not for the faint of heart.
April 2016
This was the experience of a lifetime. The views were spectacular and the rafting was fun and exciting. This is a must do trip to get a fantastic view of the canyon and it's beautiful waterfalls.
I highly recommend this trip for a great adventure.
March 2016
This was one of the most amazing experiences I have ever had. The rafting was exciting and super fun. The only disappointment was because of the helicopter airlift out of the canyon that we did not get the opportunity to see/purchase any of the photos they took of us during the trip.
March 2016
Fantastic fun, breathtaking scenery and you WILL get VERY wet! Tips - wear fast drying clothing like dri-fit so you don't get cold and wear suncream as you wont notice the sun when you are soaking wet. I burnt my knees!! You need good shoes to climb up to the waterfall, I wore trainers which were fine. A Go Pro camera is a good way to film your experience on a head strap - we didn't wear helmets so head strap is fine but the chest strap filmed the floor as you lean forward going into the rapids. Priceless experience - Joseph captained our boat and Ron was our driver - both very nice. We also took the helicopter out of the Canyon which was a nice treat at the end of the ride just about dried off by then!. Don't forget a waterproof camera!
September 2015
This trip has been on my bucket list for years, and now I have done it, and I want to do it again. I truely had a fantastic time. Thank you for making this a fantastic day! I cannot express in words how happy this trip made me!
September 2015
Fantastic trip as soon as you get past the 4:00 a.m. hotel pick-up. I really had a great time. The tour is well organized - from the stop for breakfast on the way from Las Vegas to Arizona, to the helicopter ride out of the canyon. The scenery was magnificent, the rapids were exciting, and the lunch was delicious. There was no shortage of snacks and drinks. A few suggestions: phone and speak with Cathy at Viator the number is online if you have any questions or concerns, bring a pair of gloves I used garden gloves because there is a lot of holding on to either a metal pipe or wooden seat, and lastly, don't wear white. They call it white water rafting but really it's brown water rafting because the Colorado River is so full of silt, it's brown, and your clothing will get dirty from it. We went in early September so, although the water was cold - refreshingly - the air was so hot that we were comfortable with shorts and a t-shirt. One part of the trip that I had difficulty with was the climb to the falls. I was wearing water shoes - that were wet - and my feet kept slipping so I was a bit nervous climbing on the rocks and up the rope ladder. Take care with this. Another suggestion, on the bus ride down to the river, sit in the front as the road is VERY rough I think part of it is through a somewhat dried up creek bed, not a road at all!. Also, if you plan on taking pics or a video while in the helicopter, ask to sit in the front or at the window behind the pilot. Most importantly, plan on having fun! It's a once in a lifetime trip and well worth the cost.
August 2015
What a wild ride! A once in a lifetime bucket list experience. The staff was helpful and informative about what to pack before our departure from home as well as providing a detailed explanation of the events of the day. Our driver was punctual and safe. He also provided drinks and snacks for the ride home. A wonderful experience.
August 2015
We had such an amazing time on our trip August 13th, 2015. I never write reviews but I just had to put how well we were taken care of on the drive there until we got dropped back off. Our driver Ron was so funny and just the greatest guy. You have to ask for him. The river rafting itself was just a great experience. I had never done anything like that and can't wait to do it again. I will recommend this trip to everyone I know. will be adding photos as soon as I download them.
Special Offer
$589.99 Save $50.00
Advertisement
Advertisement