Get your heart pumping during this 4-hour Red Rock Canyon mountain biking adventure along the Mustang Trail from the Las Vegas Strip. Cycle your way through 7 to 12 miles (11.2 to 19km) of gorgeous canyon landscapes, riding along on your choice of 3 full-suspension bikes, including a
Specialized Enduro 29er,
Santa Cruz Superlite or a Specialized Stump-Jumper. Your ride includes a guide, all necessary equipment, bottled water and round-trip transport from select hotels on the Las Vegas Strip.
Highlights
Half-day Mountain bike tour of Mustang Trail in Red Rock Canyon

Admire the canyon's gorgeous, stark landscapes as you bike 7 to 12 miles

All equipment, bottled water and professional guide are included

Enjoy complimentary pickup from the Las Vegas Strip
Recent Photos of This Tour
What You Can Expect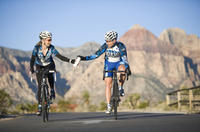 Add some outdoor action to your Las Vegas visit with this mountain biking trip to the nearby Red Rock Canyon. This adventure sports playground is just minutes from Las Vegas but still manages to offer a wealth of top-notch trails for mountain bike lovers.
Start your trip at either 8am or 1pm (depending on the tour option selected) leaving from either the New York New York, The Mirage or Red Rock Resort hotel. Please note that you must leave from one of these three locations for hotel pickup. Then begin your short drive out to this stark yet beautiful national conservation area to begin your ride.
Strap on your included helmet, grab your included bottled water and climb aboard your choice of bike, choosing from among a Specialized Enduro 29er, a Santa Cruz Superlite 29er or the Specialized Stump-Jumper FSR 29er. Then ride out onto the trail with your guide, who rides in the area regularly and can provide insight into sights and trail tips during your trip.
Cycle along the Mustang Trail, a single-track path that offers a great introduction to mountain biking in the area. Start with a 1-mile (1.6km) ascent, followed by 2-mile (3.22km) downhill into the foothills of Black Velvet. The ride's rapid pace, with relatively easy climbs, ensure a ride that's great for adventurous newbies. More expert riders can also extend their trail ride with longer sections to increase the difficulty. Total distance is between 7 to 12 miles (11 to 19km).
Important: Please provide each rider's height in the special requirements field at check out. There is a possibility your booking will not be confirmed without this information.
June 2016
May 2016
Great experience and guide Brandon.
October 2015
We loved our mountain bike tour! The ride was customized to our skill level with just the right combination of challenge and fun. The pick-up and drop-off process was very convenient. We were tempted to sign up again and ride the next day.
August 2015
Great your, guide was excellent and so was the hire bike. Would highly recommend this if you want to see something other than casinos in Vegas
February 2015
I had never mountain biked before this trip and wanted to see the desert. While I found the experience challenging I really enjoyed it and want to pursue the sport at home . Brandon was a very fine guide , knowledgable considerate and professional. I would reccomend this trip for any reasonably fit
February 2015
February 2015
Brandon is super knowledgeable and fun! My boyfriend and I did this last week. We're from Oregon, in our young 30s, and are relatively outdoorsy, healthy, and athletic. I went into this as a newbie mountain biker (although with cycling class experience) and the bf went into this with mountain biking experience, but only as a kid (20+ years ago). He did okay, but I did not.
Spinning/cycling class skills do not transfer over to mountain biking well. I had difficulty learning how to balance my weight, position my body, and apply the brakes. The terrain had loose gravel, large rocks, and prickly plants along the narrow trail. On one of the first dips, my brain froze and I applied the L brake (front wheel) because I'm L-handed, rather than the R (rear). I went head first into the prickly plants and rocks. My left thigh was pinned under the handlebars until I unfroze. This is not a trail to practice and experiment on for the 1st time. During the switchbacks, I was intimidated and got off my bike and walked which was allowed and encouraged. The tour guide and our fellow rider rode ahead and then the 4 of us would reconvene for briefing before the next portion. This was great because they were able to do their thing while the bf and I took it slow. Overall, the bf had minimal problems with the trail, unlike me. Although both of us were panting heavily during the climbs due to the change in elevation, dry air, and hot sun.
The trail and landscape was beautiful. We got some great photos and captured many of my falls on my GoPro which has been comical. I'm still bruised and limping 1 week later, but battle wounds are the best. That's one thing to note. Ladies, do this tour at the *END* of your trip if you want to look good. I looked all 50-shades-of-gray, beat up and bruised, at the pool and got many inquisitive looks. Also I was limping which meant no heels for the rest of the trip. But overall, Brandon was the best! I'd do this tour again or even try mountain biking again!
December 2014
The tour was absolutely fantastic as was our guide Adam! The trail was both challenging and fun at the same time - and like nothing the four of us had experienced before. Adam was excellent as our tour guide! I would highly recommend it to anyone who enjoys biking and who wants to do something off the beaten path from the typical Las Vegas experience.
October 2014
Great guide, beautiful scenery. Be prepared for a workout! As someone who has only done some light road biking, it was a whole different world. However, it was easy to pick up with help from the guide and I had the time of my life.
September 2014
This tour was brilliant Brandon's knowledge was excellent very informative. Beginners half day tour was quite tough but exhilarating. The quality of the bikes were exceptional. I would highly recommend this as a change from the Las Vegas strip.
Advertisement
Advertisement