Escape from the hustle of the Las Vegas strip and enjoy a 4-hour bike tour of the Red Rock Canyon National Conservation Area. Choose from a guided or self-guided trek, then explore the canyon's 13-mile, scenic loop on a hybrid or road bike, passing through desert landscapes, red- and buff-colored rock formations, and sandstone and limestone cliffs that reach elevations up to 7,000 feet. The self-guided tour travels an additional 10 miles on the Red Rock Scenic Highway. Las Vegas pickup and drop-off from select hotels is included.
Highlights
Bike tour through Red Rock Canyon

Enjoy the canyon's beautiful and stark desert landscapes

Choose between a guided or self-guided tour and between a hybrid bike or road bike

Morning and afternoon departures available

Complimentary transportation from the Las Vegas Strip included

Great for both advanced and beginner riders!
Recent Photos of This Tour
Guided or Self-Guided Road Bike Tour of Red Rock Canyon
What You Can Expect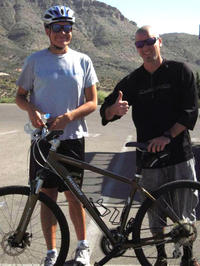 The Red Rock Canyon National Conservation Area's 13-mile scenic drive also serves as a back country byway — a paved, one-way road that welcomes not only visitors in motorized vehicles, but also photographers, joggers, walkers and, of course, bicyclists.
The scenery includes barren desert landscapes, red- and buff-colored rock formations, and stunning sandstone and limestone cliffs that reach elevations up to 7,000 feet. There is also an abundance of wildlife, including wild horses, desert foxes and bighorn sheep, just to name a few.
There are two options to pick from on this outdoor tour. First, choose between a Gary Fisher hybrid or a Tarmac or Roubaix road bike, then select a guided or self-guided tour.
On the guided tour, a professional cyclist leads the way along the canyon's paved, scenic loop — perfect for the athletic beginner with some off-road experience. Starting from the loop's highest point, descend 2,500 feet through Red Rock Canyon and back to the tour center.
On the self-guided tour for intermediate and advanced riders, explore the canyon at leisure, traveling an additional 10 miles along the Red Rock Scenic Highway.
April 2015
hard work but great views our guide really looked after us
March 2015
Great tour, great guide. It's a little challenging the first couple of miles but so rewarding.
March 2015
We did the self-guided bike tour as newlyweds wanting to get away from the strip for a few hours. Absolutely stunning views and would recommend to moderate to highly active/healthy people. Note a quarter of the trip is an uphill climb so not for beginners.
February 2015
Good tour and guide was very helpful.
January 2015
The guide was not available so we did the self guided tour but it was awesome. The bikes were good and remember to bring your bike shoes as they are able to accomodate most cleat types. They will put on the right pedals right at the start of the ride. The first five miles requires a bit of fitness but literally all downhill from there. Great afternoon.
September 2014
Great tour guide, amazing views and exhilarating exercise!!
March 2014
I loved this trip, a highlight of my holiday. Myself and two teenage children cycled 1000ft up to the top of Red Rock Canyon, which was quite tough but with Brandon, our guide, encouraging us all the way with plenty of water. The scenery is breathtaking and the February temperatures were just perfect and warm. I booked this trip from home (England) before we left and everything went to plan. You can do this trip by car or jeep, but I recommend the cycling, you get a real sense of the 'great outdoors', and the ride down was awesome!! All this, and just 15 minutes drive out of the 'crazy' Las Vegas!
February 2014
Brandon was by far the best tour guide I have ever had in any tour I have ever done. The mountain biking tour is the one we ended up doing and it was modified for our skill level. I would recommend this hands down over anything to do while in Las Vegas! Thank you so much Brandon!
January 2014
We did the self-guided road bike tour of Red Rock Canyon. The scenery was spectacular. The route was very well marked and impossible to get lost. Our driver was very helpful. One of our bikes was not what was ordered. It took only a 5 minute stop by the shop to rectify. We got to the canyon about 2:30 pm. There was a lot of difficult uphill climbing and some white-knuckle downhills. As the shadows got long in the canyon, it got really, really cold. We wound up just doing the loop around the canyon and not the additional 16 miles back to the bike shop. Our driver picked us up and was kind enough to stop at a convenience store so we could get some hot chocolate. I took some stunning photos. It was lots of fun, and I recommend it.
December 2013
We really enjoyed this. We went the later part of September so it was not too hot - just perfect actually. The scenery was awesome. The first 5 - 6 miles you climb about 1000 feet, so be prepared for that. After that, it is a very nice ride. Our guide, Brandon, was very accommodating. Whenever we needed a break, that was fine with him. He took care of any bike issues along the way, he had water, and kleenex available! My son is autistic and Brandon made sure he understood the rules of the road and was very respectful. We would do this again.
Advertisement
Advertisement