Discover the spooky secrets of Sin City as you explore haunted buildings and the former hangouts of deceased celebrities on this 3-hour Las Vegas ghost tour. Follow your guide as you visit the one-time haunting grounds of famous Vegas regulars like Elvis, Bugsy Siegel and Redd Foxx, and explore several other hair-raising locations including haunted homes, motels and gardens. This haunted Vegas tour also includes ghost-hunting equipment and a complimentary pizza dinner.
Highlights
Haunted Vegas tour and ghost hunt

Las Vegas haunted tour and ghost hunt takes you to the haunting grounds of "Bugsy" Siegel, Redd Foxx and Elvis

Use real ghost hunting equipment and go "Ghost Hunting" in 3 different haunted locations
Recent Photos of This Tour
Haunted Vegas Tour and Ghost Hunt
What You Can Expect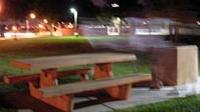 Investigate the wealth of haunted locations and ghostly presences found in Las Vegas, a city that harbors more than its fair share of dark secrets, on this 3-hour ghost-hunting adventure. Fans of ghost stories and the supernatural are sure to love this deep-dive into the eerie presences that are said to prowl the streets of Sin City to this day.
Start your trip in the evening with a departure from the Royal Resort. From there, you'll proceed with your guide on an exploration of some of the numerous haunted sites (some say there are as many as 21 locations) found throughout Las Vegas. Check out sites like the "Motel of Death," an infamous residence where a number of celebrity deaths occurred, and the mysterious home of a former Las Vegas icon, whose ghost continues to prowl the property despite repeated attempts to exorcise it.
You'll also have the chance to visit the Secret Garden of iconic Las Vegas mobster Bugsy Siegel. The garden occupies the site of Siegel's former Flamingo Hotel, which lasted from 1946 through 1993. After the hotel was torn down and replaced by the current garden, stories began to turn up of an eerie specter that was walking the grounds. Many are convinced Bugsy still makes an occasional visit to the site. You'll see the memorial plaque in the garden that serves as reminder of Siegel's former influence.
The trip also includes a complimentary pizza dinner, making sure you'll be able keep the "ghosts of hunger" at bay during your adventure.

May 2016
I had the best time!! Sean was great!! Love the history he knew about Vegas, I love it so much! I will be do it again soon I hope. Maybe on a warmer night. I highly recommend to people I come across. I get so excited telling them about how much fun I had! I also love the driver. He was also very acknowledged about Vegas.
April 2016
It was very fun and informative, we heard many interesting ghost stories and got to play with our ghost hunting equipment and go to some scary looking spots in the dark, spooky fun!!!!
February 2016
Very cool tour to some unique off-strip locations around Vegas. Not a drive and point type tour, but stops to investigate and see multiple locations. Lots of fun.
February 2016
2/5 - We went last night with David and Shawn. Great time and we were lucky as there was only 4 people on the tour.Shawn did an amazing job with local knowledge of the areas and historical facts, let alone some of the Mob History as well. Our driver David was super friendly and helped and answered questions as well. I was really happy with this tour. If your a believer - you will love this. If you're not, you can go and have a great time anyway - Plus the PIZZA is really good at the first location where there are some nice ghosts coming by to chat...!!! Enjoy - We sure did!!!
November 2015
It was a great tour. It was a great night and learned some history of Las Vegas as well. I loved it.
August 2015
LOVED IT!!! staff was very professional, knowledgeable, and just plain nice. I will absolutely do this again.
August 2015
the tour guides were wonderful. they gave us such a good tour of old Las Vegas with the haunted stories as well. We really enjoyed the trip.
May 2015
Lee our tour guide and Ruben our driver were excellent. Extremely friendly and knowledgeable. From Lee's constant stories and information to Ruben's personal proof of ghosts more proof than we have ever seen and he is more than happy to share it with you. Van was comfortable and roomy. Most importantly they made my Wife feel very important and special as well since she is an amateur ghost hunter herself. Thanks guys, you both were great and made our vacation just that much more enjoyable! Good times!
Darren and Jennifer
Castaic, CA

charley USA
August 2014
This tour is so much fun. The tour guide was so cool with a great personality. He was very knowledgeable and just fantastic. We really enjoyed the tour and learning so much of the history of this town.
July 2014
My sister and myself took this tour on June 14th and had a great time. Our guide was quite interesting and kept us all entertained the entire time. Really enjoyed taking photo's of things that I could not see yet show up on camera! Very fun, whether you believe or not.
Advertisement
Advertisement