Special Offer
Book two passengers for the price of one shared, 2-seater RZR and save 25% compared to the local supplier's price!
Take an exhilarating ride through Primm Valley and Hidden Valley on an RZR. During this 6-hour adventure departing from Las Vegas, follow your experienced adventure guide over mountain and desert terrain while driving your own juiced-up, all-terrain golf cart. This RZR is the longest in Vegas and includes all safety equipment and round-trip transportation from Las Vegas hotels.
Highlights
Extreme RZR tour through Hidden Valley and Primm Valley from Las Vegas

Enjoy an exhilarating tour through rugged mountain and desert terrain with stops at scenic overlooks

2-passenger seating, perfect for couples or young children

Safety briefing and use of equipment included

Choice of morning or afternoon departure

Complimentary hotel pickup and drop-off from select Las Vegas hotels
Why Our Insiders Chose This Tour
An alternative to an ATV, the RZR can seat up to two and has a a cage structure for added security. This tour is a bumpy, fast and exciting ride through the desert ideal for couples or those traveling with younger teens.
Recent Photos of This Tour
Hidden Valley and Primm Valley Extreme RZR Tour from Las Vegas
What You Can Expect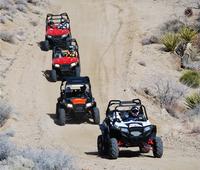 Meet your air-conditioned vehicle at your hotel for the 30-minute ride to the desert town of Jean, where the tour takes place.
Get a thorough safety briefing from your experienced adventure guides, then put on your goggles, gloves and helmet and climb aboard your RZR.
These off-road vehicles are souped-up golf carts with a boost of horsepower, and are equipped with a cage structure that surrounds the passengers on all sides. Opt to d
rive your own 2-seat Polaris RZR 800 or choose to join up with a professional driver so you can sit back and enjoy the ride.
Set off on the longest RZR tour available in Las Vegas, covering anywhere from 20 to 50 miles (32 to 80 kilometers) of rugged desert terrain. M
aneuver through trails, ride up to mountain overlooks and zoom around legendary off-road racetracks.
The morning tour stops for a short break at Buffalo Bill's Hotel and Casino in Primm, Nevada, on the California-Nevada state line before returning to the RZR base. The afternoon tours are slightly shorter, as they do not stop in Primm.
At the end of your rugged desert adventure, enjoy transportation back to Las Vegas and drop-off at your hotel.

Please note: Special offer is for one (1) shared 2-seater RZR and is not valid for single riders.

May 2016
it was an amazing day, the trip was awesome and crew were very professional. we have passed through a spectacular scenery in the Mohave desert. it was the morning drive and weather was great. everyone should do it and specially go with the RZR since they will enjoy it more then the ATV.
May 2016
This was a fabulous adventure and a great way to get away from the strip and enjoy the desert landscape. But the best part, is driving the Razor. Being a 64 year old coward who was looking for a challenging and safe adventure, I was a little nervous before going on this tour. I had more fun than I can remember - Completely satisfying my need for adventure and rewarding and empowering my chicken self. Chris was terrific from the beginning when he picked me up in the van, emphasizing that everything is very safe. When we got to the desert parking lot where we first meet our cars, there is a thorough orientation and a chance to drive the razors around the lot to get used to them. There is a huge learning curve, so that by the time we were heading back during the second half of the tour, I was flooring the razor across the dried desert floor. I had read about this part of the trip, but never thought I would be flooring it. Absolutely fabulous. I highly recommend driving the razor yourself and not being a passenger, although if you're too scared to drive, being a passenger is the next best thing. They work hard to accommodate everyone and make everyone feel comfortable, so I ended up taking a passenger in my razor that was originally signed up to drive a bike, but was too nervous. I also recommend wearing long pants and a long sleeve top as it gets cool and you also get absolutely covered in dust. Also, take the goggles when they offer them to you, you wont regret it! This is a very responsible group that loves exploring the desert and driving off road vehicles. I even got some great recommendations for places to eat and neighborhoods to explore off the beaten track that turned out to be the best things that we did the entire time we were in Las Vegas. Matt who took over from Chris was also wonderful. This is a great morning. I highly recommend it.
May 2016
Great tour! Everything was well organized and on time. Great experience!!

May 2016
This was an awesome trip! The guides were great, bikes were top notch. The only thing to caution is against is the weather. We went in early April and thought it would be warm so we wore shorts. Bad idea, it was COLD! I'm sure anytime after that would be fine. It really was a blast though!!

May 2016
Fun times with a professional crew. Too great a time to be reduced to a short review. Our guide, Matt, led us through spectacular desert scenery while imparting knowledge with humour. Undoubtedly worth the time. If you only do one thing in Vegas outside of the obvious, this is it. We'd give it six stars if we could.
April 2016
Awsesome activity! Did the morning tour and would highly recommend it to anyone. Too much fun! Guide was excellent. Even made it to California!
April 2016
My husband and son had fantastic time, they definitely would like to do it again when we go back to Vegas.
March 2016
Great racing across the Mohave desert - you will get battered to pieces so be warned! Fast, very bumpy but a huge amount of fun! You will get very dusty so don't wear white!
March 2016
Great guides. Fun tour. Well worth it.
March 2016
We did the tour in a Razer. The unit was in great shape, the staff and guide were great. Terrain went from salt flats to mountain trails.We had a great time. Well worth the trip.
Special Offer
$199.49 Save $50.00
Advertisement
Advertisement