If you've always wondered what it feels like to skydive but don't have the guts to jump out of a plane, your days of fear are over. In Las Vegas, enjoy an indoor skydiving experience that mimics the conditions of freefalling without the need for a parachute or possible motion sickness. Spend three minutes suspended above a wind tunnel that simulates the thrill of weightlessness that skydivers enjoy when they fall though the air.
Highlights
Indoor skydiving in Las Vegas
Enjoy three minutes of uninterrupted 'flying' that simulates the excitement of freefalling
Learn the ropes with a training class and guided instruction
Gear up with a flight suit, ear plugs, goggles and a helmet
Small-group experience limited to five people ensures personalized attention from the instructor
Recent Photos of This Tour
Indoor Skydiving Experience in Las Vegas
What You Can Expect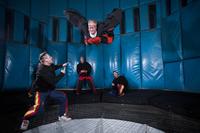 Before you simulate floating through the sky, register at the front desk for your flight suit and learn the ins and outs of indoor skydiving. During a training class, an experienced professional runs through all the basics: how to hold your body while flying, hand signals, and safety procedure. Look the part by donning a flight suit, gloves, goggles, helmet and ear plugs.

When you're ready to catch some serious air, enter the wind tunnel area with a small group of no more than five people, plus the instructor. You'll each take turns whipping and turning weightlessly in the air, simulating the feeling of freefalling from a plane. Whereas typical skydiving freefall time typically lasts roughly a minute, this simulation grants three minutes of uninterrupted air time over the high-powered wind tunnel. The airstream safely lifts you skyward, with highly trained instructors within an arm's reach. Experience the thrill of weightlessly hurtling through the sky, with none of the risk or weather concerns. It's the perfect way to get another kind of adrenaline fix on the Vegas Strip!
July 2015
Awesome experience! Professional Team! Our Instructor Lea Rocks! She is a Superstar! Thanks again!

June 2015
I was scared at first but instructor was very helpful and definitely something I would do again.
May 2015
I can't tell you how awesome this experience was. The instructors are incredible and the reception staff were great. You get more than enough flight time as your shoulders take a hammering. Totally enjoyed it 100% and a very good price
February 2015
September 2014

July 2014
Once in a life time experience
July 2014
April 2014
August 2015
It was a fun experience, only it should be longer than 3 minutes. My friends took me for my birthday and I feel bad they paid 75.00 for only 3 minutes.

January 2015
It was fun!
Unfortunately we were with a group that didn't speak English, but that is no fault of anyone.
Our instructor was awesome and made us feel welcome!
It was Fun but over before you really could get into it.
Not sorry we did it thou!
Always good to try New things!
Advertisement
Advertisement