Special Offer
Book and save 15% to 17% on Category B & C Seating compared to the local operator's price!
While in Las Vegas, enjoy a unique theatrical event: KÀ by Cirque du Soleil. This 90-minute show at the MGM Grand Hotel and Casino uses acrobatics, multimedia, martial arts and puppetry to tell the story of twins on a dangerous journey to fulfill their destiny. Choose between two evening showtimes and two seating categories.
Highlights
KÀ at MGM Grand Hotel and Casino on the Las Vegas Strip
Choice of two evening show times
Fascinating show featuring aerial acrobatics, puppetry, martial arts and an incredible moving stage
Choose between two categories of seating
Price displayed is inclusive of all taxes and fees!

Recent Photos of This Tour
KÀ™ by Cirque du Soleil® at the MGM Grand Hotel and Casino
What You Can Expect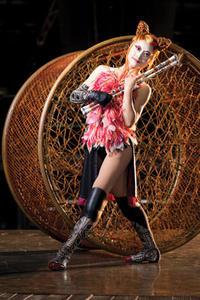 Make your way to the MGM Grand Hotel and Casino on the legendary Las Vegas strip for your evening of entertainment.

With the choice between two showtimes and two seating categories, you'll find the right option to fit your schedule When you arrive, make your way to your comfortable seats and wait for the program to begin.

Enjoy the epic tale of twins as they fulfill their shared destiny, navigating their way through events representing the opposing forces of good and evil. During KÀ by Cirque du Soleil, the talented cast will perform acrobatics, multimedia, martial arts and puppetry to enhance their storytelling.

You'll leave the theater dazzled by the creative story and the feats of the performers that told it. After the show, feel free to stay and enjoy the other attractions that the MGM Grand has to offer.
Anonymous
June 2016
My family and were visiting Las Vegas for the week and wanted to see a show. By chance (thank you Google) we came across Viator which had all the top shows (all the Cirque du Soleil shows, Penn and Teller, Jersey Boys, Blue Man Group, the new Michael Jackson show, etc.). We selected Cirque du Soleil's KA. Mainly we chose this because my kids were interested in the martial arts aspect. We could not be happier with everything: the purchase was seamless (tickets waiting for us at the box office, great seats) and KA will take your breath away. Highly recommend Viator and highly recommend KA.

teedybeedy United States of ...
June 2016
My wife and bought tickets to KA (by Cirque du Soleil) on Viator. Everything about the evening and purchase was perfect. I was emailed a voucher which I brought to the box office to redeem my tickets. Everything was clearly detailed and the process was seamless. The box office is immediately outside the show's entrance (easy to find), my tickets were waiting for me, and the seats were fantastic! Of course KA was amazing, but that goes without question for Cirque shows. I would highly recommend purchasing tickets via Viator.
June 2016
Excellent show, Cirque du Soleil is well worth the price. The special effects are something.
June 2016
January 2016
This is one of the best shows I've seen from Cirque du soleil. Highly recommend it!!!!
January 2016
Amazing production. The seats were perfect. Couldn't ask for a better time
January 2016
The Show was excellent. Love every single act

Duncan H Australia
January 2016
Wow, not what I had expected and definitely a must see show. KA is a cirque show that brings martial arts & acrobatics together with a floating stage to produce a story that captivates the audience. If you are wonder which Cirque show to see, then see this one.

January 2016
Ive seen a few Cirque shows now and this was just amazing, a great storyline and the acrobatics in this show were something else. Really enjoyed this show.
December 2015
Didn't know much about the show before booking it. Booked category B tickets and ended up front row and centre. Staff at the box office were polite and helpful, we were taken to the side for photos which came out great. And the show had me in awe! Jaw dropping-ly amazing! I was speechless at the end. Couldn't have booked a better show!
Advertisement
Advertisement