248 Reviews
Location:

Las Vegas, Nevada

Duration:

90 minutes

(approx.)
Special Offer
Book and save 15% to 17% on Category B & C Seating compared to the local operator's price!

KÀ by Cirque du Soleil is an unprecedented theatrical event. A masterpiece in storytelling, KÀ uses acrobatic performances, the thrills and action of martial art techniques from all over the world, plus innovations in puppetry and multimedia to tell the epic tale of twins on a perilous journey to fulfill their shared destiny.
Highlights
KÀ at MGM Grand Hotel and Casino on the Las Vegas Strip
Choice of two evening show times
Fascinating show featuring aerial acrobatics, puppetry, martial arts and an incredible moving stage
Choose between two categories of seating
Price displayed is inclusive of all taxes and fees!

Recent Photos of This Tour
What You Can Expect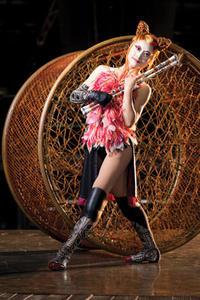 Along the way, the twins confront characters and events representing the opposing forces of good and evil. Before their world comes under attack and collapses around them, the twins receive a magical talisman for protection. As the plot unfolds, danger lies in wait for them at every turn.

KÀ by Cirque du Soleil brings the visual language of cinema to a dazzling live event that is more about storytelling than any other Cirque du Soleil production.

Please Note: Exact seats and how they're zoned per category are subject to change without notice
October 2015
Absolutely amazing show in the purpose built theater at the MGM. Everyone on the trip LOVED it!
October 2015
Always wanted to go to a Cirque du Soleil show and was not disappointed, amazing! So impressed booked up to see Mystere as well while we were there.
October 2015
Fantastic show would definitely recommend to anyone thinking of going
September 2015
Brilliant! Best show ever. My eyes were full of tears at all time. If you want to experiment a different show, go for it! KA by Cirque du Soleil is THE must seen in Vegas!
September 2015
Beautiful production! KA is a fascinating mix of non-stop action, martial arts and acrobatics with great music. The theatre was gorgeous. Definitely one of my best shows in Vegas.
September 2015
Pure Cirque du Soleil brilliance. Enjoyed the story, athleticism, costumes the entire show immensely.
Hauntingly dramatic with some comedic moments. Would gladly see this again or any other of the. Umber of shows in Las Vegas.
September 2015
Great show. The stage was an absolute marvel. Very unique.
August 2015
KA is phenomenal. It took me a while to go see the show, but once I experienced the atmosphere, music, talented performers and expertise of the use of technology IT BLEW MY MIND. What a fabulous production. I recommend if you haven't seen the show to see it ASAP. There is NOTHING like it in the world. Best of the Best!!!!
May 2015
Amazing show. Wheels of death were a highlight. Watching at the MGM was also an experience. Easy access into the auditorium; No queues. Lived up to my expectations.
March 2015
This show is absolutely mind-boggling. You will be captivated for the entire show; The visuals are amazing, the music is brilliant and the performance is truly brilliant. This is my first Cirque du Soleil; but not my last! Treat yourself!!
Advertisement
Advertisement