Special Offer
Book by December 31, 2016 -- Purchase Package C and only pay the Package B price. In addition, any Package B or C will receive free web broadcast for 30 days.
This one-of-a-kind Las Vegas experience ensures your wedding day is one to remember. Enjoy the ease and convenience of having all the details taken care of. Travel by private limousine to the Special Memory Wedding Chapel for a romantic ceremony and personalize your event by choosing from three levels of service. You can even upgrade to include photos on the Las Vegas Strip or have Elvis walk you down the aisle. Important Note: Each booking must have 2 people only.
Highlights
Las Vegas Wedding at A Special Memory Wedding Chapel
Choose between three levels of ceremony and even upgrade and have Elvis walk you down the aisle and serenade you
Includes a private limousine transfer

Have the ultimate Las Vegas wedding with special memory chapel

Recent Photos of This Tour
Las Vegas Wedding at A Special Memory Wedding Chapel
What You Can Expect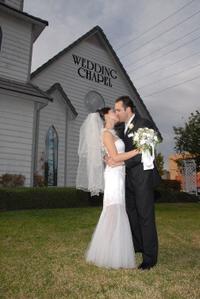 Your Las Vegas Wedding as A Special Memory Wedding Chapel kicks of with private limousine pick up and includes multiple ways to personalize and upgrade to ensure your ceremony is just as magical as the proposal. Upgrades can include photo sessions on the Vegas Strip or Elvis walking you down the aisle, then singing a sweet song. It's the perfect way to start –or end—your Las Vegas holiday!
You have several packages to choose from to help make your special day even more memorable:
Package A - single rose presentation and matching boutonniere, 12 professional portraits on CD
Package B - 6 rose bouquet and matching boutonniere, 24 professional portraits on CD, professional DVD of ceremony
Package C - 12 rose cascade bouquet and matching boutonniere, 36 professional portraits on CD, candlelight ceremony, toasting glasses and champagne, professional DVD of ceremony
Additional Options:
One Hour Photo Tour - Limousine tour includes two stops on the Las Vegas Strip
Elvis Option - Elvis will sing three songs and pose for photographs
Ministers (fee not included) can perform a religious, civil or catholic (non Roman catholic) service in either English, Spanish, French, Japanese, Italian or German.
Make your wedding day A Special Memory that will last a lifetime.
Please note: The listed price does not include fees for the minister, $50.00, Marriage License, $60.00 and Driver Gratuity, $35.00. The fee is required by our local supplier and is not within our control.
Marty United States of ...
April 2016
Loved it!!!! I was nervous. It was my first marriage and my first trip to Vegas. Everyone at the chapel was very nice. The minister was extra special. She was awesome. The photographer....my pictures are so beautiful!!! Beautiful chapel!
March 2016

December 2015
We had an amazing and memorable ceremony.
January 2015
We had a beautiful day and would highly recommend to anyone coming to Vegas to get married. The staff were fantastic and couldn't do enough to make sure everything was just how we wanted it. Thankyou for making our special day even more special :)

April 2014
I was really nervous about booking online but everything was great. Pics and dvd were good. Got 98 pics instead of 36. Great limo drivers.
April 2014
This was a lovely vow renewal for our 10th wedding anniversary. The staff, photographer, driver and minister were all lovely and made our day very special. The chapel was gorgeous and they all took time to get to know a little bit about us and make the service special for us. It was a very special day and we will remember it fondly. My husband was sceptical about renewing our vows this way but was delighted with the service and with the chapel and all the staff. Thank you for making it so special!

December 2013
We renewed our vows 8 years to the day of our original wedding and it was an amazing day. The staff were wonderful and the service was very special and moving. Elvis capped off the day. I would highy recommend this to anyone thinking of doing it.
Anonymous
September 2013
We loved the minister he was very traditional and provided so much more entertainment than we expected. We had a great wedding and a super fun evening.The flowers were so special.Thanks for a giving us the best wedding.

charley USA
September 2013
This was a beautiful wedding night. The lighting outside was amazing and made it look just like historical times. The minister was very engaged keeping everyone entertained and interested. It was a great sermon and we loved it.
February 2013
excellent service, great chappel
should you want a all in one wedding package choose this one
I have compared many other offers, called directly some well known chappels and by far Viator offers the best deal (even cheaper than going through the chappel directly)
Advertisement
Advertisement