Visit Disneyland and California Adventure on this trip from Las Vegas to Anaheim, California. Board a luxury motor coach and set out for some good, wholesome fun at the happiest place on earth, just 4.5 hours away. Choose from a 2- or 3-night option that includes transportation, park passes and accommodation at a local Anaheim hotel.
Highlights
Roundtrip transportation between Anaheim and Las Vegas on a luxury motor coach

Entrance to both Disneyland and California Adventure theme parks

Explore Disneyland and California Adventure

Upgrade for an extra day of theme park fun

Includes all room taxes and fees

Recent Photos of This Tour
Las Vegas to Anaheim Multi-Day Tour Including Disneyland and California Adventure Hopper Pass
What You Can Expect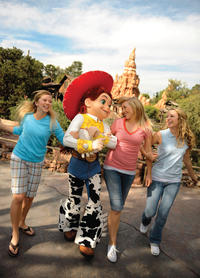 Following pickup at your hotel in Las Vegas, climb aboard a luxury motor coach and settle in to your comfortable seat for the 4.5-hour trip to Anaheim, California.
As the Las Vegas strip disappears from view, attendants will circulate serving drinks and light snacks; request a pillow and blanket if you'd like to rest up for your theme park adventure.
Arrive in Anaheim and spend some time exploring the Downtown Disney District, where you can find dining, shopping and nightlife. Retire to your Anaheim hotel and rest up for your upcoming day of fun.
California Adventure features areas and attractions that are all California-themed. From the Muppet Vision 3D show to classic, boardwalk-inspired roller coasters, there are activities to keep the whole family happy. From the Bay Area to Hollywood, California Adventure takes you on a journey across the Golden State's most remarkable icons. You'll spend the night in Anaheim and then return to Las Vegas via motor coach the next morning.
At Disneyland, Walt Disney's original theme park, experience the thrill of favorite rides like Space Mountain, Pirates of the Caribbean and the spinning tea cups. Shake hands with Mickey Mouse, wander through Tomorrowland, and make memories while you enjoy Disneyland's timeless fun and imagination. The parks are adjacent, making visiting both throughout the day a breeze.

Upgrade to the 3-night package for an additional day of fun. See Itinerary below for full details.

Please note: the price displayed is per person, based on 4 people per room. If you require separate rooms, you must make separate bookings.

Itinerary
2-Night
Day 1: Depart Las Vegas at 3:30 PM for Anaheim - Arrive 8:00 PM - Overnight
Day 2: Disneyland® & Disney's California Adventure® - Overnight
Day 3: Depart Anaheim at 8:45 AM for arrival into Las Vegas by 1:15 PM

3-Night
Day 1: Depart Las Vegas at 3:30 PM for Anaheim - Arrive 8:00 PM - Overnight
Day 2: Disneyland® and Disney's California Adventure® - Overnight
Day 3: Disneyland® and Disney's California Adventure® - Overnight
Day 4: Depart Anaheim at 8:45 AM for arrival into Las Vegas by 1:15 PM
September 2015
Superb trip! Allowed us to see both Disney parks in one day and the luxury coach was brilliant - they looked after us extremely well. Our only criticism would be the hotel we were allocated - Castle Inn and Suites - not the best but it was clean and the staff were friendly. Was really no more than a budget motel. However, Disney more than made up for it. Would recommend the trip.
April 2015
This tour was fantastic. I and my daughters had so much fun. We were treated like VIPs during our round trip Vegas-Anaheim.
Tina C United Kingdom
September 2014
Well organised bus tour on time,41/2 hrs to Anaheim tickets for disney given to you on the bus. You are taken to the main bus terminal were a second bus takes you on to your hotels lots of people going different places.
Hotel Cortona clean and tidy very helpful staff, has everything you need for a two night stay. Disney was only a 15min walk from the hotel very easy to find it is on the same side of theroad.
Only thing ring the bus company for your return pick up time and pick up location different to hotel only two mins way but time was different to my sheet so I would ring them to confirm return details.
Very good trip would do it again.

March 2014
Our trip from Las Vegas to Disneyland was wonderful the bus arrived right on time, the driver was very friendly and our guide was really funny she was Russian wish we could remember her name she made the trip fun would like to thank her for that. Our hotel though lots of construction was nice great breakfrest and in walking distance to Disneyland. This was my first time there and it was amazing,our trip back was quick the personality of the guide was totally different than on the way out not so much on personality more bussniss like. The movies where great got to see two that I've wanted to see. Over all would highly recommend this company.
November 2013
Disneyland was amazing - This tour included the coach to and from and a day hopper pay for both Disneyland and California Adventure Park. Our bus operator was extremely funny and was very friendly - she had the whole bus i stitches most of the way. The Cortona Inn was nice however very bad WIFI we had to sit on the balcony to connect and is a bit of a walk to get to the parks. Overall our experience as a whole was excellent and this is a must do at any age !
April 2012
enjoyed the trip immensely. would recommend to anyone visiting vegas only don't go on a Sunday because the traffic is unreal and will delay arriving in Anaheim by a few hours.
April 2012
Had a most enjoyable tip to Disneyland, bus and courier were great, picked up on time. Stayed at the Holiday Inn not quite walking distance for me but the shuttle bus was quick and the people were informative. The only niggle I have is that the three of us were unable to sit together on the return journey no seat numbers given and the bus was full, however, I would still this rate this trip as worth doing and would recommend Viator, great service.
Todd USA
August 2011
Tour company driver and attendant were very hospitable. Great value if you know the tricks to get the most out of one day at the park (Fast Pass, etc.) and know most of the rides/attractions you want to hit beforehand (i.e. exclude carnival style and focus on Disney-specific).
Donald M United Kingdom
May 2011
Everything went like clockwork, Luxbus was excelent, Anaheim Plaza just across the road from Disney.
June 2014
It was nice for a first time visit.
Advertisement
Advertisement