Special Offer
Travel by July 31, 2016 and save up to 15% on Grandview Seating OR save 9% on Golden Circle seating for travel through June 21, 2016!
See Le Rêve - The Dream at Wynn Las Vegas. Enjoy great seats in this aquatic theater-in-the-round for a 75-minute story of love and loss acted out by humorous, playful characters. The performance includes acrobatics, swimming, dancing and breathtaking plunges from the high-dive. Enhance your experience by booking seats in the Splash Zone or upgrading to the VIP Package.
Highlights
Le Rêve - The Dream show at Wynn Las Vegas on the Las Vegas Strip
Enjoy a mesmerizing performance of aerial acrobatics, water dives and special effects
Choice of two evening show times
Choice of Grandview, Poolside or VIP seats
VIP Package includes Champagne, chocolate-covered strawberries, gourmet chocolates and more!

Recent Photos of This Tour
Le Rêve - The Dream at Wynn Las Vegas
What You Can Expect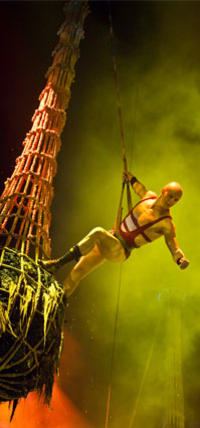 Make your way to the Wynn Las Vegas for your evening of aquatic entertainment at Le Rêve - The Dream.
Find your seat in the theater-in-the-round, which allows for great views from every vantage point. Settle in and get ready to see the performers and the stage change before your eyes as the watery story unfolds.
Performers and dancers, both humorous and playful, will dive, swim, move and interact with the audience during this 75-minute spectacle. The dream-like story of love and loss takes place on an ever-shifting stage that rises and falls throughout the performance. If you choose to sit Poolside, you're definitely in for a memorable experience.
Click on the
View Additional Info
below for details of seating zones.
Choose to upgrade your evening with the VIP Package; see Itinerary section for details.
Please note: Reservations can only be made 120 days or less in advance of the show date.
May 2016
Wow what a show, fabulous theatre and incredible production. Only one thing was I wish the Wynn would clamp down on latecomers some people were still being allowed in a good half hour into the show and this was distracting for those already there, wouldn't be allowed in other theatres... Sorry if you can't be there on time then you have to miss out for the sake of others in my opinion

April 2016
This was the perfect show for our last night in Vegas, choreography was stunning. A must see.
March 2016
Unbelievable show. So much going on didn't know where to look next.
Music, lights, fireworks magic waterfalls all absolutely brilliant.
February 2016
The addition of water to the acrobatic experience is wonderful. Great show. Hope to see it again someday.
February 2016
Process flowed smoothly and no trouble redeeming voucher when we picked up the tickets.
February 2016
Amazing experience every time! The best show in Las Vegas. I highly recommend it for everyone.

February 2016
This show was amazing! The stage is it's own character, and the skill of the acrobats and swimmers is absolutely wonderful. I had a great seat, a few rows from the stage, and I recommend that area to anyone who wants to come see the show. Close enough to see the expressions and really watch the feats of strength! The theater is gorgeous, and well designed though - so there's not a bad seat in the house! I would absolutely see this show again tomorrow if I could!
February 2016
Le Reve is a spectacular show. I love that no matter where in the theater you sit, you have a great seat since the theater is in the round. Out of the several shows I have seen on the strip this is hands down my favorite show. The fact that this show takes place in and around one of the biggest indoor pools of water I have ever seen makes this show even more amazing. I would recommend this show to anyone asking about it and would definitely see it again.

February 2016
I was incredibly impressed with the show. As a musician and performer I know that it takes a lot of dedication and drive to not only pull off some of those incredible moves, but to also be able to keep an entire theatre glued to the action. There was always something a little different going on in each corner of the room. I applaud the entire cast and crew for their talent and I have already recommended this show to every one who would listen!

Vegas Mom USA
February 2016
One of the best shows I have seen in Las Vegas. Fantastic, amazing athletes and divers. Would recommend highly to all ages.
Advertisement
Advertisement