Special Offer
Travel by July 31, 2016 and save up to 15% on Grandview Seating OR save 9% on Golden Circle seating for travel through June 21, 2016!
See Le Rêve - The Dream at Wynn Las Vegas. Enjoy great seats in this aquatic theater-in-the-round for a 75-minute story of love and loss acted out by humorous, playful characters. The performance includes acrobatics, swimming, dancing and breathtaking plunges from the high-dive. Enhance your experience by booking seats in the Splash Zone or upgrading to the VIP Package.
Highlights
Le Rêve - The Dream show at Wynn Las Vegas on the Las Vegas Strip
Enjoy a mesmerizing performance of aerial acrobatics, water dives and special effects
Choice of two evening show times
Choice of Grandview, Poolside or VIP seats
VIP Package includes Champagne, chocolate-covered strawberries, gourmet chocolates and more!

Recent Photos of This Tour
Le Rêve - The Dream at Wynn Las Vegas
What You Can Expect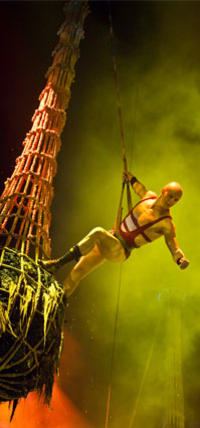 Make your way to the Wynn Las Vegas for your evening of aquatic entertainment at Le Rêve - The Dream.
Find your seat in the theater-in-the-round, which allows for great views from every vantage point. Settle in and get ready to see the performers and the stage change before your eyes as the watery story unfolds.
Performers and dancers, both humorous and playful, will dive, swim, move and interact with the audience during this 75-minute spectacle. The dream-like story of love and loss takes place on an ever-shifting stage that rises and falls throughout the performance. If you choose to sit Poolside, you're definitely in for a memorable experience.
Click on the
View Additional Info
below for details of seating zones.
Choose to upgrade your evening with the VIP Package; see Itinerary section for details.
Please note: Reservations can only be made 120 days or less in advance of the show date.
May 2016
Awesome show! 90 minutes of amazing acrobatics, diving, dancing and entertainment. We absolutely loved it and would highly recommend it to everyone.
May 2016
Excellent. However we missed the beginning of the show as we had not taken our passports to collect the tickets. YOUR PAPERWORK DID NOT EXPLAIN THAT WE NEEDED TO TAKE IT !!!!!!!
May 2016
The show was pretty fantastic, seeing all of the acrobatics was like being in a dream.
Anonymous
May 2016
Le Reve is truly one of most amazing shows I have even seen! From the moment they dim the lights, it's like you've entered a journey through an enchanting dream world of imaginary possibilities.
Anonymous
May 2016
WOW!!!!......1 hour and a half of WOW! It is worth EVERY penny whether you're a theater fan or not. the music, the actors, the special effects, the costumes...just WOW!
Anonymous
May 2016
I went to see Le Reve The Dream at the Wynn. Form the moment I walked into the theatre I was transformed. We sat near the splash zone I did get a little wet yet it did not bother a bit. It made me fill as if I was participating in the show. The water acrobats and divers were all superb. It was a beautiful love story I had a tear at the end of the show. My friends just bought tickets for this absolutely wonderful show.
May 2016
Le Reve gave me chills. All I could think during the show is how awesome it was. I could sit there and just be in "awe" every second. I couldn't stop talking about it, after it ended. Such an amazing experience & a must see show in Vegas!
Anonymous
May 2016
I have seen show a few times now and would go again. The show is entertaining every time.
May 2016
Amazing experience every time! The best show in Las Vegas. I highly recommend it for everyone.
May 2016
Amazing show!!! Totally recommend that you attend.
Advertisement
Advertisement