Get up close with more than 40 lions and their cubs on this self-guided walking tour of the Lion Habitat Ranch near Las Vegas. Stroll along the paved paths and watch the giant cats lounging, playing and napping in their habitats. Upgrade to a private, guided, 90-minute small-group tour and get a behind-the-scenes tour. Ask questions and watch the trainers feeding, cleaning, watering and bathing the animals as they do on a daily basis. Also, spend time hand feeding the ranch's young giraffe named Ozzie.
Highlights
Lion Habitat Ranch admission with optional upgrade to a Behind the Scenes tour
Take an optional private guided tour, including a Q&A with professional trainers and a closer look at the lions
Great way to spend the day away from the Las Vegas Casinos

Recent Photos of This Tour
Lion Habitat Ranch: General Admission with Optional Behind-the-Scenes Tour
What You Can Expect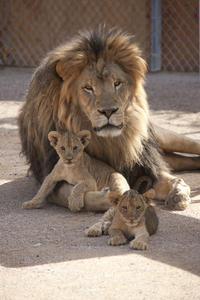 Head to the Lion Habitat Ranch, approximately 15 minutes south of the Las Vegas Strip in Henderson, Nevada. This 8.5-acre sanctuary is home to the big cats that previously worked at the MGM Grand's lion habitat. Since the early 1990s, the ranch has been the residence of more than 40 lions and their cubs.
Stroll along the paved paths and watch the lions lounging, playing and napping in their habitats on a self-guided tour of the facility.
As an added option, upgrade to include an informative and entertaining, behind-the-scenes tour of the ranch. This exclusive, 90-minute, small-group tour features the sanctuary's professional trainers feeding, cleaning, watering and bathing the animals as they do on a regular basis. Along the way, ask questions about the daily activities of the lions and also about what's involved in raising and taming them. Then spend time hand feeding the ranch's young giraffe, Ozzie. Bring a camera. There will be some great, close-up photo opportunities.
After exploring the inner workings of the sanctuary, take to the grounds for an additional guided tour with one of the trainers.
April 2016
It was fun,we got there on Benny the Lion's third birthday and we were able to catch his birthday party and watch him get his piñata, I.also got to hand feed a giraffe and we were able to watch them feed the lions and the Cubs
January 2016
Amazing!! Staff very knowledgeable about the animals in their care. Cute baby giraffe that paints a must see. I highly recommend this tour to everyone! Price may seem a bit high but when you see what it takes to care for these beautiful animals on a daily basis, the donation is well worth the price!
December 2015
The Lion Habitat Ranch was amazing! Would definitely recommend! Such good value for money too! So many lions to see and the cubs that are there at the moment are so cute, it's great how you can watch them get fed and everything. The giraffe that is there is adorable, and he paints! Was the best animal themed thing that we did whilst in Vegas. It is a bit off the strip, but 100 worth it. The staff are amazing also, all so friendly and welcoming.
November 2015
December 2014
We had such a good time. A great place to bring your family. All the staff is very friendly and informative.
November 2014
This was more than I expected. Everyone at the Ranch were so friendly, helpful and eager to answer any questions. Talking with them you just knew they "love" their job. All the 48 Lions are so well cared for, all their cages are clean and spacious. The baby giraffe is adorable. The only complaint I have is that I wasn't allowed to take the baby cub, "Angel", home with me. She and her friendly humans are a must see. I hope to go back soon to see how much Angel has grown. What is so nice is being able to spend as much time watching her play, roar and drink from her bottle. This Ranch is one place you don't want to miss. I would give it 10 STARS
Anonymous
October 2014
Who would've ever thought there was a Lions den or sanctuary in the desert? Well there just happens to be one and it holds some famous history of the Las Vegas strip. In fact the lions which are at the sanctuary are former strip entertainers. They now live in this nice retirement community on the south end of town. They appear to be living the good life and are viewed by many tourists daily. I sure enjoyed seeing my family enjoy the small park where you can see many happy lions. It was a lot of fun and if you happen to have a young child in the family I highly recommend taking them for the visit. They will be glad you did.

Cutie Repolinos Brazil
October 2014
The Lion's Ranch is far from the Strip, but it totally worth a visit. Despite of the name, they also have other animals as emus, ostriches and even a giraffe! However, the lions are the main attraction here and the staff is very pleasant and knowledgeable. I took my 2 year old niece and she loved the experience.
October 2014
Great Lion habitat! Super clean, animals looked very healthy and the employees were very knowledgeable. Will go back with my Grandson, I live here in Las Vegas. Thanks
August 2014
well worth the visit big cats in excellent facilities and well looked after must see if your in vegas all staff there do fantastic job and cats are spoilt rotten!
Advertisement
Advertisement