Special Offer
Book and save 10% compared to the local supplier's price!
Walk the red carpet with some of the world's best-known celebrities at Madame Tussauds Las Vegas! Whether it's hobnobbing with A-List stars like Sandra Bullock and Brad Pitt at Club Tussauds or rubbing shoulders with well-loved athletes like Muhammad Ali and Andre Agassi in the Sports Zone, this interactive Las Vegas wax museum puts you in the spotlight.
Highlights
Admission ticket to Madame Tussauds Las Vegas

Unique interactive museum lets you in on the action and snap a photo with your favorite stars
The ropes and poles have been removed so you can truly stand along side the wax version of your favorite famous A-listers!
See the stars of Hollywood, including Sandra Bullock, Brad Pitt, Shaq and more!

Recent Photos of This Tour
Madame Tussauds Las Vegas
What You Can Expect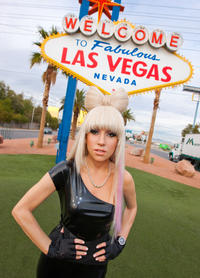 Incredible waxwork figures of big screen stars, movie legends, and sports heroes will astonish you as you relive the events and moments that lead to their fame. Have your camera ready and snap a photo with some of the most beloved celebrities of all time — there are no ropes or poles to keep you from standing right beside these acclaimed icons.
The Experiences
UFC sports legend Chuck Liddell
Face off in the UFC® Octagon with mixed martial arts legend Chuck "The Iceman" Liddle. The first athlete of his kind to be immortalized by Madame Tussauds, Liddell is a UFC Hall of Fame fighter with the most knockouts in UFC history.
One-on-One with Shaq
Shaquille O'Neal is one of basketball's most intimidating superstars — and you get to take him on in this interactive experience. Go head-to-chest with Shaq as he towers above and tries to block whatever shots you throw at him. Flashbulbs pop and Shaq sweats in concentration as the ball leaves your hands. Get ready for deafening cheers when you sink your shot.
Marvel Super Heroes 4D Experience
Your favorite super heroes await in this incredible display featuring Marvel's dynamic characters. Grab a shot with the amazing Spiderman or pose beneath the Hulk's enormous, fifteen-foot frame. The highlight of the experience is a cinematic adventure of epic proportions. Save Las Vegas from an evil plot in Madame Tussaud's 360-degree, 4D theater complete with electrifying special effects that fully immerse you in the excitement.
December 2015
We really enjoyed this tour. The only issue we encountered was ticket printing. We didn't print our tickets bescause we thought the email confirmation was sufficient. We waited about 15 mins before the tickets were finally printed by the staff, after we forwarded our email confirmations.
vra2003 United States of ...
October 2015
I had such a good time. LOVE coming to MADAME TUSSAUDS, and looking at all the new Stars. A must see in Vegas.
Anonymous
October 2015
Becoming a tradition with my daughter, love taking pictures with the stars. They look so real!

Tiana J United States of ...
October 2014
This was the 2nd time i went o vegas and took this tour and it was awesome all over again
June 2014

Tiana J United States of ...
March 2014
Out of everything I did in vegas this waa the best will be going back in a few months and def will attend again.. the workera were very friendly and even took pictures for you.
January 2014
We really enjoyed our trip to madame tussauds, some fantastic wax stars to be photographed with. Well worth a visit.
May 2013
Loved it! This is great for a huge group of friends with great senses of humor. There were many photo ops and props to facilitate general silliness, and of course everyone had a favorite! If you are looking for entertainment that is quick, self guided, and not too expensive, this makes a great option! Bonus: it's great for kids because they CAN touch all the things and they CAN run around, unlike other shows and museums.
January 2013
Me and my boyfriend had a wonderful time in Las Vegas.
January 2013
Great Wax museum! Great staff!
Special Offer
$29.95 Save $2.96
Advertisement
Advertisement