Whether it's from the audience or on the stage Mar Savard's Comedy Hypnosis at Planet Hollywood resort and Casino is sure to amaze and entertain. This incredible performance includes beautiful dancers, hilarious volunteers from the audience and real-time hypnosis that will have the crowd cheering. In a city that's filled with wild wonder, this comedy show is truly tops!
Highlights
See Marc Savard Comedy Hypnosis at Planet Hollywood Resort and Casino

Audience volunteers are hypnotized onstage
Choose from three seating types

Price displayed is inclusive of all taxes and fees!

What You Can Expect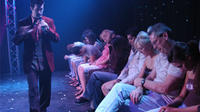 Looking for a night of entertainment, energy and amazing feats? Look no further than Marc Savard Comedy Hypnosis at Planet Hollywood Resort and Casino—the hottest Hypnosis show in town. Watch from the audience or possibly participate live and on stage in what's sure to be a memorable evening. You'll discover for yourself just how many people can have their sub-conscious minds unleashed.
Widely regarded as the hottest hypnosis show in town, this evening ticket is filled with adult humor, off-color jokes and real-life hypnosis. Choose from general admission or VIP seating closer to the stage and sit back for a night of fun with this David Saxe production and Marc Savard performance.
March 2016
December 2015
Wonderful show, enjoyed it much more than Penn and Teller. Marc Savard was witty, funny and entertaining.
August 2015
Really enjoyed this show and was amazed at Marc's ability to hypnotize and think on his feet.
My only concern was that management let a very young boy attend right behind us, at a show that was very adult oriented.
June 2015
March 2015
September 2014
I can't tell you too much, I was a contestant on stage. The part I did see was very funny.Would go again.

September 2013
Well worth it! Laughed so much.
Great show if you have nothing to do. General admission seats are based on first come first serve so just go early if you want to be close to the front. Marc will ask for volunteers who wish to be hypnotised and those
who dont "suit" get plucked off the stage one by one. If you are the "lucky - or unlucky" ones to be selected to stay on for the show, you will do some funny things in which your friends and people you dont know will laugh away. MUST SEE I BELIEVE!!!
June 2013
A cheap must see in show Vegas. Laughed the whole show.
May 2013
was very funny mind you i wouldnt have the guts to go up on stage and let him put me under but for those who did on the night we went thanks guys you were very entertaining

May 2013
Very funny. I try not to laugh at people, but I could not help myself with this show. I've always been curious about hypnosis and if I get to see this show again, I might volunteer. Even though I know what I am getting myself into.
Advertisement
Advertisement