Special Offer
Book and save between 13% to 17% on Category B, C and D Seating for the 9:30pm Show!
Celebrate the artistic genius of the 'King of Pop' as you watch Michael Jackson ONE by Cirque du Soleil®. Influenced by the smash hit show Michael Jackson THE IMMORTAL World Tour, this brand new performance at Mandalay Bay Resort and Casino features a fun-filled array of acrobatics, dance moves and body-moving pop songs. It's the perfect way to honor the musical and cultural legacy of this iconic pop star, spreading his universal lessons of peace, unity and love. Your ticket purchase also includes a choice of show times and seating options.
Highlights
Michael Jackson ONE by Cirque du Soleil® at the Mandalay Bay Resort and Casino in Las Vegas

Follow an incredible story illustrating Michael's global messages of peace, love and unity
Be mesmerized by aerial acrobatics, special effects and Michael's signature dance moves
Enjoy an incredible score featuring the legendary Michael Jackson hits

Choice of three show times and three seating sections

Price displayed is inclusive of all taxes and fees!

Recent Photos of This Tour
Michael Jackson ONE by Cirque du Soleil® at Mandalay Bay Resort and Casino
What You Can Expect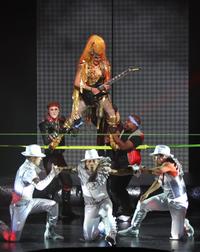 Celebrate the remarkable legacy of Michael Jackson during this performance of Michael Jackson ONE by Cirque du Soleil® at the Mandalay Bay Resort and Casino in Las Vegas. You'll relive the unforgettable music and extraordinary dance moves of the legendary King of Pop, recreated through a mesmerizing fusion of dancing, eye-catching costumes, acrobatics and song.

Make your own way to Mandalay Bay for the scheduled start time of your performance, and get ready for your program to begin. The show encapsulates the multi-faceted artistic output and creative soul of this incredible musician, a man whose legacy continues to inspire millions to this day. It also helps to convey the philosophy of Michael Jackson, emphasizing the equality of all human beings, despite differences in race and culture, and spreading his message of harmony and peace.

Listen to the tale of four outcasts who set out on an unforgettable adventure, inspired by Michael Jackson's music. Enjoy an incredible range of special effects and aerial gymnastics during the course of this amazing performance, celebrating the King of Pop's most beloved hits and memorable dance moves. By the end of their voyage, the party comes to better understand Michael's unifying messages of peace, harmony and love.

Please Note: Exact seats and how they're zoned per category are subject to change without notice.

June 2016
This show was spectacular! I wanted to watch it again! If you want to be entertained with your children then this is the show to see the acrobatics/dancing and how everything meshed with the songs was truly unbelievable! The time went by too quickly! If I go back to Vegas, I'm definely going to see this again!
June 2016
June 2016
Truly unbelievable! Best show I have ever seen. The dancers were so passionate about giving a great performance. It touched me emotionally, I cried happy tears!
May 2016
If you are going to Vegas you gave to go to Mucharl Jacson ONE, it and #39;s the best show I and #39;ve ever seen. Amazing!! Great music and awesome acrobatics!
May 2016

April 2016
Would book this show again! It was spectacular from beginning to end but at times also very moving. To literally 'see' Michael Jackson dancing with the rest of the dancers as a hologram was so extremely beautiful. As it wasn't completely sold out me and my friend were lucky as we had booked the cheapest tickets but had a very big guy in front of us. We had no views therefor and were moved down when we asked for it.
However our seats were great from the start but naturally the closer you get to the stage the more impressive as you can almost touch the dancers. I will come back and see it again!
February 2016
Although this show starts a little slow, the majority of it is a great journey through the music and moments that continue to make Michael Jackson such a pop legend. Well worth your time and money!
January 2016
We loved the show. It was so convenient at the Mandalay Bay Resort. We had a great time.
January 2016
Loved the music, not as many acrobatics as normal Cirque du Soleil shows, but if you like the music, it was absolutely fantastic!
January 2016
Excellent show, unbelievable special effects. I would highly recommend Michael Jackson One.
Advertisement
Advertisement