Experience the comedy and magic of Mike Hammer at the Four Queens Resort and Casino in Las Vegas. Hammer takes audience interaction to the limit (no one is safe), blending cutting-edge wit with stunning magic. Anything can and frequently does happen. From swallowing razorblades to reading minds, the show builds in complexity, culminating in the 'Pick Pocket Booth of Solitude,' a masterful combination of all the things Hammer does so well. Choose between general or VIP seating for this fast-paced, 70-minute performance.
Highlights
Voted Most Interactive Magic Show
Family-friendly Mike Hammer comedy magic show
See Hammer swallow razor-sharp blades
Located in the Four Queens Hotel and Casino on famous Fremont Street in downtown Las Vegas
Price displayed is inclusive of all taxes and fees!

What You Can Expect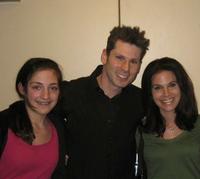 Head to the Canyon Club Show Room inside the Four Queens Resort and Casino on Fremont Street in downtown Las Vegas to catch the comedy and magic of Mike Hammer.
For more than 25 years, Hammer has played the role of host, magician and comedian, performing his hilarious interactive shows for thousands of companies, colleges, comedy clubs and casinos in all 50 states. He has also appeared on the A&E Network's 'Bad Ink' and 'Barry'd Treasure' starring Barry Weiss. Hammer was also named by Esquire Magazine as one of the '45 Under 45' in Las Vegas, honoring the most successful men, business leaders and executives in Sin City.
This master of cutting-edge wit and non-stop improvisation makes every one of his shows an original. His rapid-fire, 70-minute performance includes mind reading, swallowing double-edged razor blades, gags, pranks and general mayhem — with 100 percent audience participation along the way. No one in attendance is safe.
February 2016
Mike had us in stitches!!. Really funny with head-scratching magic tricks. As others have said, prepare yourself for audience participation. If you want value for your money in Vegas, go see Mike Hammer!.
December 2015
Amazing show. Very funny and great magician. Would highly recommend

November 2015
Mike Hammer is a great comedy/magic guy. He was funny, really worked the audience, and put on a great show. We enjoyed it.
October 2015
The show was just great
We flew in from the UK were tired and needed to stay awake get on US time and wow did Mike keep us entertained. His humour and quick thinking just kept everyone engaged and we haven't laughed so much for ages. Thanks so much Mike, if you are thinking of going just do it.
September 2015
He was spectacular and talented! We laughed through the entire show. I'll recommend him to everyone I know. What a gem.
August 2015
He was very entertaining!
July 2015
Really fun show for the whole family, and easy on the wallet. The venue is small and intimate, and Mike calls out just about everyone in the audience--so be prepared to be part of the show! The performance is equal parts comedy and magic, and both are well executed and fast-paced. Mike came out to say hi and take pictures with folks after the show. Super nice guy, and very entertaining show!
June 2015
Awesome show for the money. Definitely love the audience participation. Will see this show again.
March 2015
I have not laughed so hard in years! Mike does a wonderful job of working the audience. Small venue allows him to involve lots of people. Great fun!
March 2015
Advertisement
Advertisement