Ride in a specially-equipped buggy through the Nevada desert during this adrenaline-fueled activity departing from Las Vegas. On your own or with a friend, navigate through the area's most challenging terrain wearing full safety gear. 'Rolling Stone' named this excursion as Vegas' Best Near-Death Experience. Round-trip transportation from Las Vegas hotels is included.
Please Note: Price displayed is a per person rate based on a two-seater buggy; see tour options for details.

Highlights
Three-hour door to door Mini Baja Buggy tour from Las Vegas
30-minute dune buggy ride
10 to 15 miles over challenging terrain
Most advanced buggy tour available from Las Vegas
Thorough safety briefing and all safety gear provided
Knowledgeable and friendly guides
Choice of one and two-seater buggies
Choice of morning or afternoon departures
Pick-up and drop-off from Las Vegas hotels
Why Our Insiders Chose This Tour
If you're looking for the most thrilling dune buggy ride in the Vegas area, look no further! This is a high-impact, adrenaline-charged adventure. All safety gear is provided and you can do the ride with a friend. Be sure to wear sunscreen -- the rays are intense out there!
Recent Photos of This Tour
Mini Baja Buggy Half-Day Tour from Las Vegas
What You Can Expect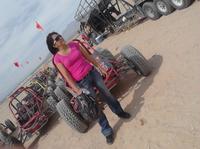 Following pickup at your Las Vegas hotel, travel to the dune buggy facility in a comfortable vehicle, a trip that takes roughly an hour.
Upon arrival at the site, meet your local guide and receive a safety briefing and orientation. The buggies are custom-built to handle the rugged Nevada terrain and are equipped with seat belts and roll cages. Single buggies are not offered; if you wish to have your own buggy, you must purchase two seats.
Don your helmet and safety goggles, then set off over the sand. Pilot your buggy over challenging terrain, wearing a full-face mask and 4-point restraint harness at all times. On the 30-minute ride, cover between 10 and 15 miles (16 and 24 km) of aggressive terrain.
After exploring the rugged terrain of the Nevada desert for 30 minutes, enjoy the ride back to your Las Vegas hotel for drop-off.

Please Note:
The price displayed is a per person rate based on a six-seat buggy, please see tour options for more details. Your total tour duration includes hotel pickup and drop-off. Your total ride time is approximately 30-minutes.You will not be able to switch drivers during this tour. If each passenger wishes to drive, you must book two (2) buggies.
June 2016
Highlight of my trip. Our leader Buc was amazing and the dune buggy were exhilarating. I thoroughly enjoyed ever minute of it and thought it was worth the money.
June 2016
Buc was an awesome guide, thanks for an exhilarating experience!!

May 2016
talk about having sober fun. This was an absolute blast! well worth the money
April 2016
We packed a full week into this vacation and the guys said this was their favorite day trip. Thanks so much for a great time!!
February 2016
Wasn't too sure about this one, but my husband and I took our adult children and we had a BLAST!!! Highly recommend.
January 2016
Awesome
Scared the living daylight savings out of the wife ha ha
But she loved it too
Great experience
With jets and army helicopters flying over all the time like call of duty
Well worth the money
December 2015
one of the best trips I have ever done, what they let you do with these things is unbelievable. our buggy was running slow so the guide gave us free upgrade to his brand new super buggy and both of us drove on the pass, this trip in phenomenal and a bargain. must DO

November 2015
I rode with a friend and the guide who called himself Scuba Steve, awesome guy! We had a blast drifting through the dunes and I would love to do it again! Very professional and very fun!
September 2015
We had a great and fun time during our buggy tour. We were met at our hotel promptly and transferred to Sun Buggies main site and met be friendly and helpful staff. We were taken out to site and given a brief but appropriate safety briefing before being taken out into the desert driving at speed over dry river beds and sand dunes.
The actual drive lasted 30 minutes the company do offer 1 and 2 hour drives and our only regret was that the drive element passed too quickly due to the fun we were having and I would recommend anybody interested partake in the 1 hour tour. Highly recommended.
September 2015
Great fun should have went the hour tour not the half hour. Will do it again next time i am in Vegas
Advertisement
Advertisement