Experience an aquatic-themed wonderland of surrealism, artistry and romance during a performance of 'O,' one of the most sought-after and iconic Cirque du Soleil shows in Las Vegas. Combining a worldwide crew of synchronized swimmers, daring acrobats and elegant divers, the show seamlessly transitions between the fantasy worlds above, on and below the water to produce a stunning spectacle, all housed inside an elegant theater similar to some of Europe's grandest opera houses.
Highlights
"O" by Cirque du Soleil at Bellagio Hotel and Casino on the Las Vegas Strip
Mesmerizing show featuring aerial acrobatics, water dives and special effects
Choice of two evening show times
The most sought-after show tickets in Las Vegas
Price displayed is inclusive of all taxes and fees!

What You Can Expect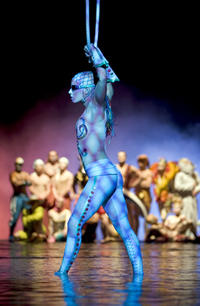 Discover an elegant and visually stunning performance of "O," a water-filled spectacle of athletics, acrobatics and artistry brought to you by the world famous Cirque du Soleil. Fans of this iconic performance troupe are sure to enjoy the sublime beauty and artful choreography of this aquatic-themed act.

Head to the Bellagio Hotel and Casino for your chosen performance time. Once you're settled inside the elegant theater, prepare to be dazzled by this one-of-a-kind show. Influenced by the concept of infinity and the simplicity and purity of water, "O" offers the ultimate tribute to the sublime beauty of the theater.

It's a show that transports the audience from the most basic of street performances to the grandest of operas. A world where everything is possible and the drama and beauty of life plays out before your eyes.

To view the seating chart, select View Additional Info

Please Note: Exact seats and how they're zoned by category are subject to change without notice
April 2016
April 2016
Excellent show - never seen anything like it.

March 2016
Excellent,I would recommend you go see this show worth every penny
February 2016
Amazing show! Filled with unbelievable stunt work, great touches of comedy, an awesome theater, and great set pieces. See it as this and Michael Jackson: One are the two best Cirque shows.
February 2016
The most visually stunning show I have ever seen...... twice

January 2016
I have no words to describe this experience, it was the most amazing show I've ever gone to.
Fiona Australia
January 2016
Worth every penny! Absolutely fabulous :
December 2015
It was magical .amazing . and a great show. Lost the story line from the begining but that did not matter. it was expensive but worth it.
November 2015
Excellent show! A must see if you are in Vegas. Booking simple through viator and somehow got bumped up to first row seats! Highly recommended

November 2015
It was a wonderful and special performance to see.
Advertisement
Advertisement