Special Offer
Book with us and save 9% compared to the local supplier's price!
Step into the world of the hit television series 'Pawn Stars' on this guided, 4-hour tour in Las Vegas. Enjoy VIP access to the Gold and Silver Pawn Shop, where cast members Rick, the Old Man, Big Hoss and Chumlee work day-to-day, buying, selling and appraising items brought in by their customers. Also, visit relevant Las Vegas locations like the Toy Shack, Ultimate Sports Cards and Memorabilia, Welder Up and the Carroll Shelby Museum. Transportation, plus a 'Pawn Stars'-inspired gift and bottled water are included.
Highlights
Tour the Gold & Silver Pawn Shop, home to History Channel's Pawn Stars

You may see Rick Harrison and his team filming their hit show!

Visit other Las Vegas locations often featured in the show

Admire collectables and antique toys at the Toy Shack

See the famous Shelby Museum

Receive a Pawn Stars-inspired gift
Why Our Insiders Chose This Tour
On Las Vegas' first and official Pawn Stars tour, you'll receive VIP access at every stop made. This is also the only tour that includes a visit to ATM (Acrylic Tank Manufacturing) home to Animal Planet's show Tanked where stars Brett and Wade create larger than life fish tanks!
Recent Photos of This Tour
Pawn Stars Tour of Las Vegas
What You Can Expect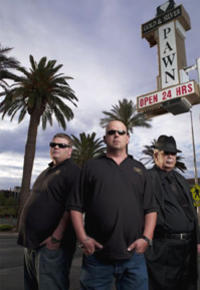 This 4-hour tour goes behind the scenes of the History Channel's hit reality television show Pawn Stars. Beginning at the Bally's Las Vegas Hotel and Casino box office entrance, climb aboard an air-conditioned minivan to get things rolling.
First, visit some of the places the Pawn Stars crew (Rick Harrison, Richard "the Old Man" Harrison, Corey "Big Hoss" Harrison and Austin "Chumlee" Russell) looks to for opinions, appraisals and restorations. Go to the Toy Shack, where the team seeks expert opinions on vintage toys; Ultimate Sports Cards and Memorabilia, featuring Jeremy Brown, the Pawn Stars' go-to sports memorabilia confidant; plus Welder Up, from the Discovery Channel's Vegas Rat Rods; and the Carroll Shelby Museum, a race-car maker/showroom.
Finally, arrive at the Gold and Silver Pawn Shop, where Pawn Stars is primarily filmed. Enjoy VIP-access to the store for an insider's tour.
As an added bonus, visit Acrylic Tank Manufacturing, or ATM, the aquarium store from the Animal Planet show Tanked.
Itinerary
June 2016
The tour was GREAT! It went beyond what I had expected. The tour guide was very helpful and informative. We enjoyed the tour tremendously. Thank you!
June 2016
This tour consist of 6 stops. Tanked was the Tanked and it showed us where the special Fish tanks are made plus it had a few on displayed. The second stop was Shelby, where all the Shelby Mustangs are customized. On displayed was the very first Shelby and plenty more on display with a couple for sale. The third stop was Welderup where the chop cars and give them plenty of power muscle. the 4th was the Ultimate Sports Card and Memorabilia, Jermey was on vacation but interesting things to look at. This is also the place the Pawn Stars look to for advice on these kinds of material. The 5th was the Toy Shack and Johnny was ther to take pictures with and he also answered a lot of questions we all had. He is an advisor to the Pawn Stars as well. Last sopt was the Pawn Stars and to bad non of the stars were there, but pictures are every where so snap away. Also theres plenty of memrabilia to bring home with you. Excellant tour if you watch any of these shows.
June 2016
I have done this Tour and is highly recommended. We have visited a lot of locations...
Tanked, Welderup, Toy Shack and finaly Pawn Stars.
Nice and funny.
April 2016
We saw it all! Exceeded every expectation! Suzy our tour guide made it something special!

December 2015
Loved every minute of this tour! Renee our tour guide was fantastic - so funny and knowledgable. There's a bit of walking, especially at the Toy Shack and Ultimate Sports Memorabilia. Free water onboard the bus was appreciated. We saw The General at ATM and then Johnny and Jeremy at their stores. Really friendly guys! Johnny also offers 20 off at the Toy Shack for tour members! He has totally fantastic stuff by the way!! The Pawn Stars shop is last on the tour and has a lot of souvenirs. The stars of that establishment do not come in except for filming so don't do this tour if that's an issue for you. Highly recommend this tour as you also get the sights and info on Vegas in between stops.
November 2015
October 2015
Loved it, loved the diversity of Vegas and this was great with the pawn stars.
June 2015
really had a good time people so nice !!

June 2015
Loved the tour. Besides the Gold and Silver Pawn shop also stopped at ATM (Tanked) Welded On (Vegas Rat Rods)and the Shelby museum.
June 2015
Tour was great. Very informative. Only thing I would have like to have been able to spend more time at pawn stars.
Special Offer
$87.95 Save $7.96
Advertisement
Advertisement