Special Offer
Book with us and save 30% compared to the local operator's prices!
Enjoy Penn and Teller's unique blend of comedy and magic during this live show at the Rio Suite Hotel and Casino in Las Vegas. The outrageous pair will employ props like guns, knives, a duck and a fire-eating showgirl in the course of their 1.5-hour show that stretches the boundaries of 'traditional' magic. Even though the pair is known for revealing some of the secrets to their tricks, they'll still leave you guessing.
Highlights
At the Rio Hotel and Casino, Penn and Teller blend outrageous comedy and magic
See Penn Jillette and Teller, stars of Penn & Teller: Fool Us

May reveal secrets to their tricks but still manage to leave you startled
Pushes the boundaries of traditional magic

Price displayed is inclusive of all taxes and fees!

Recent Photos of This Tour
Penn and Teller at the Rio Suite Hotel and Casino
What You Can Expect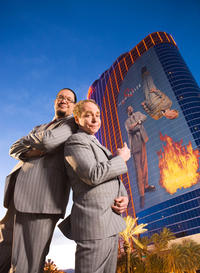 Make your way to the Rio Suite Hotel and Casino on the Las Vegas Strip. Settle in to your seat and prepare for a wild ride: Penn and Teller are never, ever boring.
These 'Bad Boys' of magic have gotten that reputation by sometimes revealing the secrets to their tricks, but that doesn't mean they won't leave you stunned. Their live act, which changes ever night, could involve knives, guns, a fire-eating showgirl and a duck. The pair is also known for stretching the boundaries of 'traditional' magic, and weaving both standup and physical comedy into their routine.
Their weekly Showtime series 'Penn and Teller: BS!', along with their appearances on The Tonight Show and The Late Show have earned them them a nod from Entertainment Weekly as two of the funniest comedians alive.
You'll leave the theater in wondrous laughter after this show. Warning: Although this is a magic show, it contains adult content and may not be suitable for children.

Rowdy 49 United Kingdom
May 2016
A really good entertaining show.
May 2016
Great seats, fantastic value.
May 2016
We saw the Penn and Teller on Wednesday, Feb. 10. They were deliciously dangerous and funny. There were five of us and we laughed and laughed! Oh, and I was the one whos card-halfs DID NOT MATCH! But, Tellers gold fish illusion was amazing and beautiful, and their trap illusion was edge-of-the-seat riveting!!! The whole show was great!! Not a bad seat in the house and we'd all very much recommend the Penn and Teller Show.
Joseph L United States of ...
May 2016
Great show worth the money
May 2016
Well worth seeing these guys live, loved the interaction with the audience and the opportunity for photos afterwards.
April 2016
Had a great experience Penn and Teller were great we even met them after the show which was a bonus
April 2016
A very interesting show, with the chance to go up on stage before the show starts to see some of the props. Be wary of the venue - it is quite a long walk over a flyover to get to the Rio, and getting a taxi would take a while due to the very high volume of traffic in Vegas!
April 2016
Great show containing things which continue to amaze us! Would highly recommend.
March 2016
Wow what a show, it is a deffinate must do if you're in Vegas. You where left wandering after every illusion. Great entertainment and then after the show both Penn and Teller stand outside the theatre to allow you to take a picture with them, or get something signed, they are both so attention too they don't leave until everyone has got the picture they want.
Pacenza Australia
March 2016
Special Offer
$92.25 Save $28.26
Advertisement
Advertisement