Special Offer
Book and save 34% compared to the local supplier's price!
Sit back and relax with this family-friendly show that's perfect for everyone! The Popovich Comedy Pet Theater at Planet Hollywood Resort and Casino showcases plenty of four-legged furry friends performing outrageous acts. This unique and hilarious evening includes a ringleader and Moscow Circus Superstar Gregory Popovich, who's best known for his incredible juggling skills.
Highlights
Gregory Popovich's Comedy Pet Theater at Planet Hollywood Resort and Casino
Be entertained by world-championship juggling, physical comedy and European-style clowning
Watch pets jumping, dancing, flying through the air, or balancing in ways you've never seen before
Great show for the entire family!
Price displayed is inclusive of all taxes and fees!

What You Can Expect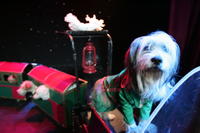 The Popovich Comedy Pet Theater at Planet Hollywood Resort and Casino is a family-oriented show that's guaranteed to entertain! Experience the thrill of world-class juggling skills and the non-stop fun of talented cats and dogs showcasing their incredible skills.
This one-of-a-kind performance has been featured in People magazine and other popular publications, and ringleader and Moscow Circus Superstar Gregory Popovich has even been featured on The Late Show with David Letterman and The Tonight Show with Jay Leno.
Your afternoon or evening of Comedy Pet Theater offers the option of VIP seating or general admission. The impressive jumping, flying and balancing of rescued furry friends is perfect for any age!
June 2016
This show was totally worth it!!!! It was funny, enterraining and exciting. Loved the animal tricks.
June 2016
Amazing! We love the pets!
July 2014
Very entertaining show. Though there were some issues during the show the cast played them off well. Animals were very fun to watch and Greg is a great entertainer. If you like magic, juggling, and pet tricks, this is your show. The price at viator was cheaper than anywhere in town so it was also a great value.
July 2013
Funny funny and funny. This show was really well done. My 80 year old mom enjoyed it. She said her face hurt from laughing. The fact that the animals were all rescues made it even better. It was obvious that Mr Popovich and his cast really love these animals. Fun show!!!
October 2012
Enjoyed the show immensely. Pet lover here.
So glad so many pets have been rescued from the shelters. Best place to find a pet. I speak from experience. Give a little love and look what happens.

JennyC United States of ...
October 2012
Fun show; amazing animals... The kids loved it!
September 2012
Great show, the animals were fantastic and the humans were too.
September 2012
Wow the kids were laughing the whole time and have been training the cats ever since we got home!
July 2012

Astrolover USA
May 2012
Popovich Comedy Pet Theater was absolutely hilarious, it is such a wonderful family event. The show is colorful, quirky, and fun. It brought a smile to my face seeing my daughter laugh out loud at the crazy stunts, and amazing tricks. This is a fun and heart warming show, and I would love to see it again.
Special Offer
$45.76 Save $15.77
Advertisement
Advertisement