55 Reviews
Location:

Las Vegas, Nevada

Duration:

2 hours 30 minutes

(approx.)
Head out on the town with Elvis for a tour of Las Vegas you'll never forget! Ride along with the king of rock 'n' roll in his 1956 pink Cadillac as he sings his greatest hits, takes requests, poses for photos with you and shows you his favorite spots in Vegas. Share a Margarita toast at the 'Fabulous Las Vegas' sign, see kitschy wedding chapels, and see the Fremont Street Experience — all in the company of a top-notch Elvis impressionist who will have you believing Elvis lives!
Highlights
Private Elvis tour of Las Vegas

Ride in an eye-catching 1956 pink Cadillac guided by a first-rate Elvis impressionist

See top Vegas attractions such as the 'Fabulous Las Vegas' sign, wedding chapels and the Fremont Street Experience

Sip margaritas as Elvis sings and poses for photos with your private party at iconic Vegas landmarks

Hotel pickup and drop-off included

Why Our Insiders Chose This Tour
A must-do for any Elvis fan, this fun and photogenic private tour will ensure you get plenty of quality time with 'the King'. Your charismatic guide's impressive Elvis resume includes roles in movies, such as Fools Rush In and 3,000 Miles to Graceland and appearances on The Tonight Show!
Recent Photos of This Tour
Private Pink Cadillac Tour of Las Vegas with Elvis
What You Can Expect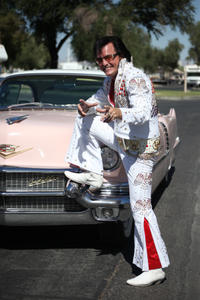 Your time with Elvis begins with pickup at your Las Vegas hotel in his classic 1956 pink Cadillac. Prepare for plenty of curious looks as you and up to four companions
cruise along the Las Vegas Strip while the king of rock 'n' roll belts out some of his most famous songs. Your charismatic guide's impressive Elvis resume includes roles in movies, such as
Fools Rush In
and
3,000 Miles to Graceland,
and appearances on
The Tonight Show
.

Stop at the famous 'Fabulous Las Vegas' sign where your private party can share a toast as your guide serenades you. Pose here for photos with him before heading to some of Vegas's many wedding chapels (where your Elvis impressionist has been known to perform a wedding ceremony or two), including the Tunnel of Love Drive-Through Wedding Chapel.

By the time your 2.5-hour tour of Las Vegas ends with drop-off at your hotel, you'll understand better how much Vegas meant to Elvis. You'll receive an 8x10 souvenir Elvis photo, Elvis-style sunglasses and some fuzzy dice as souvenirs of your time with 'the King.'

Please note: Price listed is per person based on a group of 5.
November 2015
I don't often submit reviews, but for this tour I will make an exception.
Two friends and I ended up taking this tour earlier with week while on a quick trip to Vegas. All three of us had been to Vegas before and had teased we needed to find something none of us had done so we could share an experience. One of my friends stumbled on this tour and after looking at several options, we decided to book Elvis.
I have to say, a tour of this nature is WAY outside my comfort zone and I think my two friends would agree. I'll admit we had some reservations but from the moment Elvis aka Eddie met us outside our hotel, we just gave in and enjoyed the moment.
I noticed an earlier reviewer gave this tour a lower number of stars because it was only an Elvis tour. While it's true this is not a traditional city tour and is focused on Elvis, I have to say Eddie pointed out local landmarks and provided several hints and tips regarding things to consider doing and seeing along the way. Rest assured, this tour is everything it promised and more.
From the moment we got into the vintage Pink Cadillac to travel to our private concert by the Welcome to Las Vegas sign until we were delivered back to our hotel, we were singing, dancing and appreciating this man who clearly loves his job and Elvis. There were many onlookers that wanted time with Elvis, but he made sure his attention was focused solely on us. That evening, the three of us agreed we had never laughed and smiled so hard for SO long. It may sound silly, but this really was 2 hours of pure joy...you cannot put a price on that.
If you are on the fence about whether or not to take a chance on this tour...please don't be. If this recovering Type A workaholic from the corporate world can step outside her comfort zone and enjoy this experience, I'm sure you can as well.
October 2015
The look on my wife's face when I surprised her with Eddie, I mean the King... I mean Elvis,,,, was well worth the price of admission. You've got to understand, Wendy is all about Elvis. When he pulled up to our hotel in that EXQUISTE, immaculately detailed 56 pink Caddy, she said it was probably there for some high roller... NO mon Chéri it is for you, said I. The king sauntered over to her and hugged her and we shook hands. That scene amongst others that night will forever be in our hearts and minds. Ah for those of us who remember the fragrant aromas of vintage auto's and the warmth of the rear seat fire wall... memories will flood back of our early encounters. La pese de résistance was sitting underneath the glow of The Welcome to Las Vegas Sign on the edge of town, and being sung many of Elvis's best tunes. It was magical, absolutely magical. You could see and feel and hear, Eddies heartfelt dedication to The King, to which we had the benefit of that evening. We both danced and sung with The Kong that night. What can be better than that ?????? IF you want to take a memory home from Vegas, take this tour. Don't waste your money on extravagant meals and Ferris wheels, spend your time with the real deal, Eddie The King. Thank you thank you very much.....
October 2015
Great fun, we had such a laugh and got a lot of attention, everyone who spotted us joined in the singing and gave us a wave. Elvis was brilliant and also a nice guy. Would recommend this to anyone especially if you liked Elvis.
October 2015
Eddie was great-value for money
October 2015
We booked the Pink Cadillac Tour as it was our friends wedding anniversary. We had the best time Eddie Powers was Elvis, he was brilliant, it was a fun packed trip we could not stop laughing and singing from the moment he arrived. The concert at the Vegas sign was great and we were all dancing and singing. I would definitely recommend this trip and we would definitely give Elvis 5 stars!
October 2015
My friend and I were laughing from the minute we met Elvis until the minute he dropped us back at our hotel. The tour was great fun, Elvis was very friendly and entertaining and his car is amazing! Apparently, Little Richard owned the car before Elvis, it's fab! I will sing this for Elvis, Five star review! Five star review! :
September 2015
Brilliant tour! Was laughing from start to finish!
September 2015
We had a fabulous time with Eddie. He gave us our own concert which was so much fun and spoilt my sister Kim whose birthday surprise was the tour. Definitely do it if you're in Vegas. WE LOVE ELVIS....WE LOVE ELVIS.........
August 2015
Well worth it. Highly recommend .
August 2015
Elvis is alive and well, the only real Elvis gave us a fab tour of Vegas - facts, sights and singing! Great fun.
Advertisement
Advertisement