Come face-to-face with some of the world's most fascinating creatures at the Shark Reef at Mandalay Bay, North America's only predator-based aquarium and exhibit. This Las Vegas aquarium is home to 2,000 animals, including saw fish, giant rays, endangered green sea turtles, piranha, jellyfish, rare golden crocodiles and — sharks. Get close to more than 100 sharks, including 30 in the 1.3-million-gallon main tank, one of the largest in the US. Explore two underwater tunnels and experience Sea Monsters Revealed, the world's largest exhibit of uniquely preserved sea creatures.
Highlights
Admission to Shark Reef Aquarium at the Mandalay Bay Hotel and Casino on the Las Vegas Strip

Admire more than 2,000 aquatic animals and reptiles

Witness more than 100 sharks of 15 different species

See rare and endangered animals including golden crocodiles, green sea turtles and black piranhas

Experience a diver's view by walking through two underwater tunnels

Recent Photos of This Tour
Shark Reef at Mandalay Bay Hotel and Casino
What You Can Expect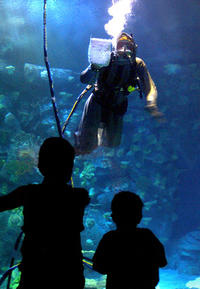 Visit the Shark Reef at Mandalay Bay Hotel and Casino on the Las Vegas Strip anytime during its normal operating hours to see 14 different exhibits devoted to dangerous aquatic predators.

There are more than 100 sharks at Mandalay Bay — and 30 of them appear in the aquarium's largest exhibit, the 1.3-million-gallon Shipwreck. Visitors can experience several species of sharks (Galapagos sharks, grey reef sharks and zebra sharks), plus endangered sea turtles, stingrays, sawfish and many other fish through a mesmerizing acrylic tunnel.

Other exhibits include the popular Touchpool, featuring stingrays and horseshoe crabs in a 2,500-gallon, interactive saltwater exhibit. Also, look for the rare golden crocodile, Komodo dragon, cichlids (one of the largest families of fishes), Burmese pythons (one of the five largest species of snakes in the world), Amazon predators (home to the giant arapaima, arrowana, pacu and freshwater stingrays), plus a Caribbean reef teeming with parrotfish, pufferfish and other beautiful tropical fish.

There are also venomous fishes, moon jellies, piranhas, a giant Pacific octopus and much more.

June 2016
Weather you with the family or with your significant other this is a great tour to take to pass the time and see Mandalay Bay Hotel. From the exotic animals to the amazing sharks surrounding you this is an awesome time.
June 2016
the shark reef was great I enjoyed all the displays I will revisit the next time i'm in vegas
March 2016
A must see aquarium. My wife love it. Definetely recommend this tour for the price.
December 2015
I really enjoyed this tour I got to see all kind of marine animals up close and personal. The Shark Tank was fantastic. The sharks swim right up to the glass.
In another part of the exhibit, it is constructed with a panoramic view. To the sides and even when you look up you can see turtles, different fish and marine life swimming.
There is an exhibit with Stingrays where you actually get to touch the Stingrays. A must for the children.
I definitely would recommend this tour and prices were great.
November 2015
Great way to pass an hour or so. Lots of sharks and different species swimming about.
November 2015
We were very pleased with the shark reef at Mandalay Bay Hotel and Casino.
June 2015
Awesome tour! Simply amazing!
May 2015

April 2015
So many different creatures to see. Walked from planet Hollywood to Mandalay Bay not too far either. If you're into sea creatures this one is for you.
February 2015
The Shark Reef at Mandalay Bay is really great! This is something I would definitely recommend doing with kids if you're in Vegas. The whole aquarium takes maybe 30 minutes to walk through and admire and the exhibits are really fun. My two favorite things to do was look at the silly octopus and pet sting rays. I'll be going back again!
Advertisement
Advertisement