Special Offer
Book and save between 15% to 38% on Category B & C Seating compared to the local operator's price!
Celebrate the incredible musical legacy of The Beatles during a performance of LOVE by Cirque du Soleil at the Mirage Hotel and Casino in Las Vegas. This spell-binding performance, featuring the incredible musical catalog of the Fab Four alongside special effects, freestyle dancing and aerial acrobatics, offers guests an intimate chance to relive some of their favorite Beatles moments. Your ticket purchase also includes a choice of seating options and show times.
Highlights
The Beatles LOVE by Cirque du Soleil show at Mirage Hotel and Casino on the Las Vegas Strip
Mesmerizing show featuring aerial acrobatics, special effect and freestyle dance
Choice of two evening show times
Incredible score featuring music from The Beatles
Price displayed is inclusive of all taxes and fees!

Recent Photos of This Tour
The Beatles™ LOVE™ by Cirque du Soleil® at the Mirage Hotel and Casino
What You Can Expect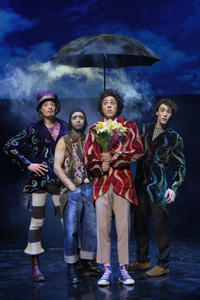 Dance and sing to your favorite Beatles songs, accompanied by an incredible visual spectacle of dancing, effects and acrobatics, during this performance of LOVE by Cirque de Soleil at the Mirage Hotel and Casino in Las Vegas. Casual and hardcore fans of Britain's most famous rock band are sure to enjoy this journey back through the catalog of timeless Beatles classics, channeled through a blockbuster stage show.

Head to the Mirage Hotel and Casino for your chosen performance time. During the course of your show, you'll experience an eye-popping spectacle of aerial acrobatics, urban dance moves and extreme sports, all inspired by the lyrical poetry of the Beatles and their iconic music. A cast of more than 60 international artists helps to tell the tale.

Of course, no Beatles-themed show would be complete with the inclusion of some of their many hit songs. In fact, a unique soundscape of Beatles music was created specifically for LOVE, utilizing the group's master tapes from the famed Abbey Road Studios. The resulting audio experience, set inside the surround sound of the custom-created theater at The Mirage provides a sonic experience like no other.

To view the seating chart, select View Additional Info

Please Note: Exact seats and how they're zoned by category are subject to change without notice. When making a reservation, please ensure that you are scrolling down the page to view all available options.
June 2016
David H United States of ...
June 2016
Unbelievably fantastic show...it actually brought tears to my eyes twice!!
June 2016
The show far exceeded our expectations. It was riveting from start to finish, and our seats
were great. Would definitely recommend booking through Viator, it was easy and picking up tickets from box office in Mirage Hotel was a breeze.
Anonymous
May 2016
Best show I've seen, will definately reccomend to others!!
Anonymous
May 2016
The show was a lot of fun and captured your eyes with all the colorful scenes
May 2016
The show is amazing not only for Beatles fans, it its truly entertaining and colorful
May 2016
I loved the music, the acts were spectacular. I will definitely recommend this show to everyone I know!!!
Anonymous
May 2016
I really enjoyed the show. It was awesome.

May 2016
I loved the show! I wasn't too much of a fan of the band (just never really sat down and listened to their songs). After watching this, I now have a full-loaded playlist filled with mainly songs from this show. Great performances and just all around amazing musicality. It will definitely make a fan out of you!
Anonymous
May 2016
I was astonished by the lights and the quality of the show, very interactive and fun, I loved it and will see it again for sure!
Advertisement
Advertisement