Celebrate the incredible musical legacy of The Beatles during a performance of LOVE by Cirque du Soleil at the Mirage Hotel and Casino in Las Vegas. This spell-binding performance, featuring the incredible musical catalog of the Fab Four alongside special effects, freestyle dancing and aerial acrobatics, offers guests an intimate chance to relive some of their favorite Beatles moments. Your ticket purchase also includes a choice of seating options and show times.
Highlights
The Beatles LOVE by Cirque du Soleil show at Mirage Hotel and Casino on the Las Vegas Strip
Mesmerizing show featuring aerial acrobatics, special effect and freestyle dance
Choice of two evening show times
Incredible score featuring music from The Beatles
Price displayed is inclusive of all taxes and fees!

Recent Photos of This Tour
The Beatles™ LOVE™ by Cirque du Soleil® at the Mirage Hotel and Casino
What You Can Expect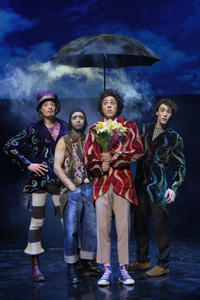 Dance and sing to your favorite Beatles songs, accompanied by an incredible visual spectacle of dancing, effects and acrobatics, during this performance of LOVE by Cirque de Soleil at the Mirage Hotel and Casino in Las Vegas. Casual and hardcore fans of Britain's most famous rock band are sure to enjoy this journey back through the catalog of timeless Beatles classics, channeled through a blockbuster stage show.
Head to the Mirage Hotel and Casino for your chosen performance time. During the course of your show, you'll experience an eye-popping spectacle of aerial acrobatics, urban dance moves and extreme sports, all inspired by the lyrical poetry of the Beatles and their iconic music. A cast of more than 60 international artists helps to tell the tale.
Of course, no Beatles-themed show would be complete with the inclusion of some of their many hit songs. In fact, a unique soundscape of Beatles music was created specifically for LOVE, utilizing the group's master tapes from the famed Abbey Road Studios. The resulting audio experience, set inside the surround sound of the custom-created theater at The Mirage provides a sonic experience like no other.
To view the seating chart, select View Additional Info
Please Note: Exact seats and how they're zoned by category are subject to change without notice. When making a reservation, please ensure that you are scrolling down the page to view all available options.
April 2016
Amazing, loved it can't believe I didn't see this sooner.
April 2016
This show was breathtaking I can't find the words to say how fantastic this show is. The music was wonderful and the excitement and talent was beyond belief. We truly loved this show, this is one you don't want to miss.

April 2016
Beatles Love by Cirque Du Soleil is definitely a great show and I cannot even express in words how great it was. The cast was amazing with their acrobatic tricks and every seat in the showroom is a good seat do to the extraordinary set up of the place. It is by far the best live performance musical I have ever seen. It is funny and quite moving at times.
April 2016
I've seen this show more than once and it's incredible. Each time you notice something new because there is so much going on. A must see for any Beatles fan. Also a must see even if you are not a big Beatles fan.
Destiny USA
April 2016
This show is so amazing! What a beautiful and artistic tribute to the Beatles!
Anonymous
April 2016
Awesome love the music, great acrobatics people, very exciting!. I loved they join the staff with the over the head white sheet!
Anonymous
April 2016
I wasn't sure what to expect, not particularly knowing any songs by The Beatles. But I found that I knew most of the songs in the show & I was singing along. It was a great experience. A great show. Highly recommended.

April 2016
As always I love love this show. so beautiful and amazing.
April 2016
Awesome show it was absolute awesome. Loved it!!Great music as well of course! Love the staff there there were so joyful and very experience!
Stacey United States of ...
April 2016
If you would like to see a show while visiting this is definitely the one to see. This is really the best show in Las Vegas. You will be amazed. You also don't have to be a fan of The Beatles to appreciate everything this show has to offer. The show has also been updated recently so if you've already seen it … you should see it again.
Advertisement
Advertisement